Jack O'Mara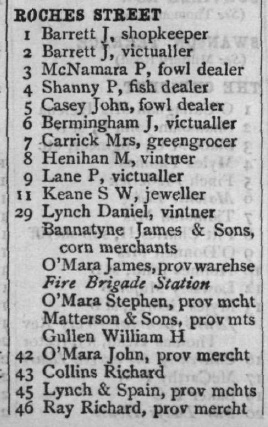 O'Mara's bacon factory
on Roches St, Limerick, in
[Guy's, 1893]
.
Lists John O'Mara and his father James and his brother Stephen.
Jack O'Mara
, bapt 26th Dec 1856.
He is listed as "John O'Meara", "merchant", living Limerick, at mar.
He mar 1stly, 7th June 1880, Scarriff (sometimes spelt Scariff), E Co.Clare [GROI]
to Anne Craven [Ann, Annie, "Nano", "Anne" on grave, born 1856, dau of Rody Craven, merchant, of Scarriff].
She is listed as "Nano Craven", living Scarriff, at mar.
Her family were small merchants from Scarriff where they had a hotel, stables and a farm.
The Cravens were agents for O'Mara's in Scarriff, which is how they met.
Anne dies, 1887:
Anne is listed as living Roches St at death 1887 [burial record].
She died 9th Jan 1887, age 31 yrs [grave].
The story in O'Mara family is that she died of complications of childbirth (this was a few months after giving birth to twins).
[Enda MacMahon] says the story in the Craven family was that "Nano died from TB which she caught in the Bacon Factory where she helped with the books. Conditions were very damp. She was brought to Scariff to die by horse and cart from Limerick. On the way they passed through Bodyke during the evictions and died a few days after". The problem with this story is the Bodyke evictions were June 1887.
Death not found in [GROI] 1885-89.
She was bur 11 Jan 1887 in Mount St. Lawrence cemetery, Limerick.
Jack had issue by 1st wife:

Jack was instrumental in building up O'Mara's bacon factory with his brother Stephen.
They expanded into connections with US, Canada, Russia, Romania and France.
They acquired Donnellys bacon factory, Dublin.
Goes to Russia:
At invitation of Tsar Alexander III, Jack went to Russia (after 1st wife died 1887) to show them how to cure bacon, and to build a factory. Jim Kemmy's grandfather was one of the pork butchers who went with Jack on this expedition to Russia. They went to St.Petersburg.
Jack stayed there to supervise building of bacon factory, ran it for them.
Russian Bacon Company founded May 1891.
[The Munster News and Limerick and Clare Advocate, Sat 9th May 1891] says it "has been officially recognised by the Russian Government and received the supreme assent of His Imperial Majesty the Emperor [Tsar Alexander III] on 2nd Jan 1891".
Jack stayed in Russia for several years. (Where were his children?)
His relatives wanted him back in Limerick.
He was home on holiday, no intention of staying in Ireland, loved Russia. But he went on holiday to Kilkee, the setting for so many O'Mara romances, and he met Minnie Whelan, age 18 yrs. He married her, never went back to Russia.
His address is listed as Limerick at mar.
Jack mar 2ndly, 5 Feb 1895 [him age 38, her age 18], Church of Saints Peter and Paul, Cork [GROI] to Minnie Whelan [Mary, Min, born c.1877].
She was from old Limerick family, dau of Thomas Whelan, who died young. Her father was meant to be a sea captain, though [GROI] lists him as a shopkeeper. The Whelans owned undertakers, and later a pub.
She is listed as living Limerick at mar.
She is listed as "Minnie" at children's births.
Jack and Minnie were living Wellington Terrace, Limerick, at son's death 1899. He is "bacon merchant".
Living 13 Pery Square, Limerick, at dau's birth 1906, he is "manager of bacon store".
They later lived "Noraville" (or "Norahville"), Ennis Rd, Limerick.
He is listed as "merchant" at "Norahville" at Eileen's birth 1915.
Listed as "factory manager" at Maureen's birth (not registered until 1925).
Listed as "manager of a bacon factory" at death.
Jack dies, 1919:
He died 24th July 1919, Noraville, age 62 yrs [grave], [GROI].
He was bur 31 July at Mount St. Lawrence cemetery, Limerick.
No admin found in [NAI] 1919-25.
Minnie was living Norahville, Ennis Rd, in 1925.
She died c.1948/9, age c.71/2 yrs.
She is NOT Mary Kate O'Mara who died Limerick, 1st qr 1949 [GROI].
(todo) Try death of "Minnie A Meara", [GROI], Dunmanway, 1st qr 1952, age 75 (born 1877), vol 5 p 151.
Jack had issue by 2nd wife:
Jim O'Mara,
bapt James, 7 Nov 1895 [St.Michael's, Limerick],
can't find birth in [GROI],
mar Mary McMahon [of Ennis, Co.Clare, sister of Brian McMahon below], no issue,
he worked for O'Mara's bacon factory, Limerick, travelled for them,
he was agent for Co.Clare, lived Ennis,
he died 1948, age 53 yrs,
can't find death in [GROI],
he is NOT James O'Meara, Thurles, 1948, 4th qr.




Jack O'Mara,
bapt John, 10th Apr 1897 [St.Michael's, Limerick].




Joe O'Mara,
bapt Joseph Francis, 1 Mar 1899 [St.Michael's, Limerick],
died 12 May 1899, Wellington Terrace, Limerick, age 2 months, of capillary bronchitis, see entry in [GROI].

Lena O'Mara,
bapt Helen, 6 Aug 1900 [St.Michael's, Limerick],
born Limerick, can't find birth in [GROI],
mar Eoin Clarke [Eugene], no issue,
he worked in Guinness brewery, Dublin,
they lived Shankhill, Co.Dublin,
he died pre-1952,
she is listed as "Helen Clarke", widow, of 24 Greenfield Rd, Mount Merrion, Co.Dublin, at death 1952 (NOT found at that address in [Thom's, 1945]),
she died at St.Laurence's Hospital, N Brunswick St, Dublin, [poss. 30th] Apr 1952, age 51 yrs [GROI].

Maureen O'Mara,
born 19 Aug 1902, 62 Henry St, Limerick [GROI],
didn't marry, stayed home to look after mother,
died 22nd Feb 1959, age 56 yrs [grave],
death not found in [GROI],
bur Mount St. Lawrence cemetery, Limerick.

(think another child) O'Mara, died very young.

Patricia O'Mara,
Trixie, born 21 Mar 1906, 13 Pery Square, Limerick [GROI],
engaged to be married to a man called Percy Devlin [despite the fact that he was in British Army, and she was a strong Irish republican],
he was out in India, building roads, the others were fiddling the money, he was the only honest one,
he was out big game hunting, in November, he was shot in suspicious circumstances, died,
Trixie never married after,
she died 1984, age 78 yrs.




Peggy O'Mara [Margaret],
mar 1stly, 17 Oct 1932, St.Charles' church, Detroit, USA, to Archibald Lindsay Trowbridge [son of Edward Dwight Trowbridge of Detroit],
think he is NOT "Archibald Dwight Lindsay-Trowbridge",
he was supposed to be from England, went to America, place in England called after his family,
big Society wedding, see notice in Irish Times, November 26, 1932,
had issue:

Sean Trowbridge [poss. Sean Lindsay Trowbridge], mar ----.

Peggy mar 2ndly to Stewart Fraser,
they lived Grosse Pointe, wealthy suburb of Detroit,
she died 1966,
had issue:

Mary Margaret Fraser, mar --- Morrin and had issue.




Betty O'Mara, born 1910,
mar Owen Hayes and had issue:

Maurice Hayes, mar Kathleen Kavanagh and had issue:

Maria Hayes.
Michael Hayes.
Gary Hayes.

John Hayes, mar Joan Igoe and had issue:

Johnny Hayes.
Owen Hayes, mar Nadine Carey.
Marcus Hayes.




Stephen O'Mara, died age c. 1 yr.
(child) O'Mara, died very young.




Eileen O'Mara,
born 15 July 1915, "Norahville", Ennis Rd, Limerick [GROI],
34 years younger than her eldest half-sister,
42 years younger than her 1st cousin James, younger even than all his children,
mar Brian McMahon [or Bryan, of Ennis, Co.Clare, brother of Mary McMahon above],
"Bryan McMahon", of 3 Lr Merrion St, Dublin, and of Ennis, qualified as solicitor Trinity term 1932 [Thom's, 1945],
he was solicitor at F.F. Cullinan and Co, Bindon Street, Ennis, Co.Clare,
this is Francis Faris Cullinan [Frank], same family as Sir Thomas Cullinan, who gave name to the Cullinan Diamond,
McMahon took over firm after Frank Cullinan died 1944,
see notice of estate in The Times, April 28, 1944,
"Brian McMahon" is the only solicitor listed in Ennis in [Thom's, 1945],
firm later called McMahon and Brogan,
he died Aug 1985,
she died c.1992, age c.77 yrs,
had issue:

Brian McMahon, mar Josephine Travers and had issue:

Brian McMahon.
Mark McMahon.
Hilary McMahon.
(dau) McMahon.

John McMahon,
mar 1stly to Jean ----,
mar 2ndly to Teresa ---- and had issue:

James McMahon.
Stephen McMahon.

Nicholas McMahon, mar Mary Travers and had issue:

Jack McMahon.
Nicholas McMahon.
Suzanne McMahon.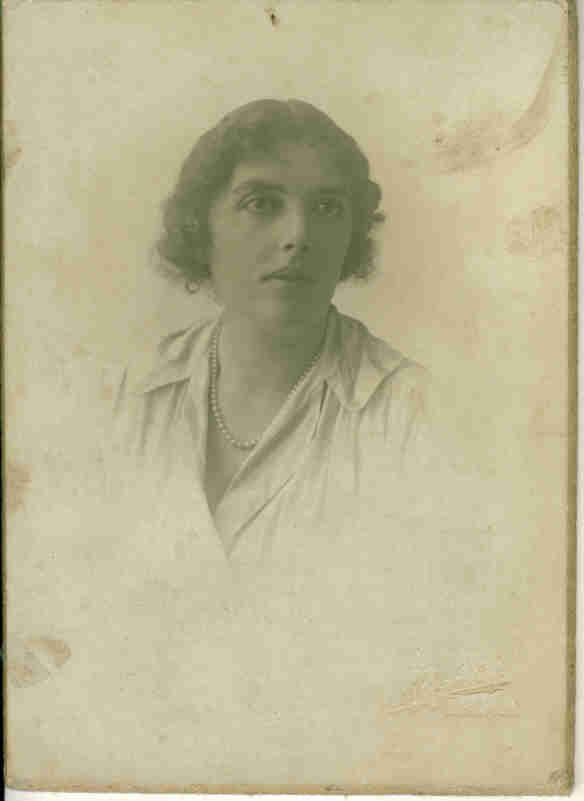 Kathleen O'Mara (who mar Dan McCormack).
Photo taken in
Blackpool
. Courtesy of Enda MacMahon.
---