James O'Mara (formerly O'Meara)
References:

Things to do:

Identify O'Mara house on Mungret St (plot 28 in Griffiths).
Identify O'Mara house on Roches St (has been re-numbered).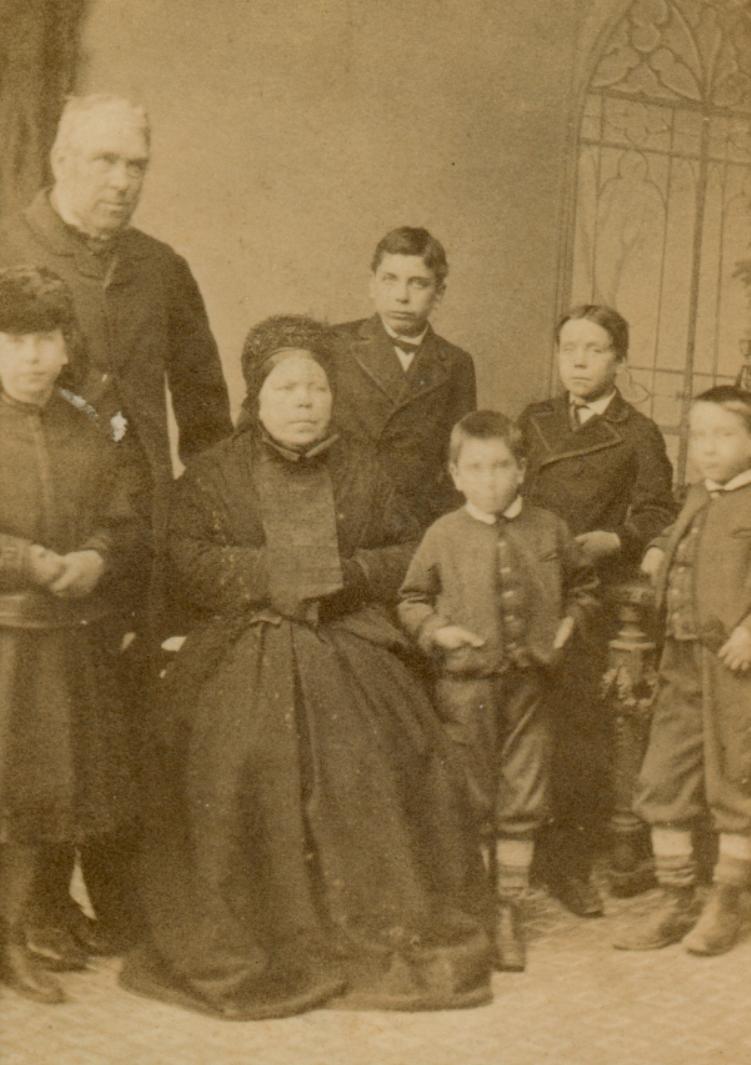 James O'Mara and Hanora Foley and some of their children.
This is the younger group of 4 boys (12 years younger than Stephen) and Hanora.
Baby and older children absent.
Must be: Back (left to right):
James O'Mara
, Jack (bapt 1856), Jim (bapt 1858),
And: Front (left to right): Hanora (bapt 1860),
Hanora Foley
, Joe (born 1864), Frank (bapt 1862).
Photo must be c.1868. See
full size
.
James O'Mara (formerly O'Meara)
(see
here
),
born 1817,
Toomyvara
, Co.Tipperary.
Rose from nothing to found the
O'Mara's bacon company
, Limerick city, the source of generations of family wealth.
Founding the O'Mara's business:
As a young man, c.1835, he walked out of the village of Toomyvara across Co.Tipperary to the town of Clonmel, S Co.Tipperary.
In Clonmel he met his wife (probably through working in the woollen mills there - her father owned woollen mills there).
It seems that he worked in the woollen mills on the Co.Tipperary / Co.Waterford border before he came to Limerick.
The story was he met his wife in Clonmel, Co.Tipperary, and they married there, and they both moved to Limerick where he set up the bacon factory in 1839.
However (see below) it seems he may have set up the bacon business first in Limerick in 1839, then married his wife in Limerick in 1841.

He settled in Mungret St, Limerick city.
He got a job with Mattersons bacon factory, Roches St, Limerick, as a clerk.
He went home one day and said: "This is the last day I'm going to work for anyone".
He set up business on his own, opened O'Mara's Bacon Company 1839. He originally sold for Mattersons, then started curing his own.
He adopted the spelling "O'Mara". The story is he was putting up his name on the bacon business, and felt "O'Meara" was too long commercially, took the "e" out. All descendants since called "O'Mara".
Since then many other O'Mearas in the region have standardised to O'Mara, even though not connected with this family at all.

He mar Hanora Foley [or Honora, born 1822, or poss. 1818].
He must be James O'Mara, who mar 2 Oct 1841 [St.John's, Limerick] to "Honora Fowloo" (that is what it says in the register), wit Thomas Durkin and Julia Sullivan.
"Fowloo" is in fact found in a number of places as a variant of "Foley".

In Limerick we know that James worked in wool trade for some years, poss. as an agent for his Foley father-in-law.
There is a "James Mara", woollen draper, 40 Main St, Clonmel,

listed in [Slater's directory, 1846], but we know he was in Limerick by then (e.g. Stephen's bapt 1844). Is it possible he had business in both places for some time?
James and Hanora were living Mungret St temp 1844-60 (their children baptised in nearby St.John's).
[PAT/1, p.4] says: "It was in the basement of this house in Mungret Street that bacon was first cured by them."
His wife worked in the business with him. Slowly, over the years, he worked his way up to become one of the prominent businessmen of the city. Hanora worked with her husband in setting up O'Maras through the terrible years of The Famine (1845-50).
Think he is spelt "O'Mara" in all children's baptisms after 1844.
"James O'Mara" is listed in [Griffiths Valuation, 1850] as occupying plot no.28, Mungret St, St.John's par (near Ebrill and Gould), leasing from Joseph D. Crips (or Cripps).
A dedicated O'Mara's Bacon Factory was set up on Roches St, Limerick.
They were living Roches St as at 1862-66 [GROI]. Children now baptised at St.Michael's a little to the N on Denmark St.
He is listed as "James O'Mara", "provision merchant" at children's births and marriages [GROI].
"James O'Meara" sp bapt of Mary O'Mara 1868.
High Sheriff, Town Councillor, JP:
James' death notice says he was "an ardent Nationalist".
He was an early supporter of Isaac Butt's Home Rule movement. He was a member (with his son Stephen) of the famous Butt Committee, which secured Butt's election for Limerick city, in by-election, 20 Sept 1871.
He is listed in contributors to "The Butt Testimonial" in Irish Times, May 5, 1875.
"James O'Mara", of St.Michael's par, Limerick, is among those writing an open letter, 4 May 1877, to the Bishop of Limerick, expressing their wish to organise celebrations of the Golden Jubilee of Pope Pius IX (50th anniv of him becoming a bishop).
See Freemans Journal, 9 May 1877, p.2.

Hanora dies, 1878:
Hanora died Kilkee, Co.Clare, 30 Aug [grave] or 31 Aug [GROI] 1878, age 56 yrs [grave] or 60 yrs [GROI].
[GROI] lists her as "Honor O'Mara".
She was bur 31 Aug or 1 Sept [burial record] at Mount St. Lawrence cemetery, Limerick.
James erected grave, spelt name "O'Mara".

In 1878 he moved house to 17 Thomas St (just N of Roches St), one of the old town houses. The factory stayed on Roches St.
His wife's address is still listed as Roches St in burial record 1878. He is listed at Thomas St from 1878.
He is listed as "James O'Meara, merchant" at Jack's mar 1880.
He became a Limerick Poor Law Guardian, listed as such at time of appointment as High Sheriff.

High Sheriff of Limerick city 1887: He was High Sheriff of Limerick City for 1887.
See appointment reported in Irish Times, December 10, 1886.
On Sat 26 Nov 1887, while High Sheriff, he received an Irish-American Fenian come to Limerick to deliver an oration at the unveiling (Sun 27 Nov) of a memorial to the Fenian Manchester Martyrs of Nov 1867 (20 years before). See Irish Times, Mon 28 Nov 1887. His son Stephen (who was a Fenian in his younger years) was also present.
James was succeeded for 1888 as High Sheriff by his son Stephen.
He became a Town Councillor (T.C.) on Limerick Corporation. He is "James O'Mara" listed as Town Councillor for Dock Ward in [Thoms] at least 1888 to 1898.
[PAT/1, p.7] says he was known as "The Grand Old Man" in later life. This refers to a letter of 31 Dec 1889: "Give my best love to dear Mr. James O'Mara - our own Grand Old Man - to see him jumping into the Pollock Holes last summer" [deep pools off Kilkee] "like a young boy. I never saw anything like his vitality."
There was a Christmas dinner custom in the O'Maras that none of the many children or their husbands and wives or the grandchildren were allowed to speak a word during dinner, no matter how old they were. Great opportunity for the parents to expound their views.
In 1891 he bought the rights of the Russian Bacon Company, and until 1903 they leased and worked the slaughter and curing houses, situated in or nr Gryazi, on the railway line, nr Lipetsk, Russia. "A Russian manager carried on the business and produced bacon which was shipped to Dad in London" [Pat Lavelle].
He is "James O'Mara", T.C. (Town Councillor), in Limerick Chronicle, 14 January 1892,

and at Thomas Ray's funeral 1892.
He is described as a Justice of the Peace at his son Jim's death and funeral 1893. Limerick Corporation passed a Vote of Condolence, saying that the father was "long connected and much associated with the Corporation".
He is listed as J.P. at son Jack's mar 1895, also in [Thoms, 1898], also at death 1899.
[Modern Ireland, 1899] says he was also a member of the Limerick Harbour Commissioners, a Governor of the Fever Hospital, and a Trustee of the Limerick Savings Bank.
Death notice says he was a magistrate of Limerick, and a "Visiting Justice of the Male and Female Prisons".
He is still listed as Town Councillor for Dock Ward in [Thoms, 1898], looks like he was NOT an Alderman.
Death notice 1899 says he represented the Dock Ward until he resigned at "the termination of the old council".
Death notice says he was nominated for Mayor of Limerick but declined.
James dies, 1899:
James died 20th Apr 1899, 17 Thomas St, Limerick, age 82 yrs [grave], [GROI].
Death announced same day, Limerick Chronicle, Thur evening, 20 Apr 1899, says he died "this afternoon".
Funeral 21 Apr [burial record], bur Mount St. Lawrence cemetery, Limerick, attendance included Bishop of Limerick.
See newspaper report of funeral, Sun 23 Apr.
"James O'Mara", "bacon manufacturer", probate of will granted to his sons Stephen and Frank, estate £5,000 [NAI], this is about £2m in today's money.
James and Hanora had issue:

The marriage of James O'Mara to Honora "Fowloo" (Foley) in 1841 in the register of St.John's, Limerick.
See
full size
.


Baptism of Stephen O'Mara, 26 Dec 1844 [St.John's, Limerick].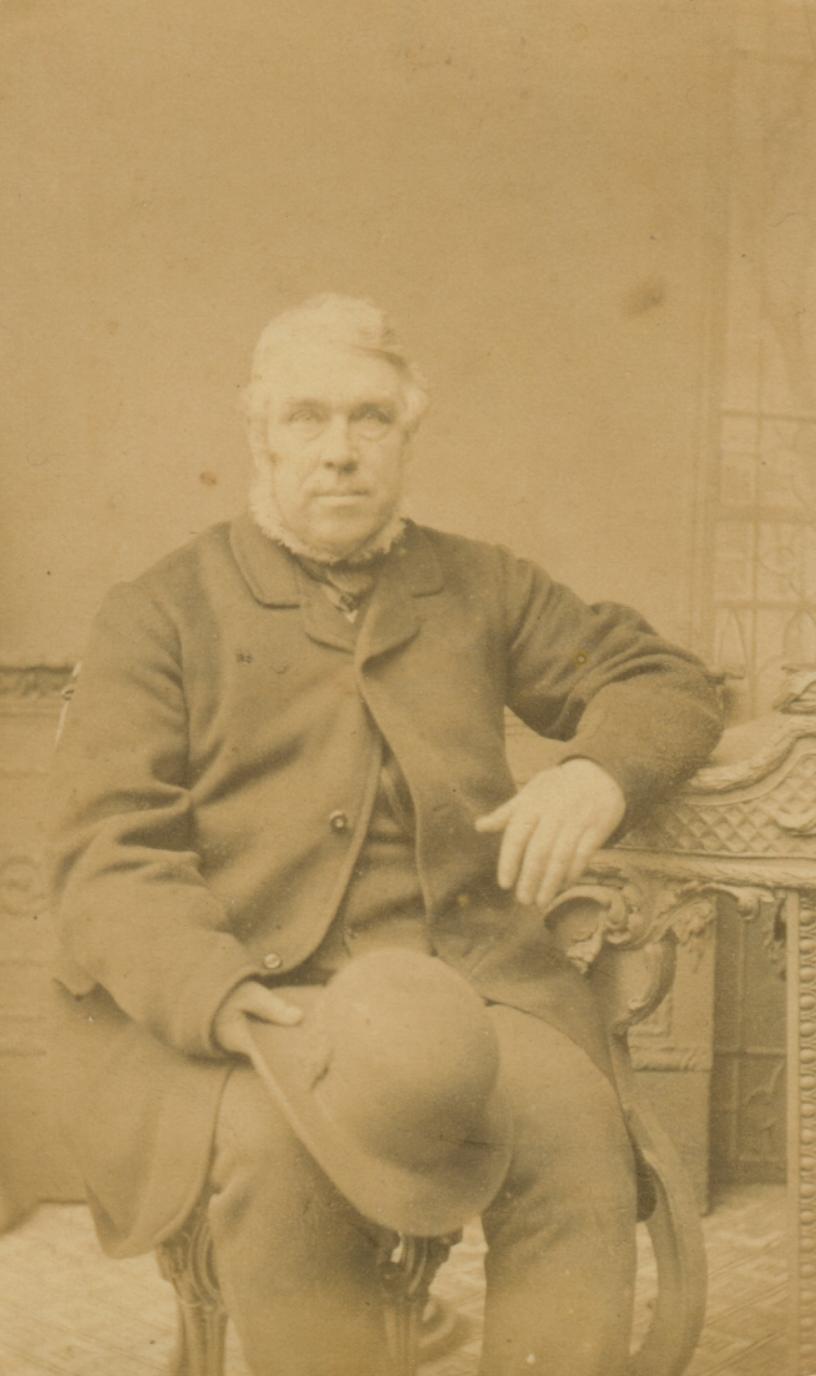 James O'Mara (formerly O'Meara).
See full size.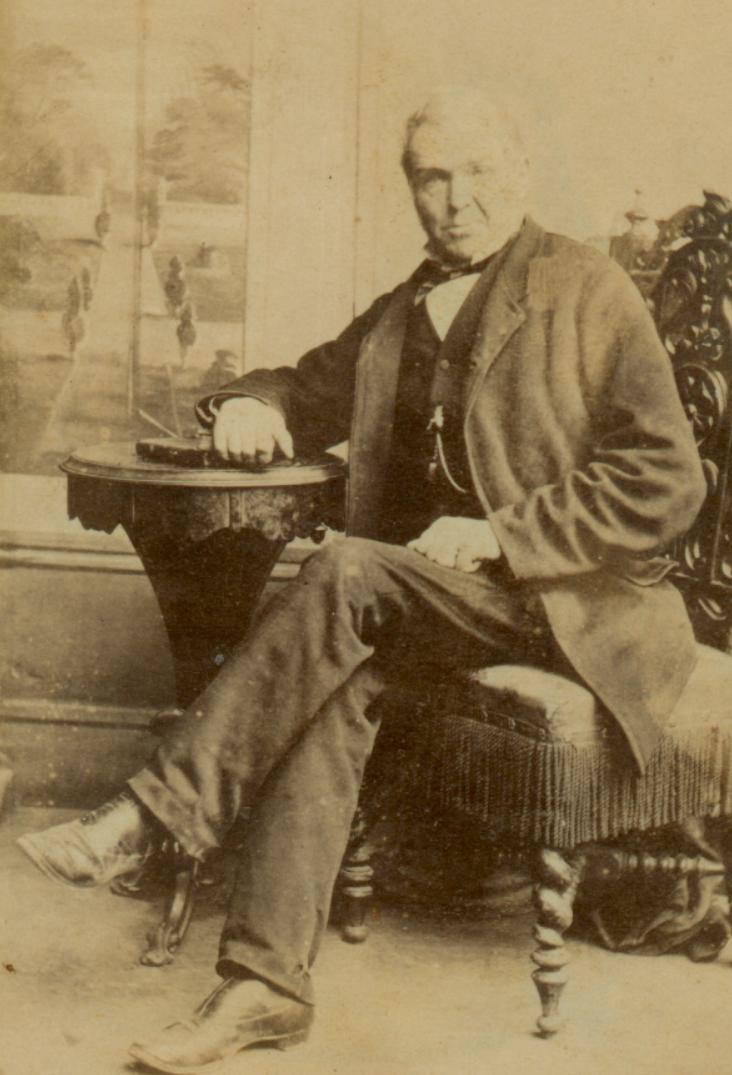 James O'Mara (formerly O'Meara).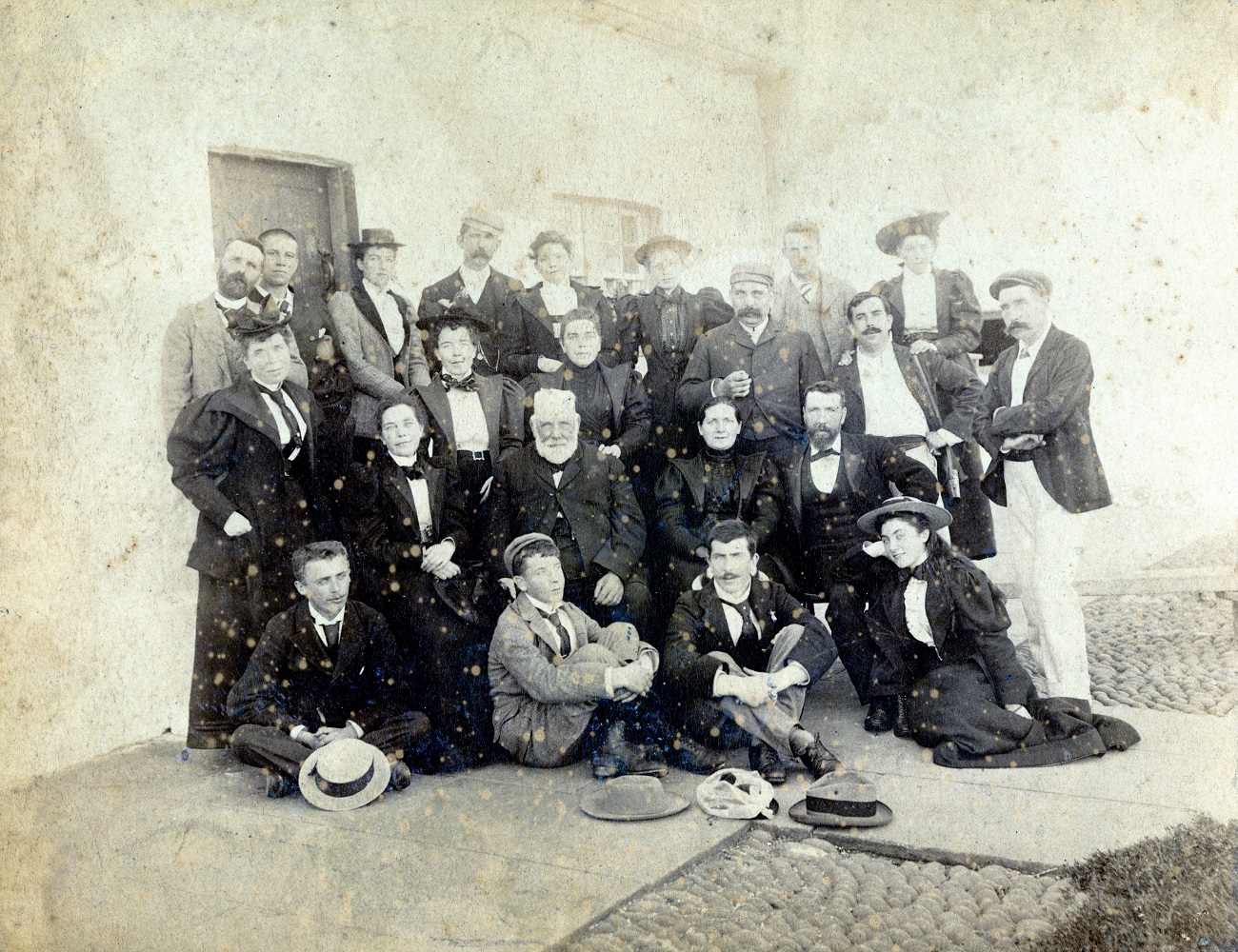 O'Mara family, Kilkee, 1895.
2nd row from front has line of old James O'Mara, Ellen Pigott, Stephen O'Mara.
See larger and full size.
This photo somehow got into the Sighle Humphreys papers, in [P106/477]. (She is not related to O'Mara. O'Mara is her brother's wife.) It is mis-labelled in P106 as "David Humphreys and the Humphreys family, c.1890".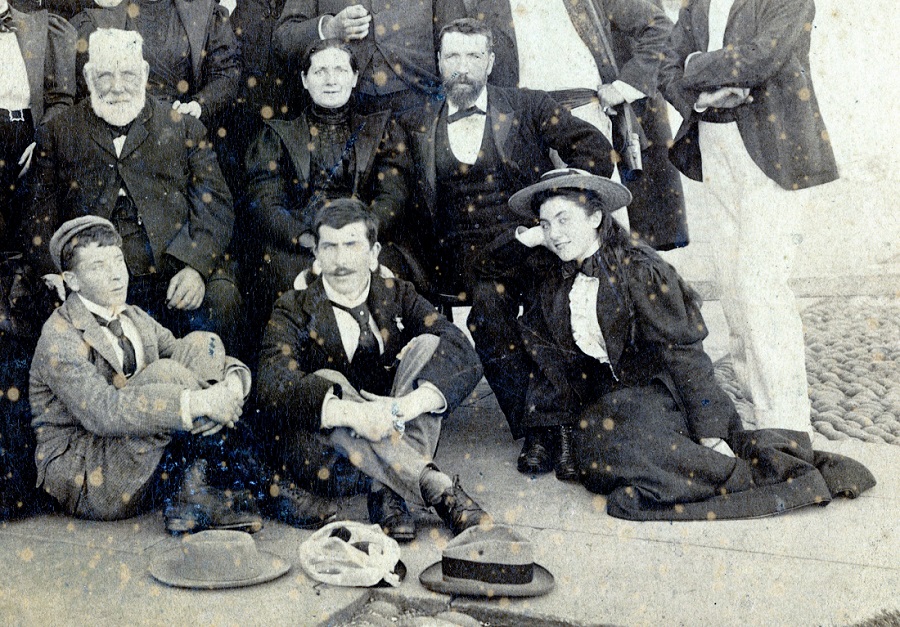 Detail of above 1895 photo.
Back (left to right): Old James O'Mara,
Ellen Pigott
,
Stephen O'Mara
.
Front centre looks like
James O'Mara
(age 22).
The girl leaning into Stephen O'Mara's lap must be his darling daughter. No one else would be so familiar. This must be
Mary O'Mara
(age 19) or
Norrie O'Mara
(age 15).
See
larger
and
full size
.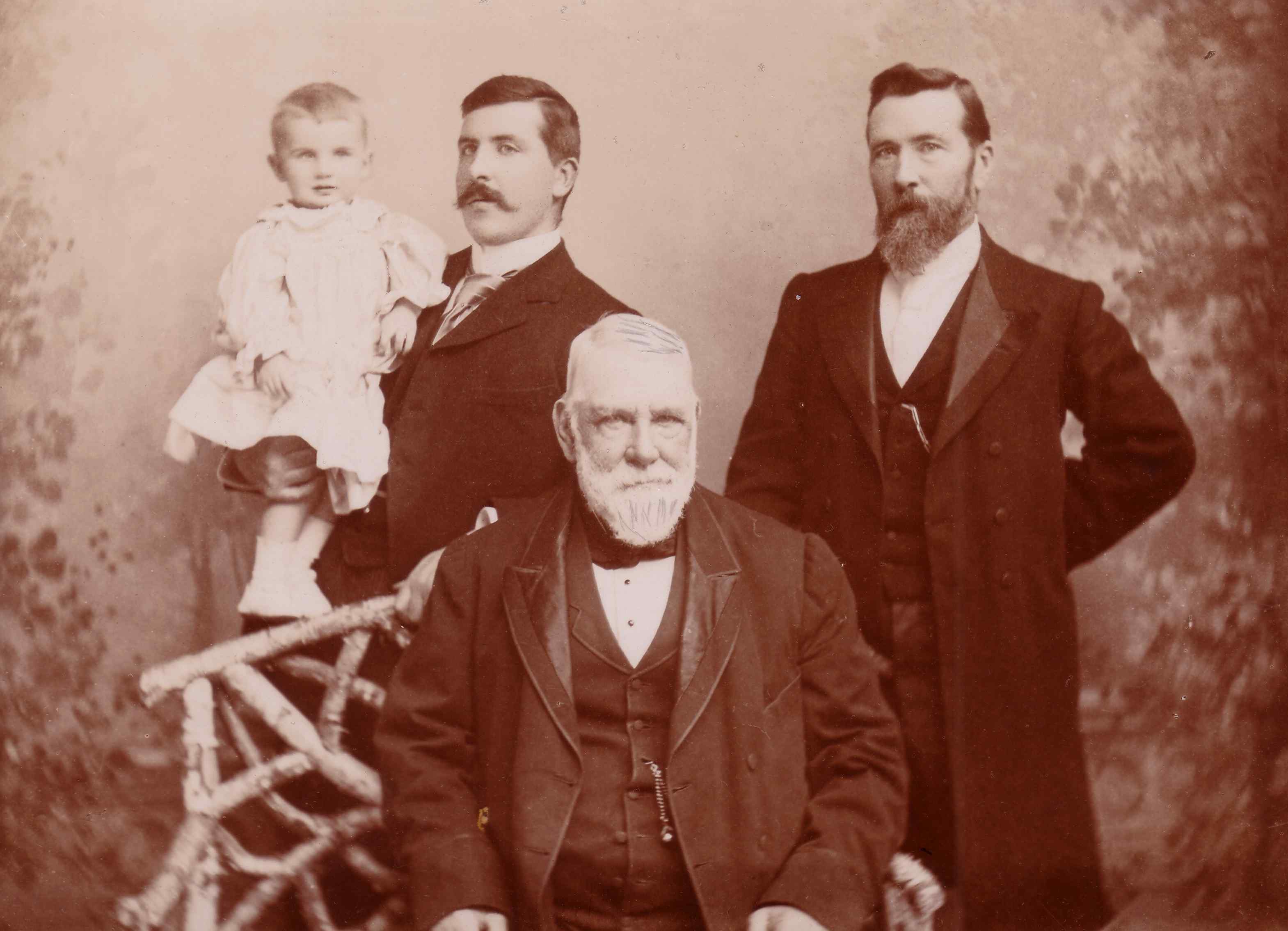 4 generations photo, 1898.
James O'Mara (formerly O'Meara), his son Stephen, his son James, his son Stephen (born Sept 1896).
See larger and full size.
See close-up of old James.
See crop of old James. From [P40/916]. Used with permission of [UL Archives].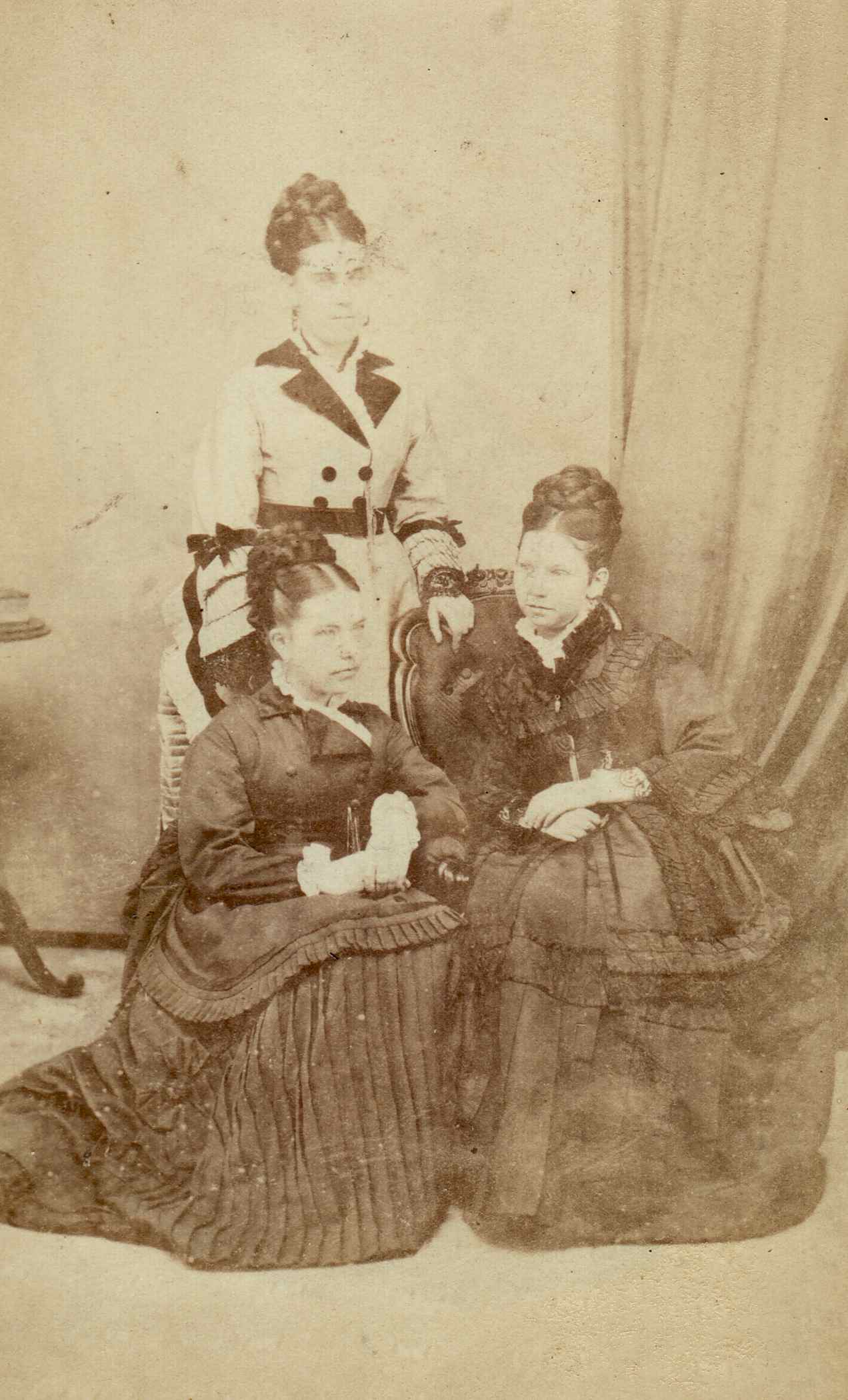 These are the sisters Mary O'Mara (think back)
and Margaret O'Mara (think LHS front) and Kate O'Mara (think RHS front).
Think 1874.
See larger and full size.

Joseph and Nan (the two youngest children).
See larger and full size.
---
---
The "horse traders" (or "horse thieves") story:

Kate O'Brien wrote an epic novel, Without My Cloak (1931), about the rise of the Catholic merchant "Considine" family of "Mellick" (Limerick). Many people saw parallels with the O'Maras (Kate O'Brien's in-laws).
In the novel, the Considine who came to "Mellick" in 1789 was a horse thief. His son founds the family business in 1810 and rises to great prosperity.
There have been stories that the O'Maras came to Limerick as "horse traders" (or even "horse thieves"). But there is no evidence for this. It is possible this comes entirely from Kate O'Brien's book.
In real life, Kate O'Brien's own family came to Limerick as horse dealers.
Rather than horses, it is clear that the O'Maras started out in wool, and then got into bacon.