Royal Descents of famous people
by Mark Humphrys. 1995 to date.

Please contact me if you know of a Royal descent for a famous person who is not listed here. Or if you know of a better descent (i.e. from a more recent monarch) for anyone listed here.
Note that I do not research the people on this list myself. I mainly just reference and link to other people's work. My contribution is really compiling a list in this particular nested format - not actually researching the genealogy of famous people. So asking me detailed questions about people here is probably a waste of time. In particular, for many people below I merely link to their entries in other lists of descents of famous people.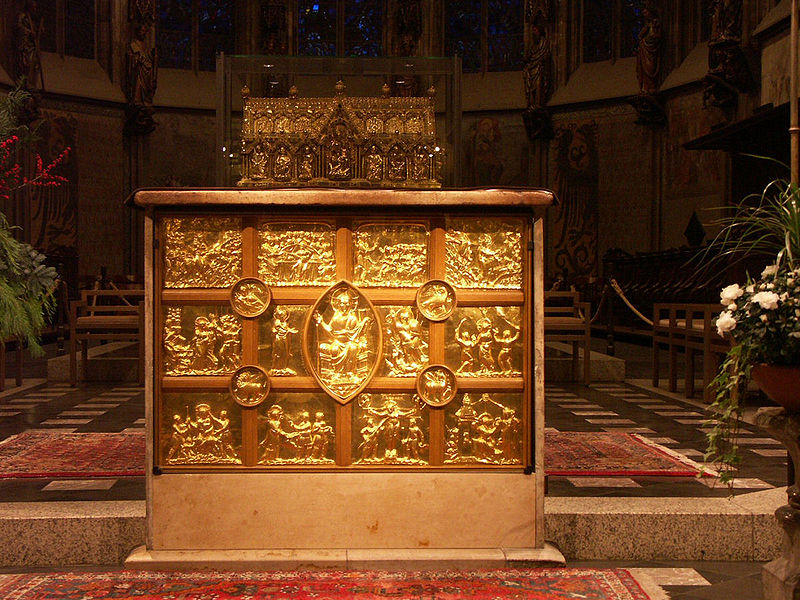 The tomb at Aachen Cathedral of Charlemagne (born 742 AD), proven ancestor of everybody on this page.
Hence he is probably the ancestor of the entire West.
Image from here. More here and here and here.



---
Why a page of Royal Descents? I am not actually interested in Royalty
per se
. Rather, I am interested in showing the common relationship of all humanity. Royal Descents are simply a convenient way of doing this.
All humanity is interrelated many times over (contrary to what an endless procession of racists and tribalists throughout history have claimed). For any two humans in history or today, it is not a question of do they have a common ancestor, it is only a question of when was the most recent one. If we had full genealogical records for all history, then any 2 living people on earth could identify their closest relationship to each other. Or indeed any 2 living organisms on earth, since DNA probably did not evolve twice. One could also pick any famous person, alive or dead, and show your closest relationship to them. For they are all related. See pre-historical estimates for Common ancestors of all humans.
Since we don't have such records, we have to make do with what is documented. As we travel far enough back in time, what is documented continuously is of course only the royalty and nobility - the ruling elite, if you like. Lines from major religious figures are also sometimes preserved, but usually only because the ruling elite ends up descended from them.
Showing descents from successive English monarchs is probably the most convenient way of tying the West together. You will be aware, of course, that later monarchs are descended many times over from earlier ones. So it allows us show short descents from the most recent monarch (rather than every descent needing a long tail going up to some very remote common ancestor). Some continental descents, though, may have to go all the way up to Charlemagne, from whom all English monarchs since William the Conqueror descend.
The non-Western world
As far as non-Western genealogy goes, somebody in the Islamic world needs to make a list of
Descents of famous people from the Prophet Muhammad
(e.g. see
The Aga Khan
). These may then share
Abd Manaf
as a common ancestor with many (but not all) of the people on this page. There is some remote possibility of linking in
Jewish
descents as well, and some chance of expanding to include Indian,
Chinese
, and even
Aztec
descents.
Most of the world's genealogies have been lost, of course. In many parts of the world, a succession of tyrants have destroyed people's connection to the past by burning the country's genealogies. Communists did this deliberately, as part of their ideology. (*) Religions also often destroyed the libraries and genealogies of other religions. Examples include:
(*) Ironically, Che Guevara has a Royal Descent. So does Karl Marx's wife. So does communist Jessica Mitford.
The reconstruction and inter-linking of past world genealogies is still ongoing. But really unifying the world will have to depend now on ongoing marriage rather than further historical discoveries. With the massive rate of intermarriage between different cultures (or at least, people with different ancestral cultures) there will eventually develop a World Family Tree, outside of which very few people will lie. In a few centuries' time, the entire world will be provably descended from Charlemagne (or perhaps some non-Western common ancestor) at birth. Everyone will be provably related to everyone else.
Ancestors and Descendants
Some people think these kind of descents are contrived, in that, say, Elizabeth II is the "real" descendant of William the Conqueror, and all these are rather artificial descents. This betrays a lack of understanding of history. The House of Windsor is an
arbitrary
subset of the
millions
of proven, legitimate, direct descendants of William the Conqueror.
The Royal line is the product of a long series of political decisions
over the years, rather than the result of following any unvarying rule.
(And there's nothing wrong with that. After all, it makes it more democratic.)
To make it clear, everyone on this page is a direct descendant of Charlemagne in the same sense that any member of modern royalty is. I only ever use "ancestor" or "descendant" to mean "direct ancestor" or "direct descendant". If someone is a brother or cousin of your direct ancestor, some people would call them a "collateral ancestor", or even just an "ancestor". To me they are not your ancestor at all, but just a blood relation.
I have written some more on What is the point of genealogy.
Gary Boyd Roberts has written on this:
Why I Trace the Ancestry of Notable Figures. He does not focus on biography but rather on large-scale patterns: "I am sympathetic to genealogists who wish to memorialize their immediate families with lavish detail and documentation - I depend on the collective accuracy of thousands of such efforts - but my own passion is for the skeleton pedigree, 20 or more generations in length, that when combined with other such works suggests something new and interesting about the genealogical evolution of the Western world."
Roberts notes that we are all remarkably close cousins: "Except for some remarkable kinships through the Byzantine marriages of earlier medieval kings, 20th to 25th cousins are probably as distant as traceable European lineages extend. Anthropologists claim everyone on earth is a 40th cousin."
Roberts estimates that 100 million Americans can be got onto one family tree, with relationships to over 500 famous people: "a large quantity of my research concerns the 'New England family' - probably 100 million contemporary Americans descended from 5000 - 8000 Great Migration immigrants of 1620-50. If you have 50 or more sets (husbands and wives) of Great Migration immigrant forebears, you are probably related to almost all of the 100 million, within the range of 8th-12th cousins. The probability of kinship to notables is fully 100 percent, and the number of such 'household name' distant kin probably surpasses 500, possibly 1000."
Descents from the High Kings of Ireland
Once you connect to the English Royal family, you connect to the royalty and nobility of many other European countries. Many other descents of the people below from other royal houses can easily be worked out.
For instance, it can easily be seen that, of the people below, almost all of them after Edward I (and all of them after Henry VII) are descendants of the High Kings of Ireland.
Descents from the Prophet Muhammad
Similarly, it can easily be seen that, of the people below, many of them after
Edward III
(and
all
of them after
Henry VII
) may be descendants of
The Prophet Muhammad
.
---
Many people here have multiple Royal Descents. I show the most
recent
monarch they descend from.
Exponential growth (going backward): Consider that you need 2 parents, 4 grandparents, 8 great-grandparents, and so on. Assuming an average of about 25 years per generation, you only need to go back to about 1200 AD, quite within historical times, to need more separate ancestors than the entire population of the world. The solution to this paradox is of course that ancestors are duplicated. All of us descend from a massive amount of intermarriage even within the last few hundred years.
See estimates for Common ancestors of all humans, and in particular see Exponential growth (going forward). Restricting ourselves just to Europe (and those of European descent abroad) it is quite possible that the most recent common ancestor of the West lies within historical times. It is possible, for example, that every single westerner descends from Charlemagne.
---
Some more figures it would be interesting to estimate:
Number of estimated descendants of William the Conqueror - Steve Jones apparently estimates 25 percent of the population of Britain. Apparently someone called Davenport claims that "No people of English descent are more distantly related than 30th cousin".

Number of provable step by step descendants of William the Conqueror - [Jones, 1996, Ch.I] is WRONG to suggest that this is only of the order of 300 families. It is far more than that. Indeed he is so wrong that it rather casts doubt on his other estimates.
---
---
---
---
Some more figures it would be interesting to estimate:
---
Descents from Edward I [descendant of Henry III]

Garret Mor Fitzgerald, born 1456, Irish statesman.
Garret Og Fitzgerald, born 1487, Irish statesman.
Dudley, Duke of Northumberland, born 1502.

Lord Vaux of Harrowden, born 1509, poet.

Silken Thomas, born 1513, Irish rebel.

Sir Francis Walsingham, born c.1532, Elizabeth's spymaster.

Gerald Fitzgerald, 15th Earl of Desmond, born c.1533, Irish rebel.
Hugh O'Neill, 2nd Earl of Tyrone, born c.1540, Irish rebel.
Edward de Vere, 17th Earl of Oxford, born 1550.
Sir Walter Raleigh, born 1552.
Sir Philip Sidney, born 1554, soldier, statesman, courtier and poet.
Lady Mary Sidney, born 1561, poet, translator, patron of learning.
Lady Mary Wroth, born 1586 or 1587, writer.

Edmund Waller, born 1606, poet.

St. Oliver Plunkett, born 1625, Irish Catholic martyr.

William Pitt the Elder, born 1708, Prime Minister.

Clive of India, born 1725, founder of the empire of British India.

William Petty-FitzMaurice, 2nd Earl of Shelburne, 1st Marquess of Lansdowne, born 1737, Prime Minister.

Pierce Butler, born 1744, signer of the US Constitution.

James Madison, born 1751, US President.

William Pitt the Younger, born 1759, Prime Minister.

Josephine de Beauharnais, born 1763, wife of Napoleon.

William Henry Harrison, born 1773, US President.

John Burke, born 1787, genealogist.

Percy Bysshe Shelley, born 1792, poet.

William Smith O'Brien, born 1803, Irish rebel.

Sir John Bernard Burke, born 1814, genealogist.

G. E. Cokayne, born 1825, genealogist.

Benjamin Harrison, born 1833, US President.

Source: See William Henry Harrison above.

Grover Cleveland, born 1837, US President.

Algernon Swinburne, born 1837, poet.

Bertha von Suttner, born 1843, pacifist and Nobel Peace Prize winner.

"Boss" Croker, born 1843, US Democratic Party politician.

Charles Stewart Parnell, born 1846, Irish nationalist.

Percival Lowell, born 1855, astronomer.

Source: [Roberts, 2008] gives descent down to Percival Lowell (born 1571), ancestor of John Lowell (born 1743), ancestor of the astronomer.

John Singer Sargent, born 1856, painter.

W. Somerset Maugham, born 1874, writer.

Source: Montagu-Smith, Patrick. "Two Royal Descents of Viscount Maugham, Lord Chancellor 1938-1939, and Mr. W. Somerset Maugham." The Genealogists' Magazine 11 (June 1952): 207-11.

Robert Frost, born 1874, poet.

G. M. Trevelyan, born 1876, historian.

Horace de Vere Cole, born 1881, practical joker.

Brother of Anne Chamberlain.

Anne Chamberlain, born 1883, wife of Neville Chamberlain.

Walt Disney, born 1901.

Christopher Isherwood, born 1904, writer.

Graham Greene, born 1904, writer.

Fay Wray, born 1907, actress.

Lucille Ball, born 1911, actress and comedian.

Roy Rogers, born 1911, cowboy actor.

Gerald Ford, born 1913, US President.

Olivia de Havilland, born 1916, actress.

Joan Fontaine, born 1917, actress.

Sister of Olivia de Havilland.

George H.W. Bush, born 1924, US President.

John McCain, born 1936, US Presidential candidate.

Raquel Welch, born 1940, actress.

Dick Cheney, born 1941, US Vice-President.

David Fanshawe, born 1942, composer.

Gary Boyd Roberts, born 1943, genealogist.

George W. Bush, born 1946, US President.

Mitt Romney, born 1947, US Presidential candidate.

Bill Richardson, born 1947, US Presidential candidate.

Chris de Burgh, born 1948, musician.

Richard Gere, born 1949, actor.

Richard Branson, born 1950, billionaire and adventurer.

Barack Obama, born 1961, US President.

Sarah Palin, born 1964, US Vice-Presidential candidate.

Liz Cheney, born 1966, political pundit.

Uma Thurman, born 1970, actress.

Rosanna Davison, born 1984, model.
---
Edward III
is
"often described as the ancestor of the British upper-middle class"
[Burkes Presidential]
. Some more figures it would be interesting to estimate:
Number of estimated descendants of Edward III - I have seen 80 percent of the population of England quoted, which would conflict with the estimate for William the Conqueror above (it would imply that perhaps 75 percent of the population of Britain descend from William the Conqueror). Roderick W. Stuart claims millions of descendants of Edward III in America alone: "Edward III is the latest king from whom a large number of Americans and Europeans can claim descent. His American posterity numbers in the millions." [Stuart, 1998].

Number of provable step by step descendants of Edward III - [Ruvigny, 1911] apparently names 40,000 of them, and estimates 100,000 could be done.
[Debrett's Guide to Tracing your Ancestry, by Noel Currer-Briggs and Royston Gambier, 3rd edn, 1990] says there are now more than 300,000 of them.
---
Descents from Edward III [descendant of Edward I]

Henry the Navigator, born 1394, explorer.
Catherine Parr, born prob. 1512, wife of Henry VIII.

Walter Devereux, 1st Earl of Essex, born 1539.

Robert Devereux, 2nd Earl of Essex, born 1566.

Sir Philip Stapleton, born 1603, the Parliamentarian.

Algernon Sidney, born 1622, Republican martyr.

Robert Walpole, born 1676, Prime Minister.

Henry Fielding, born 1707, novelist and dramatist.

Horace Walpole, born 1717, politician, writer and gossip.

William Cavendish, 4th Duke of Devonshire, born 1720, Prime Minister.

Robert Adam, born 1728, architect.

Charles Watson-Wentworth, 2nd Marquess of Rockingham, born 1730, Prime Minister.

Henry Cavendish, born 1731, physicist and chemist.

George Washington, born 1732, US President.

Frederick North, Lord North, born 1732, Prime Minister.

Patrick Henry, born 1736, revolutionary statesman.

George Clinton, born 1739, US Vice-President.

Thomas Jefferson, born 1743, US President.

Richard Fitzwilliam, 7th Viscount Fitzwilliam, born 1745, founder of the Fitzwilliam Museum, Cambridge.

Talleyrand, born 1754, Prime Minister of France.

William Wilberforce, born 1759, helped abolish slavery.

William Grenville, 1st Baron Grenville, born 1759, Prime Minister.

Charles Grey, 2nd Earl Grey, born 1764, Prime Minister (and origin of name of Earl Grey tea).

Fletcher Christian, born 1764, leader of the mutiny on the Bounty.

Maria Edgeworth, born 1767, novelist.

John Quincy Adams, born 1767, US President.

The Duke of Wellington, born 1769, Prime Minister.

Jane Austen, born 1775, novelist.

Robert Emmet, born 1778, Irish rebel.

William Lamb, 2nd Viscount Melbourne, born 1779, Prime Minister (and origin of name of Melbourne, Australia).

Francis Scott Key, born 1779, author of "The Star-Spangled Banner".

Zachary Taylor, born 1784, US President.

Lord Byron, born 1788, poet.

Elizabeth Barrett Browning, born 1806, poet.

General Robert E. Lee, born 1807, general-in-chief of Confederate forces in American Civil War.

Charles Darwin, born 1809, founder of biology.

Alfred Lord Tennyson, born 1809, poet.

William Ewart Gladstone, born 1809, Prime Minister.

Ada Lovelace, born 1815, computing pioneer.

Summary: Through her father Byron.

Matthew Arnold, born 1822, poet.

Robert Gascoyne-Cecil, 3rd Marquess of Salisbury, born 1830, Prime Minister.

Phillips Brooks, born 1835, bishop, author of "O Little Town of Bethlehem".

William Archibald Spooner, born 1844, of "spoonerisms" fame.

Mary Augusta Ward, born 1851, novelist.

Alice Liddell, born 1852, of "Alice in Wonderland".

William Howard Taft, born 1857, US President.

Theodore Roosevelt, born 1858, US President.

Thomas Hunt Morgan, born 1866, geneticist and Nobel Prize winner.

Charles Dana Gibson, born 1867, cartoonist.

Neville Chamberlain, born 1869, Prime Minister.

Calvin Coolidge, born 1872, US President.

Ralph Vaughan Williams, born 1872, composer.

Upton Sinclair, born 1878, writer.

P.G. Wodehouse, born 1881, writer.

Billie Burke, born 1884, actress (the Good Witch in The Wizard of Oz).

Eleanor Roosevelt, born 1884, human rights activist and wife of Franklin D. Roosevelt.

George S. Patton, born 1885, U.S. Army General in WW2.

Julian Huxley, born 1887, evolutionary biologist.

Richard Evelyn Byrd, born 1888, explorer.

H.P. Lovecraft, born 1890, author.

Vita Sackville-West, born 1892, poet and novelist.

The Red Baron, born 1892, WWI flying ace.

Rebecca West, born 1892, writer.

Norman Rockwell, born 1894, painter and illustrator.

Aldous Huxley, born 1894, writer.

Source: See Julian Huxley.

Randolph Scott, born 1898, actor.

Noel Coward, born 1899, playwright.

Humphrey Bogart, born 1899, actor.

George Orwell, born 1903, writer.

Nelson Aldrich Rockefeller, born 1908, US Vice-President.

Francis Bacon, born 1909, artist.

The von Trapp children (from the 1st marriage), born 1911 to 1921, family singers.

Wernher von Braun, born 1912, Nazi rocket scientist, and US space program pioneer.

Lee Marvin, born 1924, actor.

Marlon Brando, born 1924, actor.

Margaret Thatcher, born 1925, Prime Minister.

Audrey Hepburn, born 1929, actress.

Terence Conran, born 1931, designer and restaurateur.

Thomas Pynchon, born 1937, writer.

Auberon Waugh, born 1939, columnist and journalist.

Richard Dawkins, born 1941, evolutionary biologist and atheist.

Sir Ranulph Fiennes, born 1944, explorer.

Michael Douglas, born 1944, actor.

Ruth Padel, born 1946, poet.

Cyrus Vance, junior, born 1954, the elected NY district attorney.

Sebastian Coe, born 1956, athlete and politician.

Ellen DeGeneres, born 1958, comedian, actress and talk show host.

Jasper Conran, born 1959, fashion designer.

Jerome Flynn, born 1963, actor and singer.

Sophie Rhys-Jones, born 1965, wife of Prince Edward.

Anna Chancellor, born 1965, actress.

Brooke Shields, born 1965, actress.

Halle Berry, born 1966, actress.

Laura Dern, born 1967, actress.

Ryan Tubridy, born 1973, broadcaster.

Maggie Gyllenhaal, born 1977, actress.

Jake Gyllenhaal, born 1980, actor.

Summary: He is brother of Maggie Gyllenhaal.

Kate Middleton, born 1982, wife of Prince William.

Hilary Duff, born 1987, actress and singer.
---
---
Descents from Henry IV [descendant of Edward III and of Brian Boru]

Orson Welles, born 1915, film director.

Christopher Reeve, born 1952, actor.

Matthew Pinsent, born 1970, Olympic rower.




Descents from Edward IV [descendant of Edward III and of Brian Boru]

William Cavendish-Bentinck, 3rd Duke of Portland, born 1738, Prime Minister.

Lawrence of Arabia, born 1888, British soldier and adventurer.
---





---





---





---





---
Many other royals and nobles could be listed above
It can be taken as read that
almost all
of European
royalty
, except the very earliest ones, are on this family tree.
It can also be taken as read that much of European nobility is also on this family tree. Basically, almost anyone with an old title.
If we look at all royalty and nobility, I am sure that well over 1,000 people with Wikipedia entries could be put on this tree. Perhaps several thousand.
---
U.S. Presidents
---
"To nationalists, shared blood is everything: for them, history is made in bed.
Biology is the test of their ideas, and usually it proves them wrong."
- Steve Jones, in [Jones, 1996].