The High Kings of Ireland
Sources yet to be consulted:
Brian Boru, High King of Ireland
(see
here
and
here
),
King of Munster 978-1014,
High King of Ireland 1002-1014 (though some regional rulers did not accept his authority),
led the Irish of Munster to victory against the Irish of Leinster and the Norse Vikings of
Dublin
at the
Battle of Clontarf
, Co.Dublin, in 1014, but he was famously killed himself by fleeing Norsemen,
mar
Eachraid
and had issue:

mar Gormlaith ingen Murchada (see here) and had issue:
Donnchad O'Brien, King of Munster (see here and here),
had his half-brother Teige killed in 1023,
died 1064, had issue:




Dearbforgail O'Brien (see here),
mar Diarmait mac Maíl, King of Leinster and Ireland and had issue.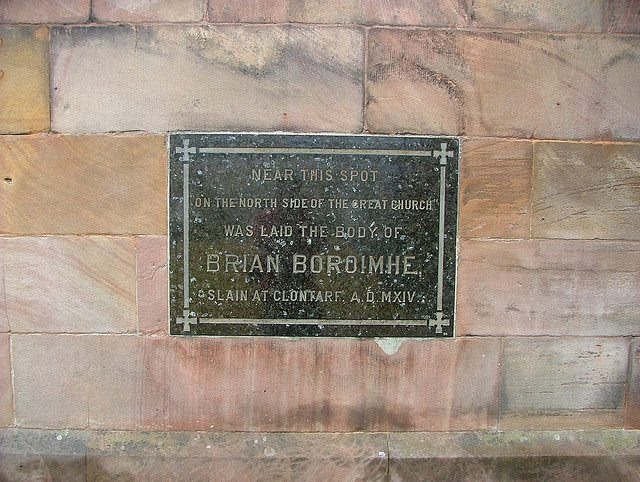 Tradition says Brian Boru was buried in 1014 at
Armagh Cathedral
(which has been re-built many times since).
Photo from
here
.
---
---

English and British monarchs since
Henry II
.
Henry II invaded Ireland in 1169. It took just over 200 years for the English royal family to be descended from the Irish kings.
Every English and British monarch from
Henry IV
on (succ 1399) descends from Brian Boru.
Extract of "Coins of English monarchs" poster. See
larger
. You can order it
here
.
It incorrectly labels
Richard I the Lionheart
as "Richard II".
---
Descent of Irish people from English Royal family
---
The
Queen's visit to Ireland in May 2011
was such a success, and filled with such unexpected warmth, that I thought I would point out how Irish she in fact is. The Irish Times
published
my letter on 21 May 2011.
THE QUEEN'S IRISH ANCESTORS

Madam

While we are all re-evaluating the Queen as someone who might actually like Ireland, it might be timely to summarise her extensive Irish ancestry.

The two great Norman families of medieval Ireland were the Butlers and the Fitzgeralds. The Queen directly descends from both many times. The most recent descents I can see for her are from James Butler, 1st Duke of Ormonde (died 1688), from James Fitzgerald, 10th Earl of Desmond (died 1529) and from Gerald Fitzgerald, 11th Earl of Kildare (died 1585). Through the latter she descends from Irish heroes Garret Mor Fitzgerald, 8th Earl of Kildare, and Garret Og Fitzgerald, 9th Earl of Kildare. Her ancestor Baron Portlester lies in a spectacular tomb [1] in St.Audoen's church on High Street in Dublin.

In terms of Gaelic families, the Queen descends (remarkably) from the rebel Hugh O'Neill, Earl of Tyrone (died 1616) and also from Diarmaid O'Brien, 5th Baron of Inchiquin (died 1624). Through the latter she descends from Connor O'Brien, King of Thomond (died 1540) and Domnall Mor O'Brien, King of Thomond (died 1194). Ultimately, she descends from Aoife Mac Murrough (who married Strongbow in 1170) and from Brian Boru, High King of Ireland (died 1014).

In fact, Ireland is littered with her ancestral homes and her ancestors' tombs. Her most recent Irish-born ancestor was apparently Richard Wellesley, 1st Marquess Wellesley (died 1842). Given all this, it does seem unfair that she was never allowed visit her ancestral homeland until now.

Yours

Mark Humphrys
Notes:

[1] Actually I got this slightly wrong. The Baron Portlester is not buried in St.Audoen's. There is a spectacular effigy of him there, but he is actually buried elsewhere.