Belknap
Sources yet to be consulted: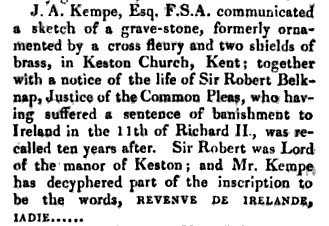 Reference to Sir Robert Belknap in The Gentleman's Magazine, Nov 1830.
Suggesting possible burial at
Keston
, Kent.
From
p.447
of
July-Dec 1830 volume
.
John Belknap,
had issue:

Sir Robert Belknap (also here),
born about or before 1330.
Knighted 1374.
Chief Justice of the Common Pleas 1374-1388.
He was attainted and exiled to Ireland 1388.
Attainder and exile revoked 1397.
He died 19 January 1401.
[DNB] says he was probably buried in Rochester Cathedral, Kent.
Sir Robert had issue:
Joan Belknap,
mar 2ndly to Sir Edmund Hampden
and had issue:




John Hampden.
He mar Elizabeth Whalesborough.
See her descent (and here) from Henry I by Ed Mann.
They had issue:




Eleanor Hampden.
She mar Walter Arden and had issue.
Ancestors of William Shakespeare (bapt 1564).




Sir Hamon Belknap.
He mar Joan Boteler.
See her ancestors.
She was sister of Ralph Boteler, 1st Baron Sudeley.
She is descendant of King John. See descent by George Larson.
Sir Hamon and Joan had issue:




Sir Henry Belknap, born 1435.
Lord of Oston, Warwickshire,
and of Knell (or Knelle), near Beckley, Sussex.
He mar Margaret Knollys.
He died 1488, age 53 yrs.
They had issue:




Elizabeth Belknap,
mar Sir Philip Cooke [born 1454] and had issue.




Alice Belknap,
born c.1475,
mar Sir William Shelley, Knt. [born 1476] and had issue.




Griselda Belknap.
She mar John Caryll.
She died 1498.
Memorial in Clapham church, Sussex.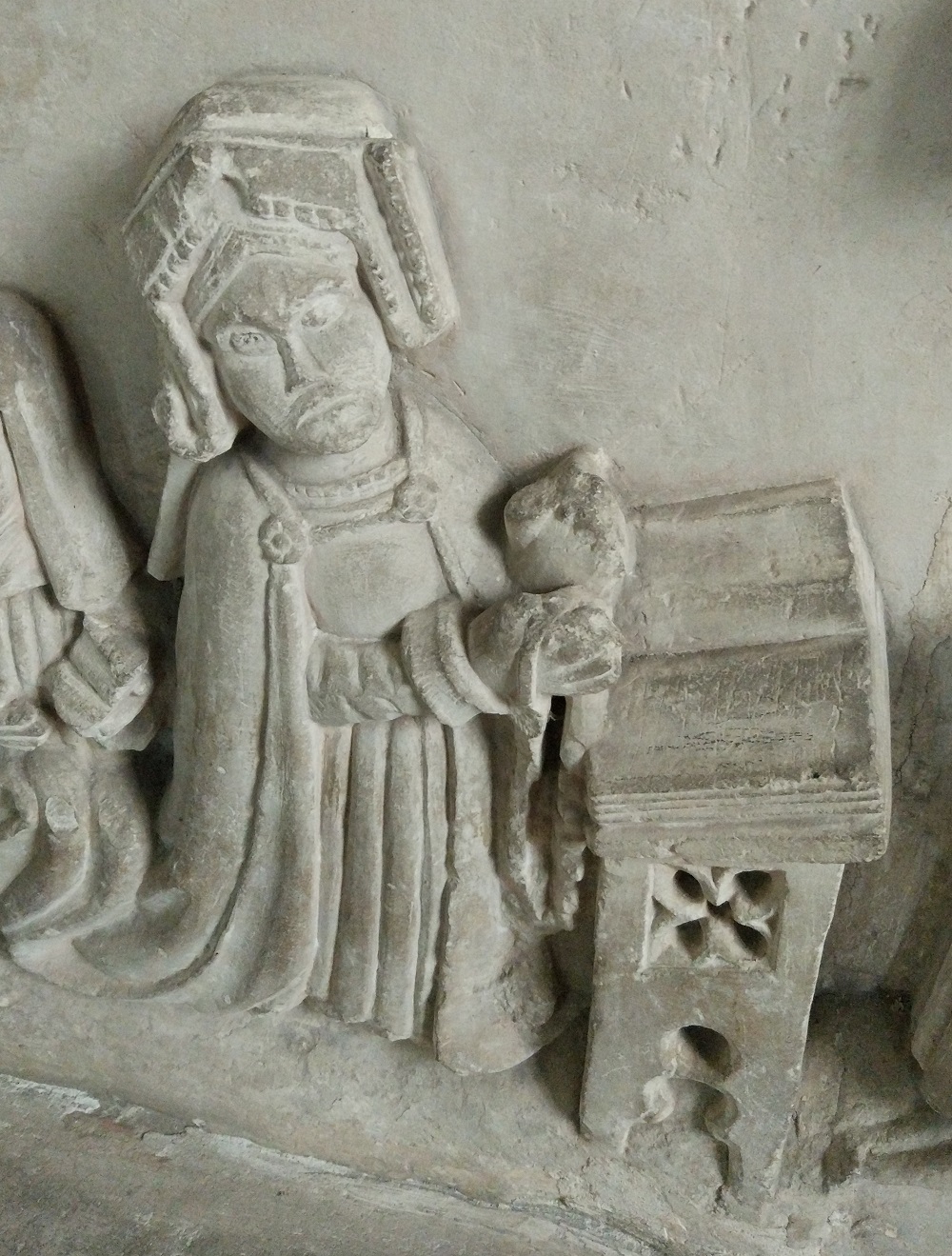 Alice Belknap (died 1537), wife of Sir William Shelley.
On her
tomb at Clapham, Sussex
.
Photo 2019. See
full size
.


Memorial to Griselda Belknap, wife of John Caryll, and dau of Henry Belknap.
RHS of the altar at Clapham church, Sussex.
Photo 2019. See full size.
See wider shot. See wider shot.
---