Capt. Goddard Blennerhassett
References:

Sources yet to be consulted: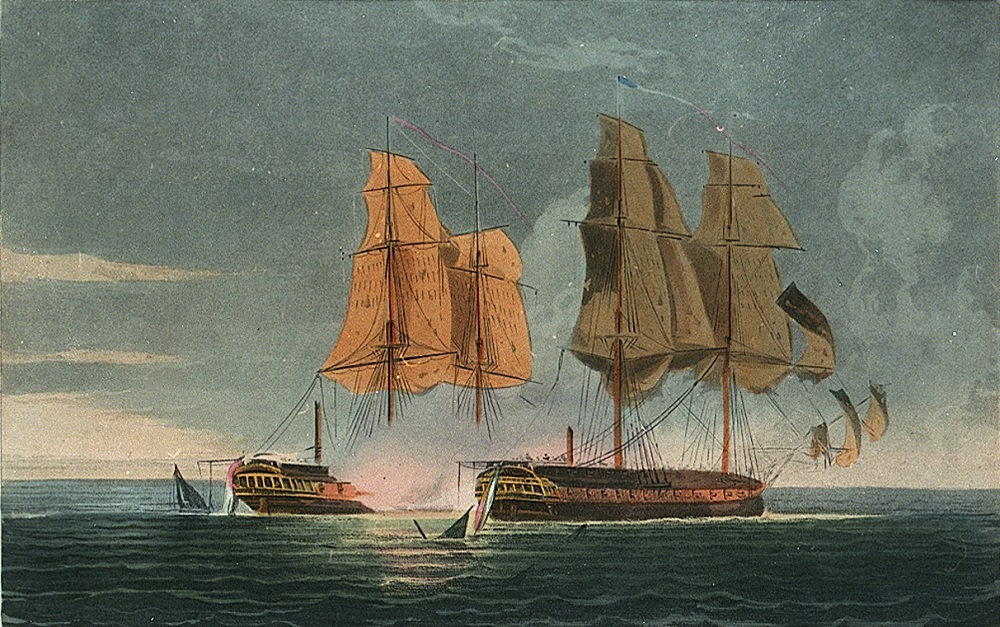 "Capture of La Thetis. Novr. 10th 1808".
Painted by
Thomas Whitcombe
. Engraved by Thomas Sutherland.
See
full size
. From
NMM
.
See
1820 engraving
by Thomas Sutherland. From
BM
.
Capt. Goddard Blennerhassett
,
bapt 29 Sept 1778, Tralee, Co.Kerry.
Royal Navy officer.
Lieutenant
in 1796.
Goddard became commanding officer of the Phipps in Dec 1810. But did not stay in that post long.
In Jan 1811, he became commanding officer of Challenger.
He is listed as Captain for a period.
His letters appear in "Letters from Captains" series at Admiralty, 1811 to 1814.
He is captured by the French, 1811:
On 12 Mar 1811, he and his ship the Challenger were captured by "a French frigate and an armed store-ship, off the Seven Islands" [Royal Naval Biography]. Not clear which Seven Islands this refers to.
When he returned from captivity, he was tried by a court martial in May 1814 and honourably acquitted, and even praised.
He is later listed again as "Commander" in [Treble Almanac 1829].
This does not represent a demotion. Captain is a position and honorific as well as a rank. So when he was made commanding officer of Challenger, he would have held the substantive rank of "Commander" but would have been referred to, and held the appointment, as "Captain". [Royal Naval Biography] has him as never higher than Commander in substantive rank.
Confusingly, he had a nephew Goddard Blennerhassett (born 1802) who was a Commander in the Royal Navy and died before him, in 1833.
[Bill Jehan] says he remained a Commander on half-pay, and retired as Captain 1840.
He died without issue, 1843, age 65 yrs.
See notice in Kerry Evening Post, October 11, 1843. Lists him as Captain.
See entry at threedecks.org.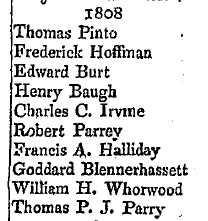 Goddard Blennerhassett listed among the Commanders of the Royal Navy.
From
[Treble Almanac 1829, p.129]
.


The movie Master and Commander (2003) shows a fictional naval battle in 1805.
---
Wonder if the Seymour family has any papers of Capt. Michael Seymour that reference Goddard Blennerhassett.