Coote, Earl of Bellomont
References:

Sources yet to be consulted:

Belfast News Letter, 31 Oct 1800.
Historical and genealogical record of the Coote family, Abraham de Vlieger, 1900. [NLI] Ir 9292 c 6.
"Members in the Irish Parliament for Cavan", T.S. Smyth, Breifne Antiquarian Society Journal, 1920 pp.37-47 and 1921 pp.95-111.
"The Cootes of Cootehill", Patrick Cassidy, Breifne, Breifne Historical Society, xxxvii (2001), pp.344-359.

[History of the Irish Parliament] cites a source for Coote's entry: "EC 5577 and 6406". Abbreviation "EC" is unidentified.
Does any copy of Coote's will survive?
Charles Coote, 1st Earl of Bellomont
, born 1738.
He succ as 5th Baron Coote 1766.
He was cr 1st Earl of Bellomont 1767.
He was known for his womanising before and after marriage.
He was cr 1st Baronet in May 1774 with remainder to his illegitimate son Charles Coote.
He mar Aug 1774 to
Lady Emily Fitzgerald
[born 1751] and had issue.
His family seat was
Coote Hill
(renamed
Bellamont House
), Bellamont Forest, near
Cootehill
town, Co.Cavan.
[History of the Irish Parliament] says that in 1782, Mary O'Hara, wife of James Carrique Ponsonby, ran away with "Lord Bellomont".
If date is correct, Mary was already (1778) separated from her husband.
Coote and his wife separated before 1789 [Complete Peerage]. Though [DIB] says his wife left him in 1794.
In his will of 1800 he acknowledged 12 illegitimate children by 5 different mothers.
He died 1800.
See portrait in [NGI].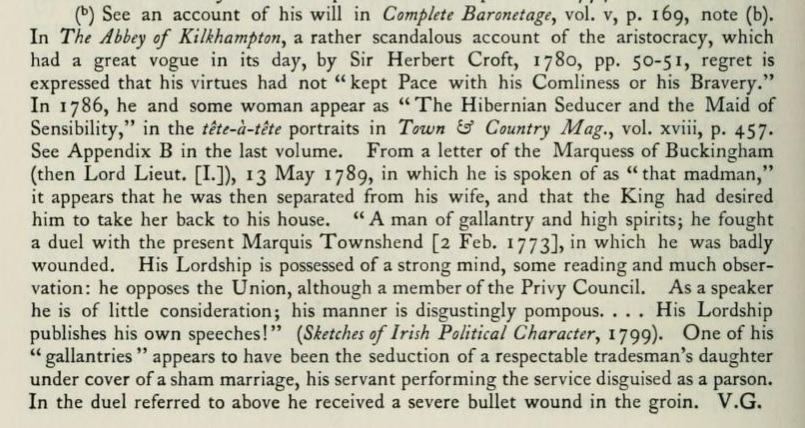 Note on
p.110
of the
[Complete Peerage]
entry above.


Note on p.169 of the [Complete Baronetage] entry above.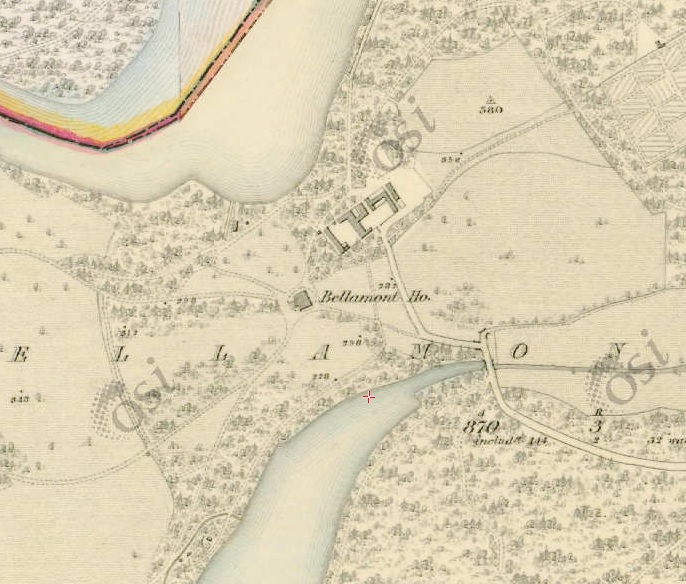 Bellamont House, near Cootehill, Co.Cavan, on 1829 to 1842 map.
See modern satellite view.
---