Garvey
References:

[MGH] 2nd series, vol.4 (1883)

Sources yet to be consulted: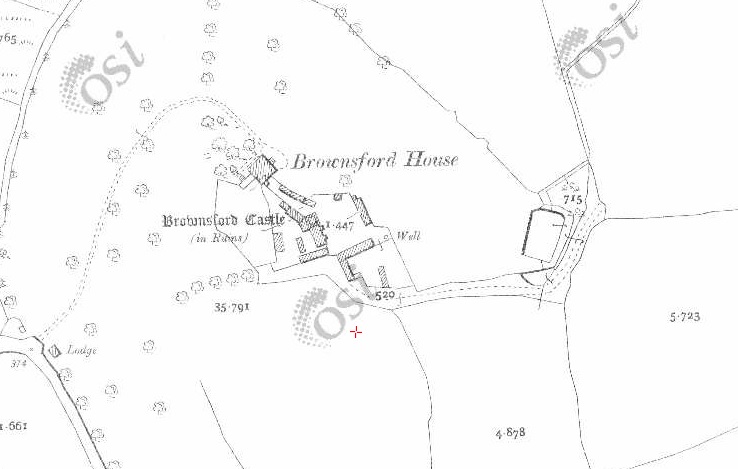 Brownsford Castle, Brownsford, Dysartmoon par, Co.Kilkenny (between
Thomastown
and
New Ross
).
From
1887 to 1913 map
.
See
modern map
and
street view
of gate.
Thomas Garvey,
of
Brownsford Castle
, Co.Kilkenny,
mar Maria Anna Walsh,
had issue:
William Henry Garvey,
born 1817.
See entry in tree by Paul Garvey.
He mar 1840 to Eliza Blennerhassett [probably born c.1799].
It was her 2nd marriage. She was a lot older than him. She was probably age c.41. He was age 23.
She died 18 Feb 1868.
He died 28 Mar 1872.
Listed at death as of Middle Gardiner St, Dublin.
(todo) See death of William Henry Garvey, [GROI], Dublin North, 1872, age 55 (born 1817), vol 7 p 377.
See death notice, Belfast News-Letter, 30 March 1872.
See death notice, Freeman's Journal, 2 April 1872.
They had issue:

Thomas Blennerhassett Garvey, born 1844.
He was educ TCD. Medical Doctor. MB.
Think he is the person who researched the Garvey family tree published in [MGH, 1883].
Listed in medical directory in [Thom's, 1894] as "care of" Charles Robert Thorp, solicitor, 39 Kildare St, Dublin.
Listed at death as Medical Doctor, bachelor, of 13 Harcourt St, Dublin.
He died of "typhoid fever", 29 Mar 1894, private hospital, Charlemont St, Dublin, age 50 yrs.
See death in [GROI].
See entry in Index To Death Duty Registers 1796-1903, Court of Probate, [NA.UK] IR27/528. This refers to a will, proved at Dublin.

Charles Henry Garvey,
died unmarried, 28 Jan 1868.

Thomas Blennerhassett Garvey in
[Thom's, 1894]
.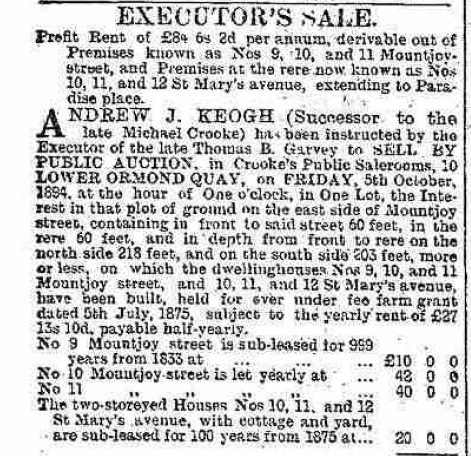 Executor's sale of property of the late Thomas B. Garvey (maybe him, but not certain).
Freeman's Journal, 1 October 1894.
Property on Mountjoy St and St.Mary's Ave, Dublin.
Refers to deed of 1875.