George Cashel disciplinary action, 1829
This is document
[CSORP, 1829, no.1146]
, formerly no.2091. See
entry
.
This is a disciplinary action against Sub-Constable
George Cashel
for being drunk - presumably on duty, though perhaps it was an offence for a policeman to
ever
be drunk (e.g. for security reasons).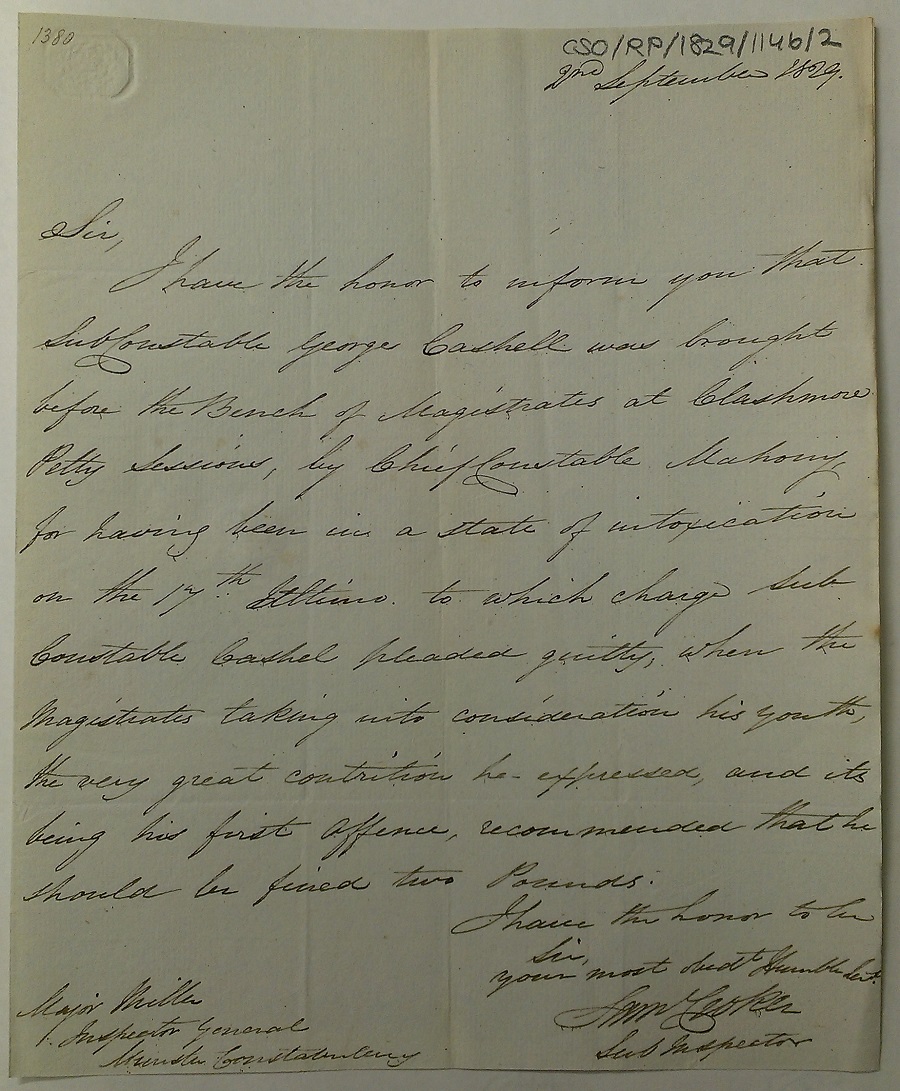 Samuel Croker
, Sub-Inspector of Waterford, writes on 2 Sept 1829 to
Major William Miller
, Inspector General for Munster.
Croker says that Sub-Constable
"George Cashell"
was recently brought before the Bench of Magistrates at Clashmore Petty Sessions,
Clashmore
, Co.Waterford, by
Darby Mahony
, Chief Constable of Clashmore.
Cashel was charged with having been drunk
"on the 17th"
[think "ultimo", meaning "last month", i.e. 17 Aug 1829]
"to which charge [he] pleaded guilty"
.
The magistrates, taking into account his youth,
"the very great contrition he expressed"
, and it being his first offence, recommended a fine of £2.
Croker here does not recommend further punishment (such as dismissal from the constabulary).
See
full size
. See
other scan
.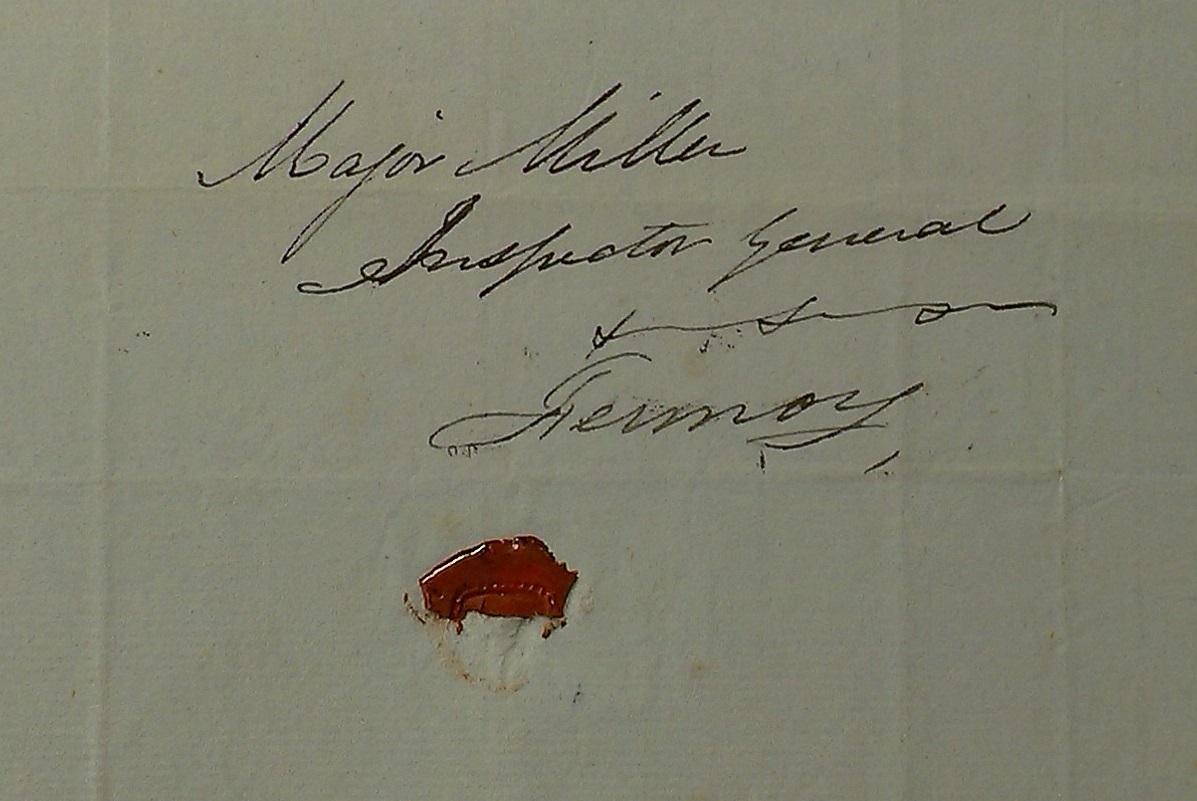 Cover of above letter.
Letter addressed to Miller at his HQ at Fermoy House, Fermoy, Co.Cork.
See full size.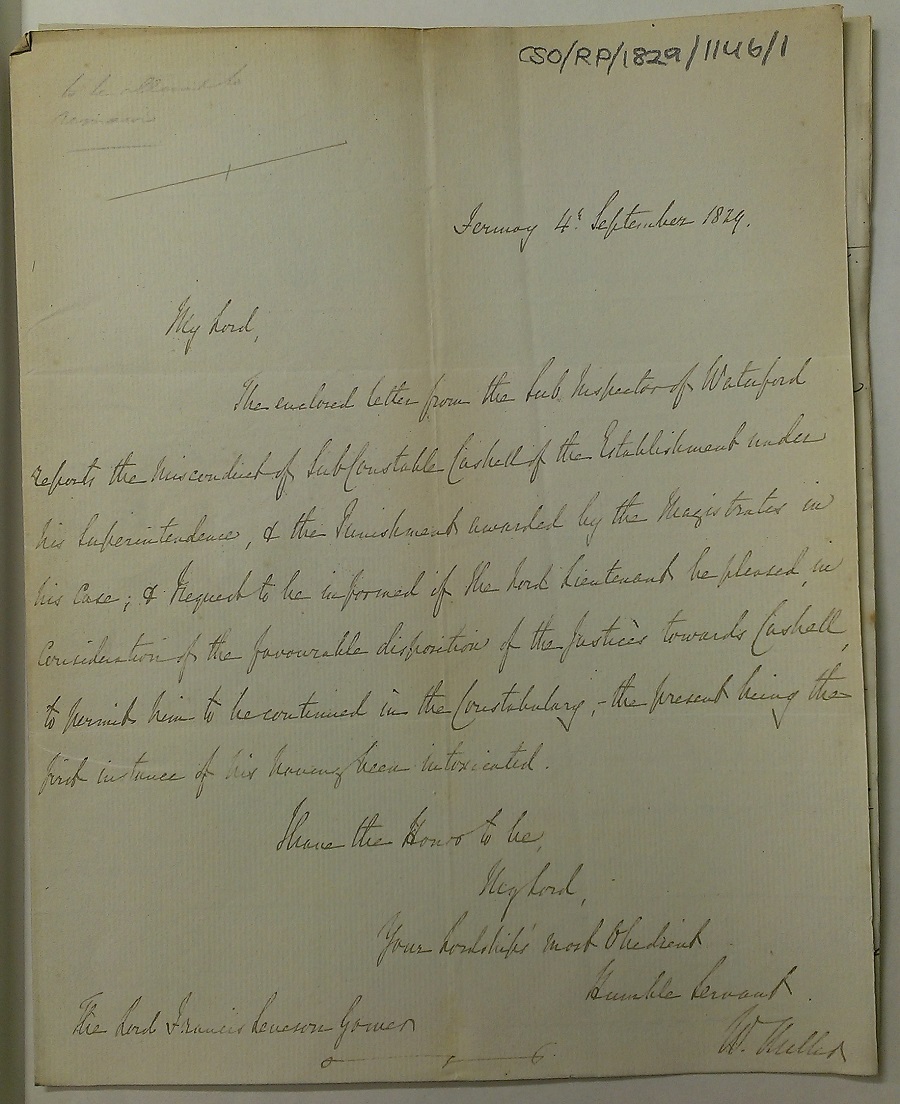 Major William Miller, Inspector General for Munster, wrote from Fermoy on 4 Sept 1829 to the Chief Secretary for Ireland, Lord Francis Leveson-Gower.
He requested Cashel "to be allowed to remain" (see top corner) in the constabulary.
See full size. See other copy.