John Cluer
References:

Sources yet to be consulted:

Petition dated 1724 of John Cluer, Bezaleel Creek and Thomas Cobb for the grant of the King's licence to carry on the engraving and printing music. SP 36/128/2/81 in [NA.UK].

A hymn printed in 1714 by John Cluer in Bow Churchyard.
See
full page
. From
British Museum
.
John Cluer
, born est c.1675.
He was a
printer
(publisher and printer of small items) in London.
He was apprenticed to Thomas Snowden in London on 6 May 1695.
See
indenture
from
here
in
London, Freedom of the City Admission Papers
.
He was freed from apprenticeship in 1702.
Freeman of Stationers' Company, 4 May 1702
[Stoker, 2014, p.155]
.
He mar 1702 or 1703 to Elizabeth Dicey.
Apprentices were not meant to marry so must have married after 1702.
She is listed as married to him in her father's will 1703.
He set up his own printing business in Bow Church Yard, London.
The business is described on a visit to Bow Church Yard in 1763 as being run by the family for "fourscore" years, which would make it founded in 1683. This must be inaccurate. Most likely it was founded by John Cluer in 1702-1710.
The earliest surviving item from the Bow Church-yard press is dated 1710 [Stoker, 2014, p.155].
Mist's Weekly Journal for March 1718 had an ad for prints "At the Printing house in Bow Church Yard, London, by J. Cluer and Company".
In 1722 he partnered with his brother-in-law William Dicey in selling the patent medicine "Dr. Bateman's Pectoral Drops" (basically opium). He sold them in London.
He also sold the patent medicine "Daffy's Elixir".
He became a major publisher of music in London. He also did a lot of prints (pictures).
According to the London Journal of 13 July 1728, John Cluer and his foreman Thomas Cobb invented movable types for printing music.
John dies, 1728:
His will dated 24 Aug 1728. He is a printer, of St Mary-le-Bow parish, Cheapside, London. He leaves everything to wife. No mention of children.
He died Oct 1728.
His will pr 5 October 1728, Prerogative Court of Canterbury.
He was bur 12 Oct 1728, St Mary-le-Bow. See entry from here.
Elizabeth re-married in 1729 to John's foreman Thomas Cobb.
The business was taken over by the Diceys in 1736.
John and Elizabeth had issue: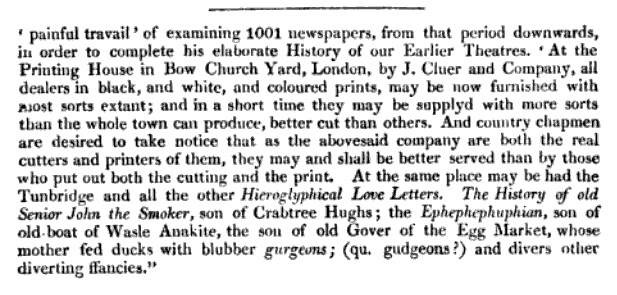 A reference to an ad for Cluer's prints that appeared in
Mist's Weekly Journal
for March 1718.
From
pp.282-283
of
vol.3
of
The Bibliographical Decameron
(1817) by
Thomas Frognall Dibdin
.




John Cluer listed in "Register of Duties Paid for Apprentices' Indentures", 21 Oct 1718.
See full size. From here.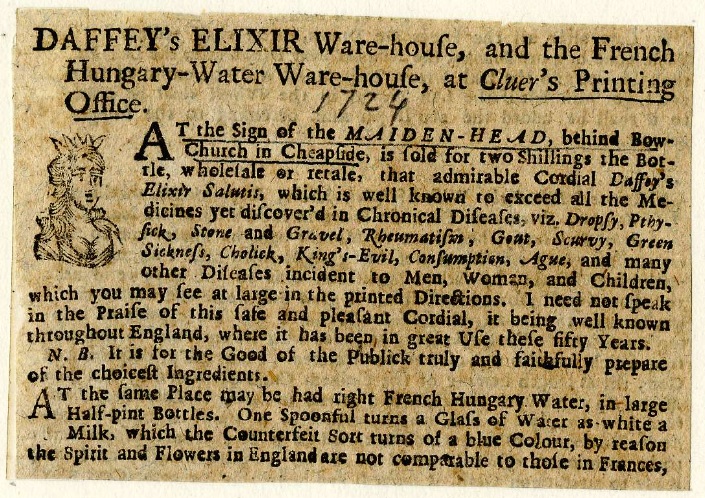 1724 ad for "Daffey's Elixir" being sold by John Cluer in Bow Churchyard.
From British Museum.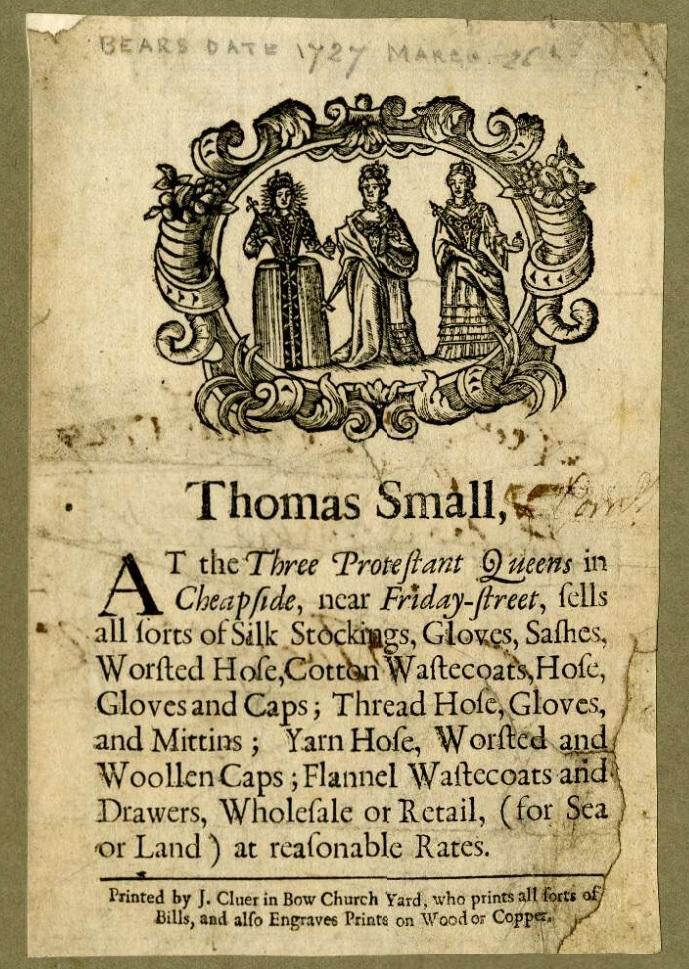 A trade card of 1727 printed by John Cluer in Bow Churchyard.
From British Museum.



Probate of will of John Cluer granted (in Latin) to Elizabeth his wife, 5 October 1728.


Burial of John Cluer, St Mary-le-Bow, London, 12 Oct 1728.
---
John Cluer in Cluer tree by Peter John Baker.

This tree gives John Cluer an earlier marriage in 1700 to Elizabeth Marten, with issue, including a son born in 1712 who lived to adulthood.
This cannot fit the above. Elizabeth Dicey was married to our John Cluer by 1703. Also the will of this John Cluer mentions no children. And why would his brother-in-law inherit the business and not his son?
John Cluer who married Elizabeth Marten must be a different John Cluer.