Cluer Dicey
Sources yet to be consulted: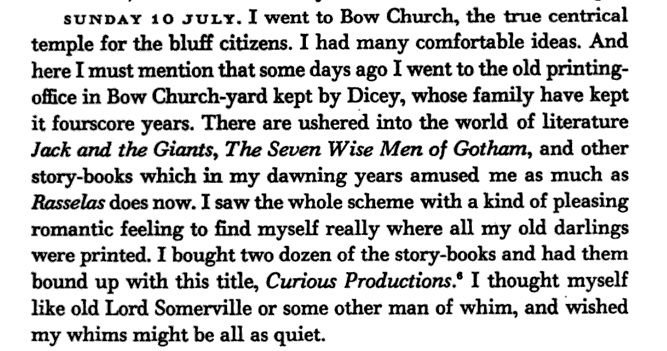 The 1763 visit of the young
James Boswell
to Cluer Dicey's business in London.
Boswell's diary entry of 10 July 1763 (though visit was before that date).
From
p.299
of
Boswell's London Journal, 1762-1763
, Yale University Press, 2004.
Cluer Dicey
, born 28 Jan 1715,
printer and bookseller.
He was partner in
his father's
publishing business.
In 1736 he was sent by his father to run
John Cluer's printing business
in Bow Church Yard, London.
He mar 7 Oct 1738 to
Maria Nutshawe
[or Mary, of Cheshire].
He printed a catalogue with
his father
1754.
The minutes of the
Northampton Hospital
committee for 15 Nov 1755

show that Mr. Dicey, owner of the Northampton Mercury, agreed to insert items of news for the hospital occasionally for free. This would be either Cluer or his father. Later, Cluer's daughter married a surgeon at the hospital.
He ran the business after his father's death 1756. Continued in both printing and patent medicines.
Maria died Tue 3 Feb 1761, at Northampton
[Daily Advertiser, Fri 6 Feb 1761]
.
The young James Boswell visited in July 1763 to: "the old printing-office in Bow Church-yard kept by Dicey, whose family have kept it four score years. There are ushered into the world of literature "Jack and the Giants", "The Seven Wise Men of Gotham", and other story-books which in my dawning years amused me as much as "Rasselas" does now".
Cluer printed a catalogue with Richard Marshall 1764. It shows they printed a range of maps, prints, music and chapbooks, "Printed and sold by Cluer Dicey, and Richard Marshall at the printing office, in Aldermary Churchyard, London".
Aldermary was the Marshall premises, Aldermary Churchyard, a bit SE of the Bow church yard premises (see map and modern street view). Also listed as "no.4, Aldermary Church Yard, Bow Lane".
[Simmons, 2000] says: "The 1764 catalogue .. was probably larger than any catalogue categorising and listing cheap maps, images and texts that had up to then appeared in the British Isles or probably in any European country."
Note says the 1764 catalogue "is an important source for the study of the lower end of the eighteenth-century book and publishing trade."
His company were the first printers of the nursery rhyme Simple Simon (1764).
He still owned the Northampton Mercury.
In 1765 he purchased Claybrooke Hall, Leicestershire (some distance NW of Northampton).
The conveyance of Claybrooke Hall and lands from George Byrd to Cluer Dicey is dated 11 Oct 1767.
His will dated 17 Sept 1772, refers to Dicey business still at Bow Church Yard.
He died 3 October 1775, age 60 yrs.
He was bur in St. Peter's Church, Claybrooke Parva (opposite Claybrooke Hall).
The religious writer Hannah More (a friend of the family) wrote an epitaph to him, which was inscribed on his memorial tablet.
Will pr 16 November 1775, Prerogative Court of Canterbury.
Cluer and Maria had issue:
William Dicey, born 16 July 1739,
died 3 Sept 1739, age 2 months.




Charlotte Dicey,
eldest dau, born 17 Feb 1740,
according to [Burkes LG, 1886] she mar 1stly to --- Yeats, who soon died, and Kerr was her 2nd mar,
mar 1764 to Dr. William Kerr [born 1738] and had issue.




Thomas Dicey, born 26 Mar 1742,
of Claybrooke Hall, Leicestershire.




Sarah Ann Dicey, born 1746,
or Sarah Anne,
spelt "Sarah Ann" in father's will,
mar George Rigby [of London],
she died pre-1779,
had issue:

Sarah Ann Rigby (or Sarah Anne).

Elizabeth Dicey,
died pre-1772,
referred to in father's will of 1772.
---
Cluer Dicey tomb, St. Peter's Church, Claybrooke Parva (opposite Claybrooke Hall).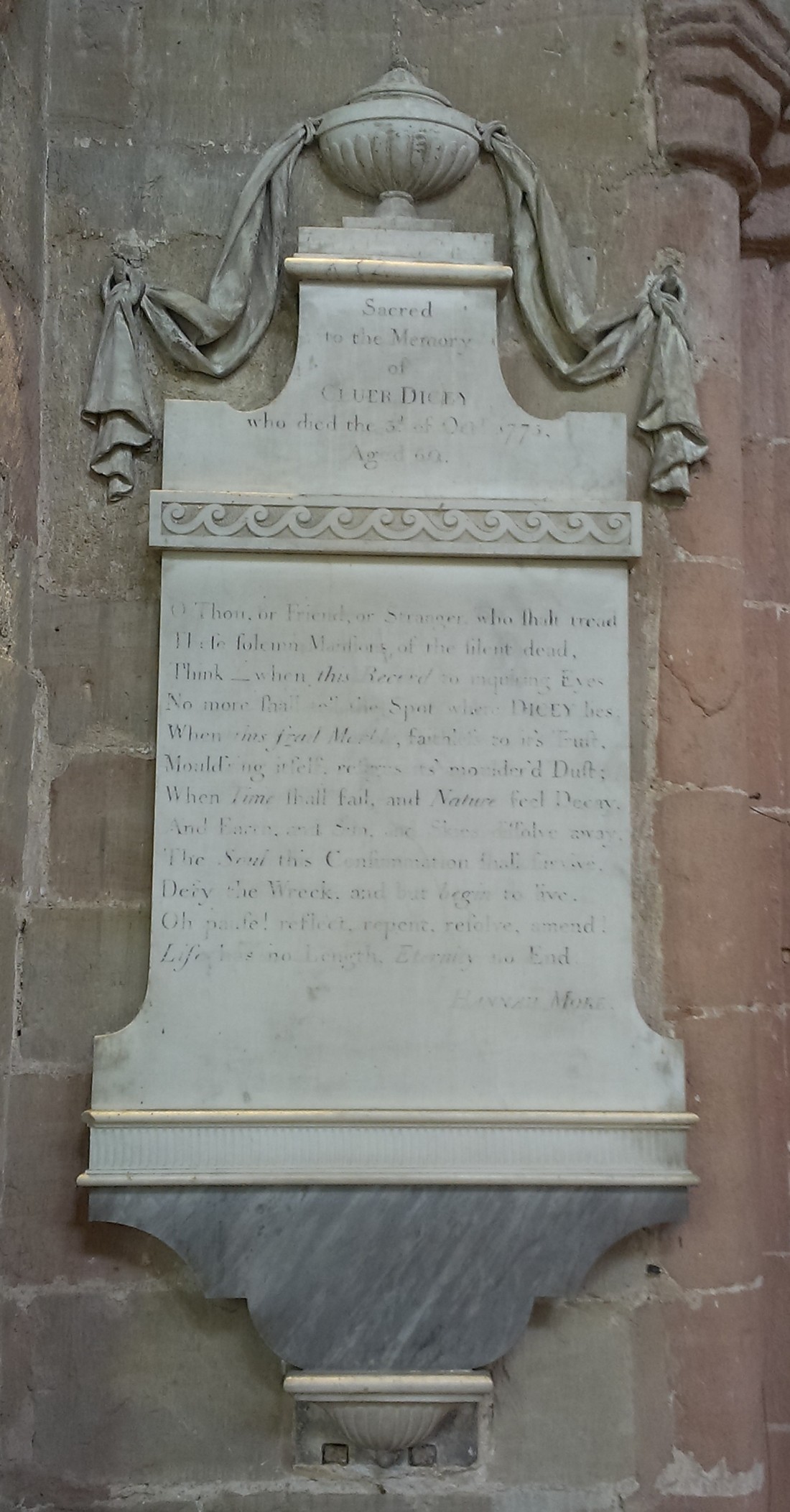 Grave of Cluer Dicey (died 1775), Claybrooke Parva church.
Photo 2014. See
full size
.
See
closer shot
and
epitaph
.
See
wide shot
.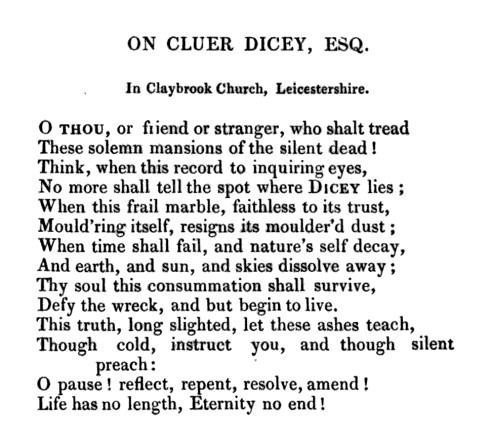 Epitaph to Cluer Dicey (died 1775), by Hannah More, on the above tomb.
"Life has no length, Eternity no end!"
From The works of Hannah More, with a memoir and notes, Hannah More, 1834, vol.6, p.12.
Also in The Works of Hannah More: Including Several Pieces Never Before Published, Hannah More, 1818, vol.1, p.148.
Also in The Works of Hannah More, Hannah More, 1835, vol.6, p.415.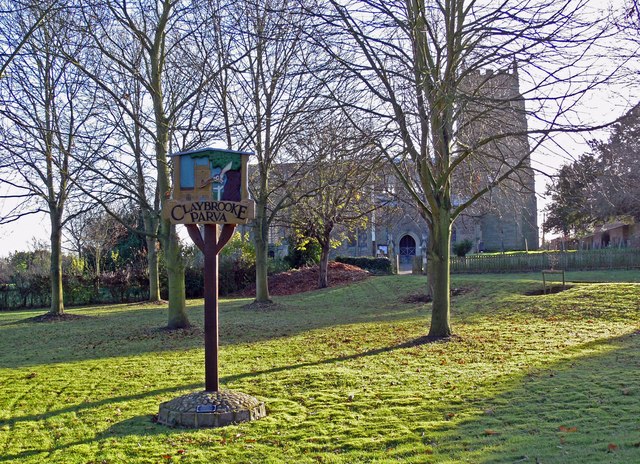 St. Peter's Church, Claybrooke Parva.
Photo 2007 by Mat Fascione. See terms of use.
See 2014 photo.
See street view.
---
Simple Simon met a pieman
Going to the fair;
Says Simple Simon to the pieman,
"Let me taste your ware."


Says the pieman to Simple Simon,
"Show me first your penny."
Says Simple Simon to the pieman,
"Indeed I have not any."
- Simple Simon (1764).
Cluer Dicey was the first printer of this nursery rhyme.
---