William Dicey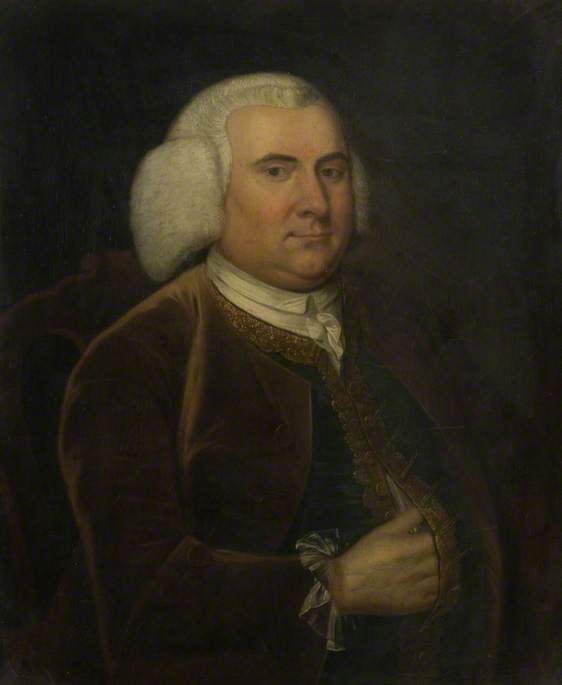 William Dicey.
Northamptonshire Central Library. On display at
County Hall
, Northampton.
From
Art UK
.
William Dicey
,
born 25 Dec 1690.
See
Wikipedia
.
Pioneer
printer
and newspaper owner. Pioneer of cheap print.
Originally of
Basingstoke
, Hampshire.
His sister Elizabeth married 1701 to
John Cluer
who ran a printing business in
Bow Church Yard, London
.
William is named in
father's will
1703.
Move to London:
He went to London.
He worked with his brother-in-law John Cluer in London for a time.
He is described as a "printer" at mar 1711.
He mar 6 Apr 1711, London, to
Mary Atkins
[born est c.1693 since still having children in 1734].
See
entry
from
here
in
London Clandestine Marriage Registers
. The terms of his apprenticeship say he is not to marry for 7 years. This may explain why he married secretly days before becoming an apprentice.
Robert Dicey's will of 1757
mentions his uncle "Robert Atkins", then living.
William was apprenticed as a "leather seller" for 7 years to John Sewers, of the London Leathersellers Company, 17 April 1711.
See indenture from here in London, Freedom of the City Admission Papers.
He was "turned over" to John Cluer before the 7 years were up (before 1718).
His son was born 1719 in St Giles Cripplegate parish, London. Though baptised in St Mary-le-Bow church (Bow Church Yard).
By 1719 he was an experienced printer, and he moved into the new business of provincial newspapers.
In 1719 he established the St Ives Mercury newspaper, in St Ives, Cambridgeshire.
Move to Northampton:
He formed a business partnership with
Robert Raikes the Elder
(who was initially his competition in St Ives).
In 1720, he and Robert Raikes founded the
Northampton Mercury
newspaper. First edition 2 May 1720. This was the first press in
Northampton
. The press was next to the George Inn, opposite
All Saints' Church
, S of Market Square, Northampton. See
modern map
.
He also got into the business of selling
patent medicines
.
In 1720 he and Robert Raikes partnered with
Benjamin Okell
in selling
"Dr. Bateman's Pectoral Drops"
. It was sold as a cure-all for all sorts of ailments. In fact, it was
basically opium
.
He settled in Northampton.
His son is bapt in Northampton in Jan 1721.
He became a freeman of the Leathersellers Company on 7 August 1721, although he seems never to have practiced this trade.
His brother-in-law John Cluer joined him in the patent medicine business in 1722. John sold the medicine in London.
In 1722, William and Robert Raikes founded the Gloucester Journal. First issue 9 April 1722. This was the first press in Gloucester.
He and Raikes divided the newspaper business in Sept 1725. Raikes became owner of the Gloucester Journal. William became owner of the Northampton Mercury.
He built up a successful business in Northampton, as a printer and seller of books and maps and prints. Also a successful patent medicine business.
In 1726 the patent for "Dr. Bateman's Pectoral Drops" was re-issued to Okell, Dicey, Raikes and Cluer.
John Cluer's will mentions the Letters Patent of 31 March, 12 George I. This is 31 March 1726.
William's son was bapt at Northampton in Apr 1726.
He moved the Northampton Mercury to larger premises at 11 The Parade, Market Hill, Northampton, in 1728. (Market Hill is apparently the old name for Market Square, or mainly the S side of Market Square.)
John Cluer died in 1728. Elizabeth re-married in 1729. She and her 2nd husband continued running the Cluer business in London.
In 1733, William purchased a large house at Market Hill, Northampton for £500 [Neuburg, 1969].
The Dicey business sold patent medicines throughout Britain and Ireland. They sold Dr. Bateman's Pectoral Drops to the American colonies from at least 1733. They also sold to Antigua. See [Simmons, 2000].
Takes over Bow Church Yard, London, business, 1736:
In Nov 1736, William took over the running of the former John Cluer business in London from his sister Elizabeth and her 2nd husband.
William's son Cluer joined him in the business and was sent to London to run the business there.
The Diceys erected a temporary printing press on the frozen River Thames in London during the Frost Fair at Queenhithe in 1740 [Stoker, 2014, p.150].
Mary dies, 1748:
She died 28 Dec 1748.
She was bur 1 Jan 1749, All Saints' Church, Northampton. See burial entry from here.
1754 catalogue: William and his son Cluer printed a catalogue of their publications in 1754. It shows they printed a range of maps, prints, music and chapbooks: "Printed and sold by William and Cluer Dicey, at their warehouse, opposite the south door of Bow-church in Bow-Church-yard".
They were "easily the most important figures of their time in popular publishing" [DNB].
[Simmons, 2000] says: "The Diceys are well known to print and book historians. No other producers of cheap print operated on the scale suggested by the Catalogue and the family has generally been regarded as its" [cheap print's] "most important printers and sellers in the eighteenth century to about the 1790s."
[Neuburg, 1969] notes the Dicey business sold reading material to the poorer classes around England, among whom literacy was increasing across the 18th century. He says the Dicey family are important figures in the growth of a literate public in England.
William purchased a new property in Northampton in 1754 [Neuburg, 1969].
His will dated 3 Apr 1755. He is a Leather Seller, citizen of London, now living Northampton. His will says he still has a one third share of "Dr. Bateman's Pectoral Drops".
The minutes of the Northampton Hospital committee for 15 Nov 1755 show that Mr. Dicey, owner of the Northampton Mercury, agreed to insert items of news for the hospital occasionally for free. (Later, in 1764, his daughter married a surgeon at the hospital.)
William dies, 1756:
He died 2 Nov 1756, Northampton, age 65 yrs.
He was bur 7 Nov 1756, All Saints' Church, Northampton. See burial entry from here.
His will pr 20 April 1757, Prerogative Court of Canterbury.
William and Mary had issue: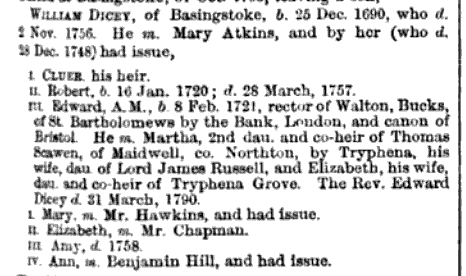 Extract from DICEY in
[Burkes LG, 1862]
.


Extract from DICEY in [Burkes LG, 1875].


Marriage of William Dicey, 6 Apr 1711.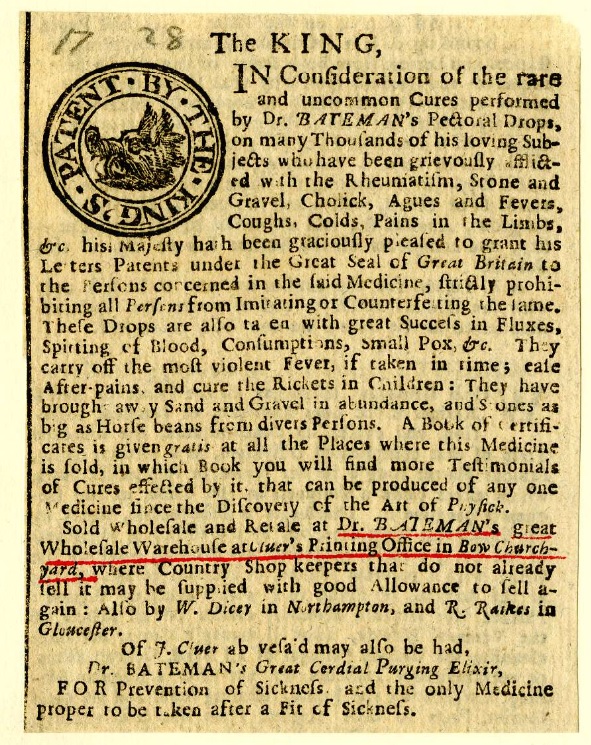 An ad for Dr. Bateman's Pectoral Drops, 1728.
Sold by John Cluer in Bow Churchyard, London, and by William Dicey in Northampton, and by Robert Raikes in Gloucester.
From British Museum.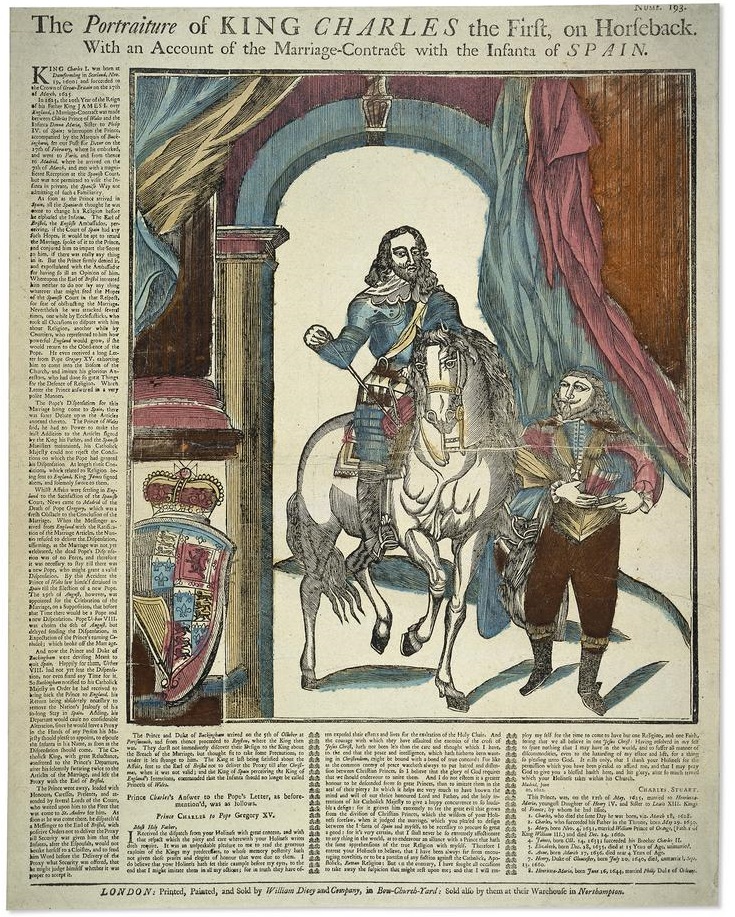 An impressive colour print of Charles I.
After a 1633 portrait.
Print made by "William Dicey and Company, in Bow-Church-Yard" (before 1756).
Possibly made at the time of the Jacobite rising 1745.
From British Museum.
---
References
---
Sources yet to be consulted
Dicey papers. Including will of William Dicey. Northamptonshire Record Office, Northampton, MS Yz 4711-4737.

Will of Ann Hill. See transcript by Bob Janes.

Death of William Dicey, Read's Weekly Journal (13 November 1756).
Trade card of William & Cluer Dicey, printer at the Maidenhead, Bow Churchyard, London. British Museum Banks,99.12.+

Legal cases in [NA.UK]. Court of Chancery.

Legal case, 1721. C 11/1425/5. Plaintiffs: John Baskett, Thomas Welham and Gilham Hills. Defendants: Richard Raikes and William Dicey.
Legal case, Mar 1738. C 11/1550/50. Plaintiffs: Stationers Company of London. Defendants: William Dicey and Cluer Dicey. They were sued by the Stationers' Company for breaching their monopoly on "Psalters, Primmers, Almanacs, Prognostications [and] Predictions".
Legal case, 1764. C12/28/25. Hill v. Dicey. Cluer Dicey's sisters Ann Hill and Charlotte Yeates (soon to be Charlotte Kerr) sue him for non-payment of their inheritance from their father. It appears to have been settled out of court [Stoker, 2014].

Facsimile reprint of the first edition of the Northampton Mercury, of 2 May 1720. Issued as a supplement to the Northampton Mercury of 2 May 1890. Bedfordshire Archives and Records Service, P33/28/5.
History of The Northampton Mercury, Anonymous, Northampton, 1901.
William Waite Hadley, The Bi-centenary Record of the Northampton Mercury, Northampton, 1920.

Victor Neuburg

The Penny Histories: A Study of Chapbooks for Young Readers over Two Centuries (Oxford: Oxford University Press, 1968).
Chapbooks, 2nd edn, 1972.

Juanita Burnby, "Printers ink and patent medicines: the story of the Diceys", Pharmaceutical Journal, 14 (Aug 1982), 162-169.

Gilles Duval

Gilles Duval, "Litterature de Colportage et Imaginaire Collectif en Angleterre a l'Epoque de Dicey 1720-v. 1800" (unpublished doctoral thesis, Universitaires de Bordeaux, 1991).
Gilles Duval, 'The Diceys revisited', Factotum, 35 (1992), 9-11
M. Hobbs, 'The Diceys revisited', Factotum, 36 (1993), 27
Gilles Duval, 'More facts, afterthoughts and conjectures about the Diceys', Factotum, 40 (1995), 13-18

Diana Dixon, "Northamptonshire Newspapers 1720-1900", in Images and Texts: Their Production and Distribution in the 18th and 19th Centuries, ed. by Peter Isaac and Barry McKay, 1997, pp. 1-10.
Ian Jackson, "Print in Provincial England: Reading and Northampton, 1720-1800" (unpublished doctoral thesis, University of Oxford, 2002).
Giles Bergel, "William Dicey and the networks and places of print culture", Worlds of print: diversity in the book trade, ed. John Hinks and Catherine Armstrong, 2006, 149-162.
---