Ussher
References:

Sources yet to be consulted:

"The Ussher Memoirs", Rev. William Ball Wright, Dublin, 1889.
Arland Ussher (or Uscher),
had issue:
John Ussher, had issue:

Thomas Ussher, had issue:

Henry Ussher, Archbishop of Armagh,
born c.1550, educ Magdalene College, Cambridge,
Archdeacon of Dublin 1580,
petitioned Elizabeth I with support of Lord Deputy Fitzwilliam to found TCD 1590, obtained warrant 1591,
Archbishop of Armagh 1595 to 1613,
mar 2ndly to Mary Smyth,
he died 1613,
Mary remarried 1614 to William Fitzwilliam.

Arland Ussher, had issue:

James Ussher, Archbishop of Armagh,
born 1581, parish of St.Nicholas Within, Dublin,
famously dated the world to 4004 BC,
Archbishop of Armagh 1625 to 1656,
Vice-Chancellor of TCD, a 1654 portrait of him is in the Provost's House,
acquired the Book of Kells, his library formed the nucleus of TCD Library,
died 1656, bur Westminster Abbey.





Christopher Ussher,
born c.1465,
Bailiff of Dublin 1511,
Mayor of Dublin 1516-17,
mar 2ndly, 1524, to Alison Fitzwilliam [heiress of Donnybrook lands],
he was, like his brother-in-law Richard Fitzwilliam, a supporter of the Earl of Kildare,
died 30th Jan 1526, age c.60 yrs,
had issue:

John Ussher, born 1524,
succ to Donnybrook,
produced the first book ever printed in Irish, "Aibidil Gaoidheilge agus Caiticiosma" ("Irish alphabet and catechism", of the Church of Ireland), printed in 1571 by John Kearney,
the Usshers were Protestant, and were translating religious texts into Irish as part of the Protestant mission to translate scripture into the vernacular so the individual could read it and interpret it for himself,
Mayor of Dublin 1574-75,
in the 16th century he or his son built Donnybrook Castle,
in 1597 he leased land on the S side of the River Liffey, W of Christchurch, and built a town house, Bridgefoot house, with extensive gardens down to the river,
had issue:

Sir William Ussher, of Donnybrook Castle, born 1561,
Constable of Wicklow Castle 1597,
in 1602 in Bridgefoot house he printed the first Irish version of the New Testament,
died 1637, age 76 yrs.
---
The first book ever printed in Irish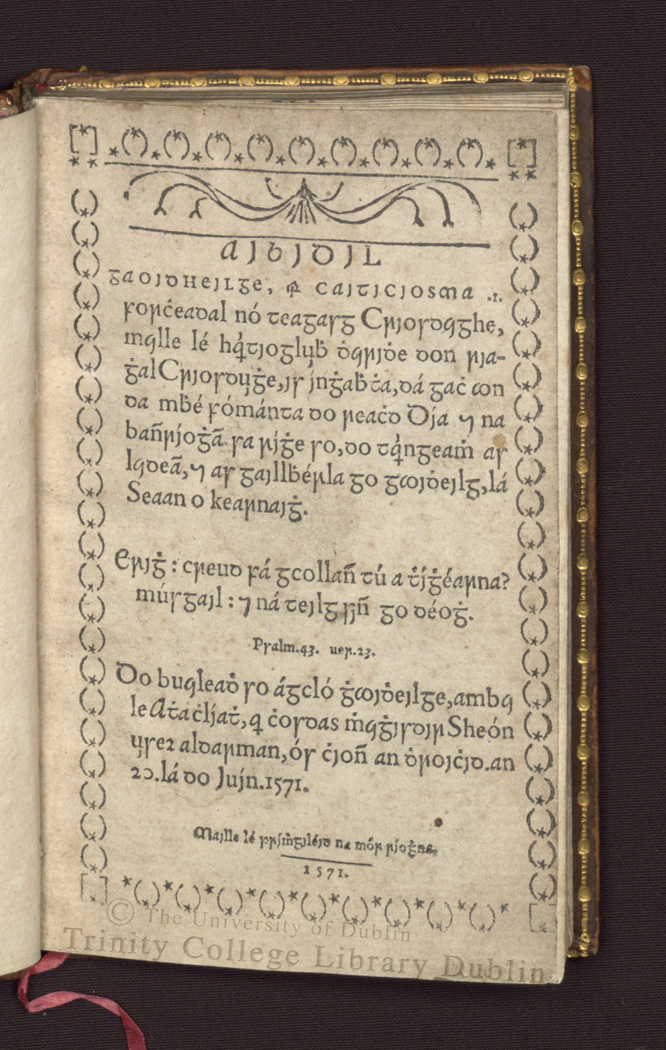 Cover page of the first book ever printed in Irish, "Aibidil Gaoidheilge agus Caiticiosma" (1571).
From TCD. See terms of use.
The last paragraph of the cover page reads: "Do buaileadh so ágcló ghaoidheilge, a mbaile Atha clíath, ar chosdas mhaighisdir Sheón uiser aldarman, ós chion an dhroichid, an 20 lá do Juín 1571".
Translation: "Printed in Irish type in Dublin at the expense of master John Ussher, alderman, [at his house] over the bridge, 20 June 1571".
See entry on p.576 and p.577 of A Dictionary of Members of the Dublin Book Trade, 1550-1800, Mary Pollard, 2000.
---
Where Bridgefoot house stood is now Bridgefoot St, off Thomas St.
Where its gardens once were is now Usher's Quay and Usher's Island (thus now spelt).
See 1887 to 1913 map.

There is a James Ussher Theatre in TCD.