Richard Fitzwilliam
Richard Fitzwilliam
,
of Merrion, Baggotrath and Dundrum,
born est c.1495.
Lived at Baggotrath.
He mar
Catherine Bathe
.
Supporter of his 1st cousin
Garret Og Fitzgerald, 9th Earl of Kildare
(Lord Deputy of Ireland 1513-18).
When the 9th Earl was called to England in 1518, Fitzwilliam went with him.
Leased out Merrion 1519 when going to England for a time.
He died at Baggotrath 1528, when still a young man [Ball, vol.2, 1903].
At his death he left bequest to the Church of Merrion.
Think [Burkes Extinct] is wrong to say he died 20 Dec 1541.
He was bur
White Friars' Monastery
, Dublin (the
Carmelite Monastery
, also called
St.Mary's Priory
, not to be confused with
St. Mary's Abbey
).
On his tomb in the Church of the White Friars he directed that a great marble stone should be laid with a brass engraved with representations of himself, his wife, and his children
"after the custom of England"
[Ball, vol.2, 1903]
.
White Friars' Monastery was
dissolved
in 1539 and demolished 1541.
The Monastery is entirely gone. The site was around modern Whitefriar St and Whitefriar Place, off Aungier St (see
map
).
Richard and Catherine had issue:
Sir Thomas Fitzwilliam, Kt,
born c.1519.




Michael Fitzwilliam, of Donamore, Co.Meath,
mar Mary Preston,
had issue:

Elizabeth Fitzwilliam,
mar Gerald Fitz-Gerald [unidentified, executed after rebellion].




Katherine Fitzwilliam,
mar John Cashell,
living as widow at Baggotrath by 1568,
died at Baggotrath 1574.
See BAGGOTRATH in [Ball, vol.2, 1903], which quotes her will.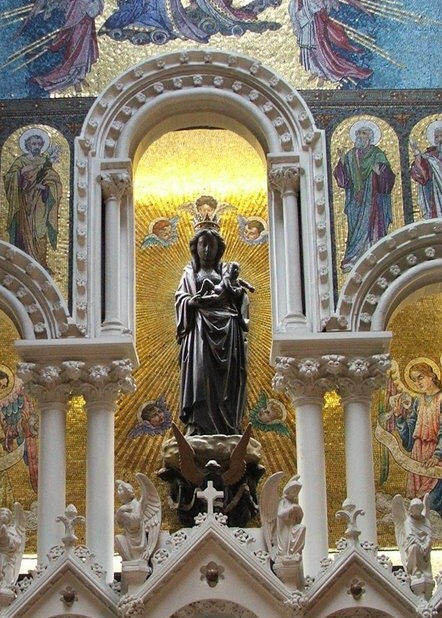 An early 1500s wooden statue of
"Our Lady of Dublin"
, preserved in the 19th century
Whitefriar Street Carmelite Church
, Dublin.
The statue is said to have been preserved from
St. Mary's Abbey, Dublin
after the dissolution of the monasteries in 1539. (Including the dissolution of the White Friars' (Carmelite) Monastery at this site.)
Photo 2011. See
full size
. From
here
.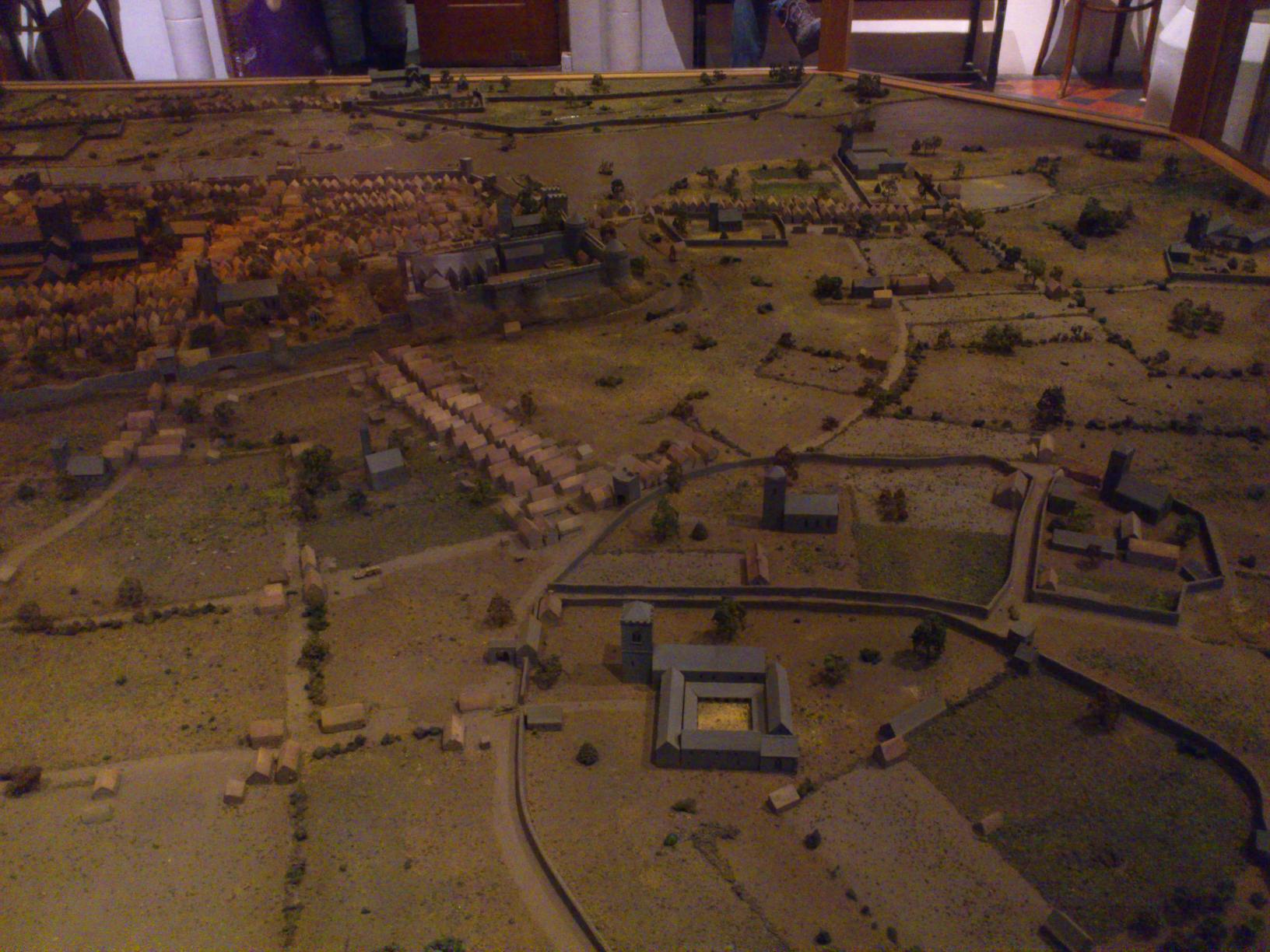 White Friars' (Carmelite) Monastery (foreground) on Model of Dublin around 1500.
Burial place of Richard Fitzwilliam in 1528.
Dublin Castle in background.
See full size and other shot.
---