174 James's St, Dublin
174 James's St is listed as Hutchinson's pub in
[Thom's]
1850.
Listed as Reilly's pub in
[Thom's]
from at least 1862 until 1877.
Became Cosgrave family pub.
Thomas Cosgrave
opened Cosgrave pub there in 1877.
Birthplace of Ireland's first Prime Minister
W.T. Cosgrave
(Thomas' son) in 1880.
W.T.'s father Thomas Cosgrave died there in 1888.
W.T.'s uncle
Patrick Cosgrave
was shot dead there in 1922.
The Cosgrave-Burke family sold the pub c.1924.
Now Kenny's pub.
A plaque to W.T. Cosgrave
was unveiled there 2013.
See
[Walsh, 1988]
.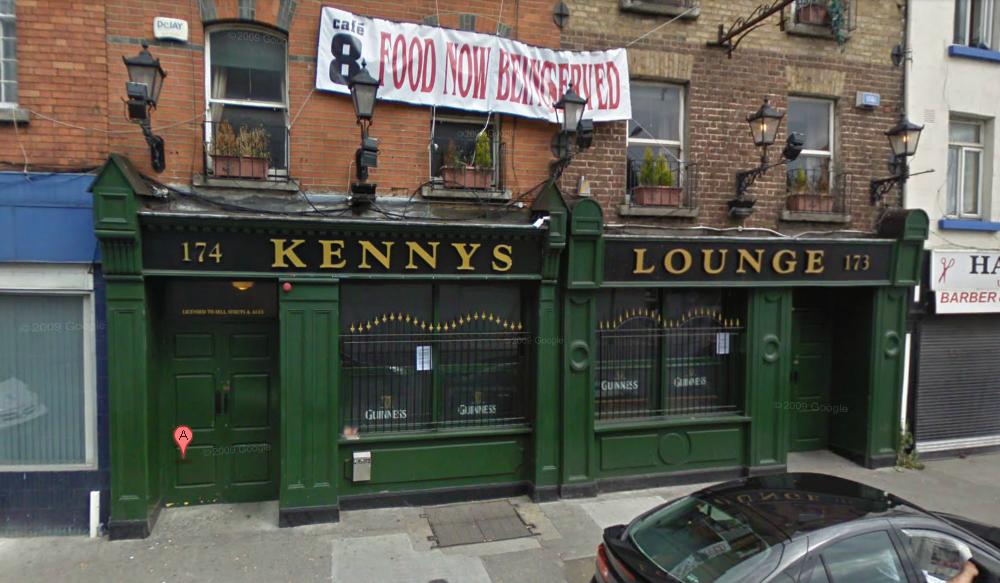 174 James's St, Dublin.
From Google
street view
.
---
There is a plaque to
W.T. Cosgrave
on the pub, by the front door.
It replaced an older plaque which was removed in renovations.
The new plaque was unveiled on 25 Oct 2013 by W.T.'s son, former Taoiseach Liam Cosgrave, who gave a speech.
The present Taoiseach Enda Kenny (also Fine Gael) also spoke.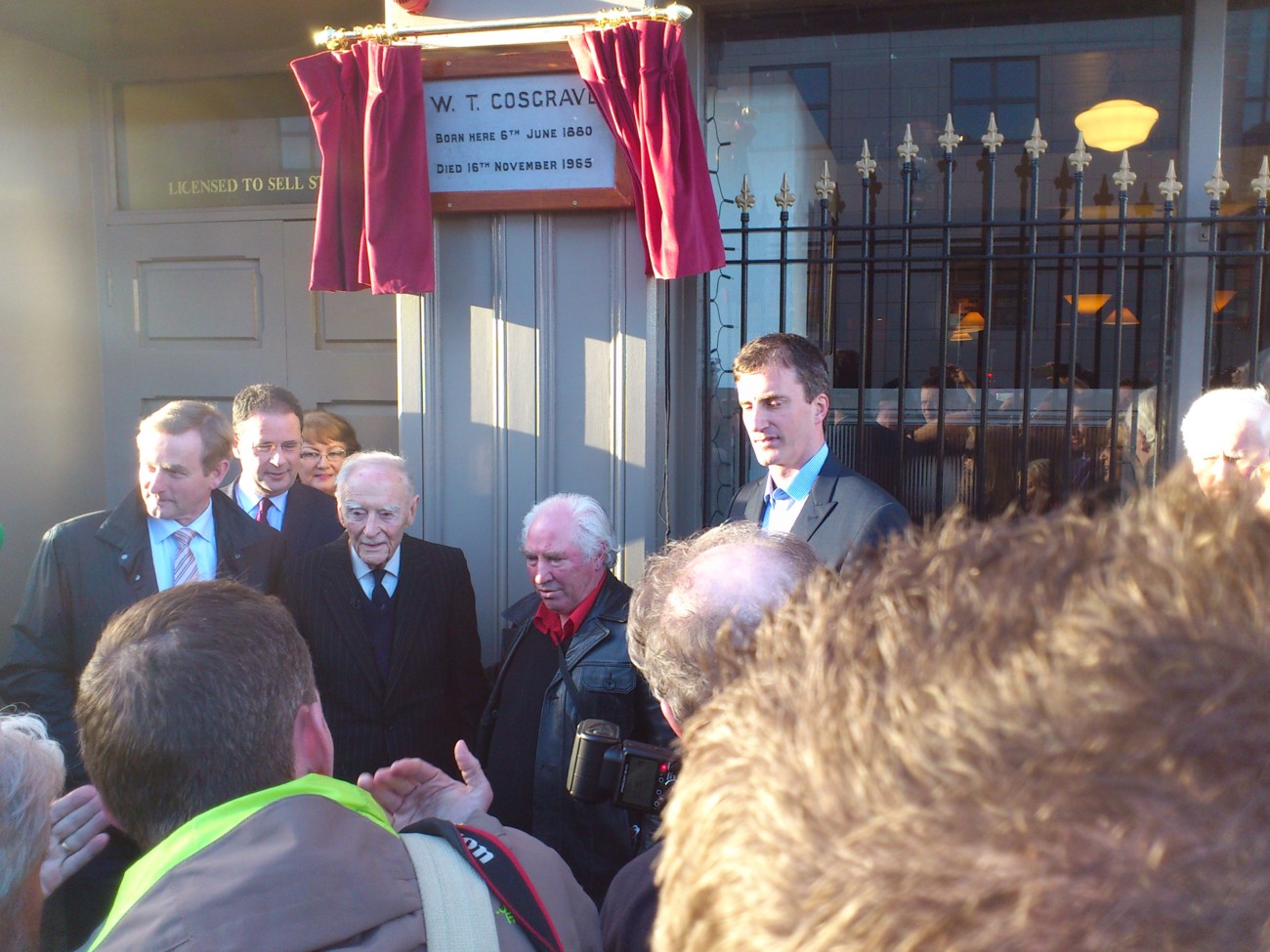 Taoiseach
Enda Kenny
and former Taoiseach
Liam Cosgrave
(age 93), at the unveiling of the new plaque in 2013.
See
full size
.
See other shots of
Liam Cosgrave
and
plaque
and
plaque
.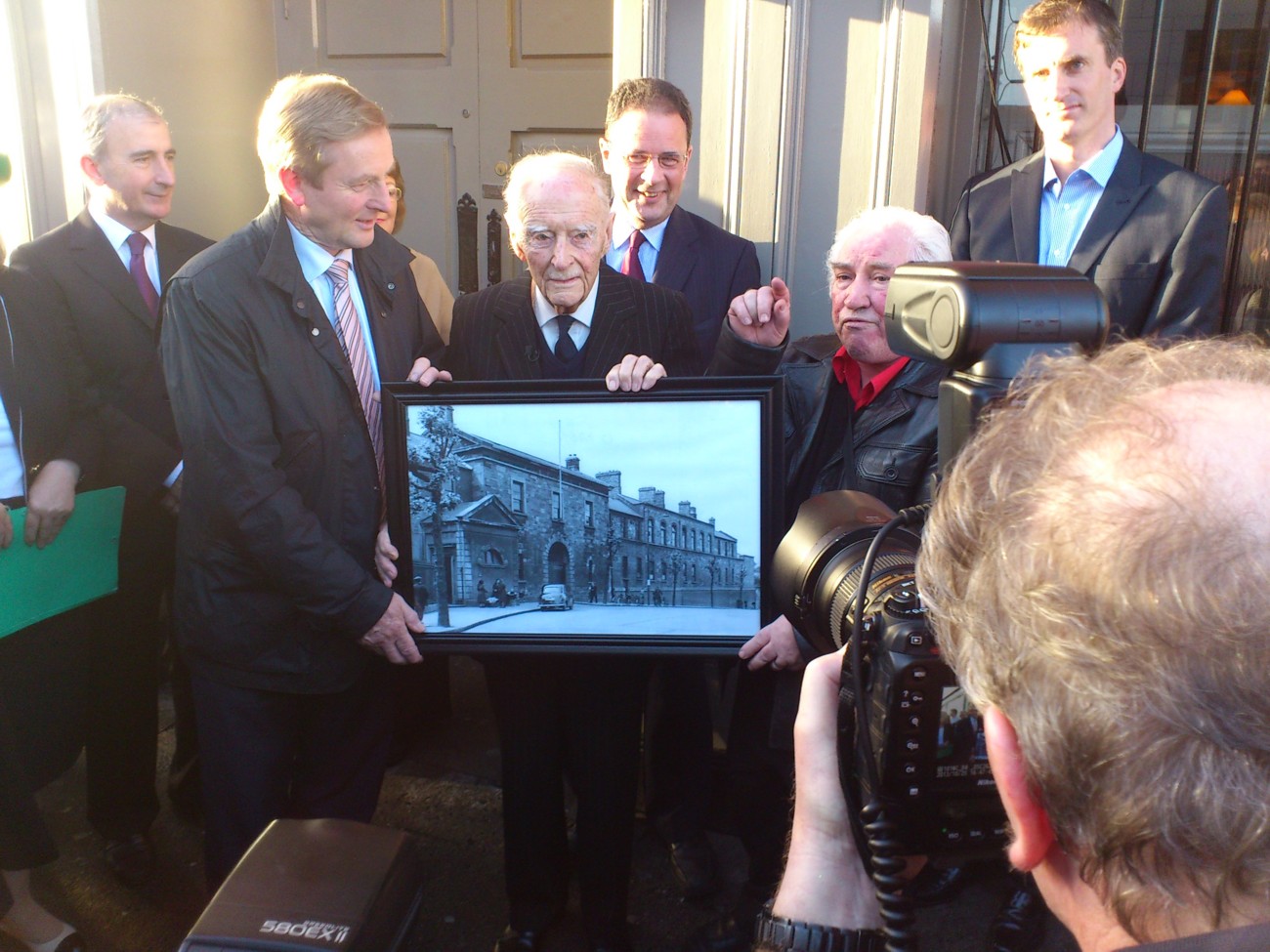 Taoiseach Enda Kenny and former Taoiseach Liam Cosgrave at the unveiling.
Holding a picture of the nearby South Dublin Union, where W.T. Cosgrave fought in 1916 and his step-brother died.
Gay Mitchell on LHS.
See full size and other shot.


Speech by Liam Cosgrave at the unveiling.
He notes that his father W.T. was released by the British from jail shortly after Liam was born in April 1920: "He was released then on, I gather, compassionate grounds, because I was a month old and he hadn't seen me."
There was applause when Liam paid tribute to the Irish army and police.
There was a real feeling about the event, as if it was the last ever gathering of the victors of the Civil War.