Liam Cosgrave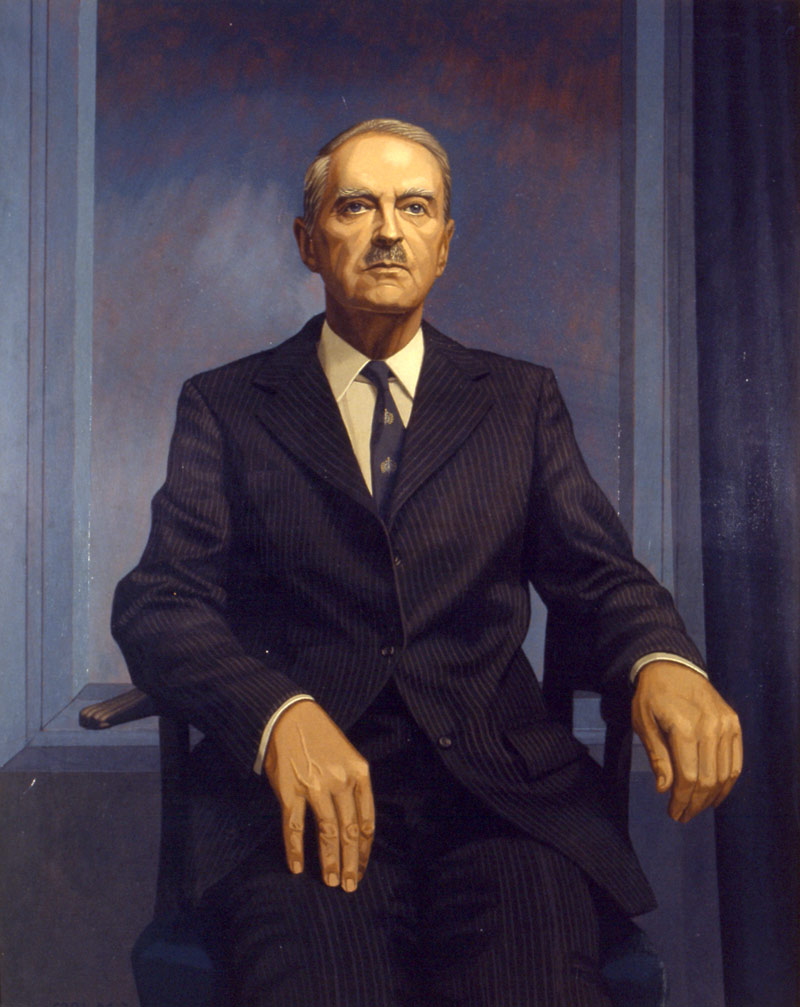 Portrait of Liam Cosgrave.
From
Leinster House
.
Liam Cosgrave
,
born 13 Apr 1920.
Prime Minister of Ireland (Taoiseach) 1973-1977.
See
Wikipedia
and
biography
and
election record
.
Family lived at
Beechpark
, Templeogue, Co.Dublin.
His father
W.T. Cosgrave
was the first Prime Minister of Ireland (President) 1922-1932.
Beechpark was burnt in the Civil War in 1923. It was re-built.
Liam was educ Synge St Christian Bros and Castleknock College, Dublin.
He was a member of South County Dublin Harriers all his life, since school days.
BL King's Inns. Barrister-at-law 1943.
Served in army during "The Emergency" (WW2 in Ireland).

Fine Gael TD 1943-81:
His father W.T. Cosgrave was leader of Fine Gael (Leader of the Opposition) until 1944.
Liam followed him into politics and was elected TD in 1943 general election (age 23).
Fine Gael TD for Dublin County 1943-48.
Fine Gael TD for Dun Laoghaire 1948-81.
Parliamentary Secretary to the Minister for Industry and Commerce in the Inter-Party Government of 1948-51.
He mar 1952, Co.Kildare, to Vera Osborne [born 11 Mar 1926, dau of Joseph W. Osborne and Helen Cunningham].
See her entry in tree by Paddy Waldron.
They were married by Fr. Paddy Flanagan.
They moved into house "Maryfield", near his father's house, Beechpark, Templeogue, Co.Dublin.
Minister for External Affairs 1954-57:
Liam was Minister for External Affairs in Fine Gael/Labour coalition, 1954-57.
Ireland joined UN 1955. Liam addressed UN General Assembly 1956.
Senior Counsel 1958.
His mother died 1959. He and Vera moved into Beechpark in 1960 to take care of his father. His father died 1965.
Leader of Fine Gael 1965-77.
Leader of the opposition 1965-73.
He sold Beechpark 1969 [Knocklyon history].
They moved to "Beechpark" bungalow near the old Beechpark.
Taoiseach 1973-77:
Fine Gael and Labour won enough seats in 1973 election to form a coalition.
Liam was Prime minister of Ireland (Taoiseach) in Fine Gael/Labour coalition, 1973-77.
Negotiated the Sunningdale power-sharing agreement, Dec 1973. This was the only serious attempt to solve the Northern Ireland problem before the Good Friday power-sharing agreement of 1998. Sunningdale was brought down in 1974 by the loyalist strike, and bombs in Dublin and Monaghan. Nothing as ambitious was tried again for 20 years.

Liam famously voted against his own government's Family Planning Bill in July 1974 to legalise the sale of contraceptives. (Contraception had been banned in 1935. The ban was ruled unconstitutional in 1973.) The Bill failed. (Contraception was later legalised for married people in 1979 and for unmarried people in 1985.)
His Minister for Posts and Telegraphs, Conor Cruise O'Brien, enforced Section 31 of the Broadcasting Act to ban republican paramilitary speech from the airwaves. (Section 31 dated from 1971, amended by Cruise O'Brien in 1976.)
Fine Gael lost the 1977 election.
Liam resigned as leader of Fine Gael.
He was TD until 1981 when he retired. Succeeded as TD for Dun Laoghaire by his son Liam T. Cosgrave.
He had a long retirement and was the longest lived Irish head of government ever. (Though many international heads of government have lived longer.)
He lived until death at "Beechpark" bungalow, Scholarstown Rd, Templeogue. Garda sentry box outside.
At age 91 he wrote a tribute to Declan Costello in the Irish Times, 7 June 2011.
See Liam at launch of plaque to his father, 2013.
See Liam at launch of biography of his father, 2014.
Vera went into a nursing home for some time before death.
She died 15 Sept 2016, age 90 yrs.
Liam died 4 Oct 2017, age 97 yrs.
Funeral 7 Oct 2017, burial at Goldenbridge.
"Beechpark" bungalow and extensive grounds were sold for re-development.
Liam and Vera had issue:
Mary Cosgrave.




Liam T. Cosgrave.
Fine Gael TD and Senator.
See wikipedia and election record.
He mar Joan Bourke.
Cathaoirleach of the Senate 1996-1997.
Liam T. and Joan had issue:

Barry Cosgrave.
William Cosgrave.




Ciaran Cosgrave.
He mar Catherine McDonnell.
---
Videos
W.T. Cosgrave opened
Ardnacrusha Power Station
in 1929. He was accompanied by his family.
His son Liam Cosgrave, who had been at the opening in 1929, returned to Ardnacrusha in 2012 for a ceremony to mark the 85th anniversary of the establishment of the
ESB
in 1927.
Jump to
16:20
here.
From
ESB
.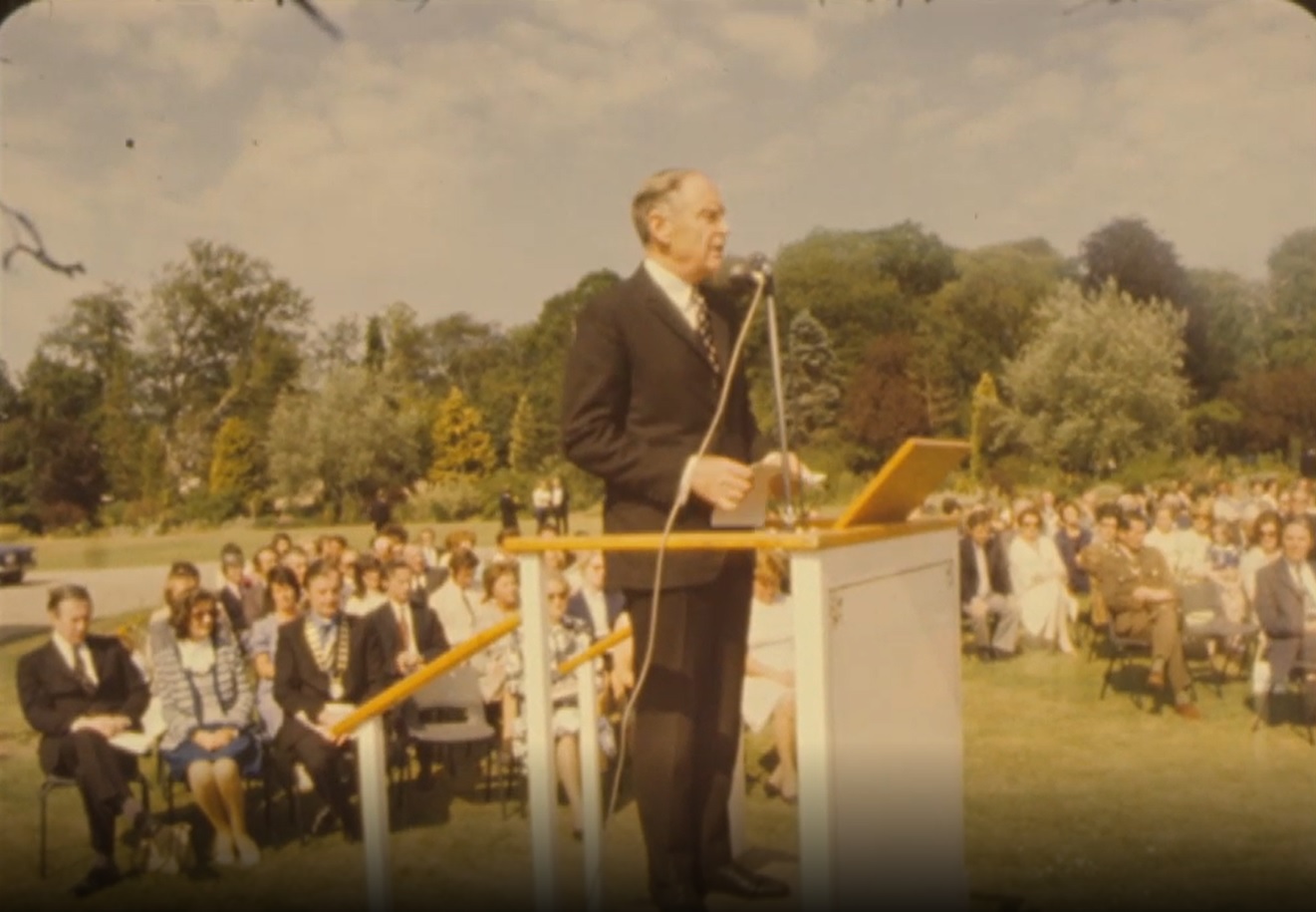 Liam Cosgrave opens Marlay Park, Co.Dublin, on 29 June 1975.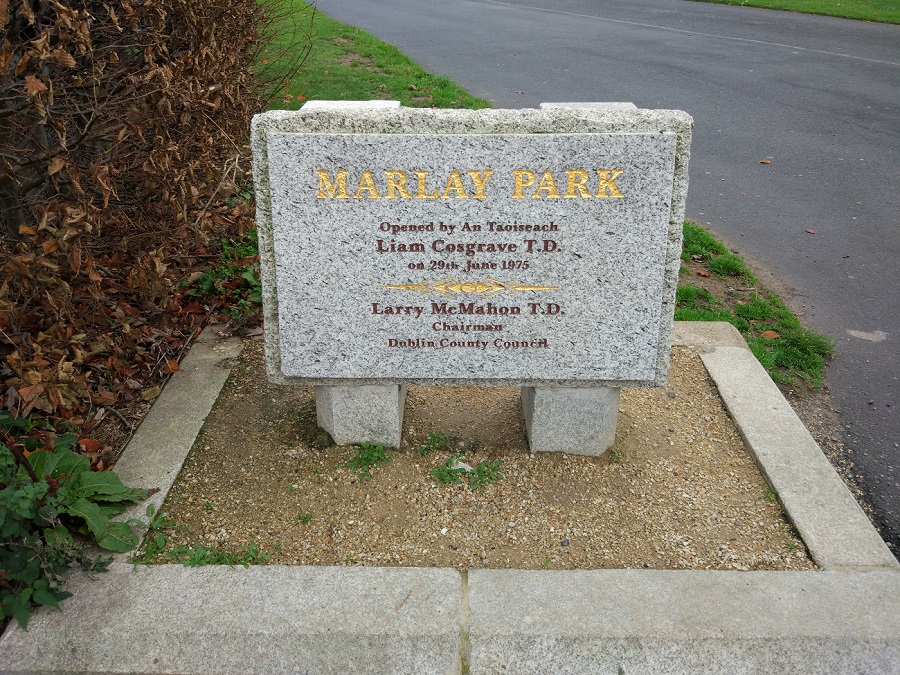 Plaque at Marlay Park, Dublin, commemorating its opening by Liam Cosgrave in 1975.
Photo 2018. See larger and full size.

The Assassination of British Ambassador Christopher Ewart-Biggs in 1976.
From the Reeling in the Years series.


Liam Cosgrave attacking English-born journalist Bruce Arnold, at the Fine Gael Ard Fheis, shortly before the 1977 election.
---
---
---
---
There is a persistent legend that when Liam Cosgrave was Minister for External Affairs (June 1954 to March 1957) he said something like: "The Jews and Arabs should settle their differences in a Christian manner."
It is a funny story, but the only source seems to be Conor Cruise O'Brien's memoir, decades later in the 1990s, where he claims Cosgrave said this at the end of his 1956 speech at the UN. See p.183 of Memoir: my life and themes, by Conor Cruise O'Brien, 1998.

Cruise O'Brien's story is clearly false:

Cosgrave's speech to the UN General Assembly, 603rd meeting, 30 Nov 1956 is online (see PDF) and does not contain the phrase. There is a reference at the end to the need for people to negotiate "in a spirit of Christian charity". This must be the origin of the legend.
The phrase about "Christian charity" refers to the Western states, not to the Jews and Arabs. The speech is about the Suez Crisis, when there was a rift between the Western states.
In fact (as Cruise O'Brien even notes on p.184) the funny "Jews and Arabs" quote has been floating around for years. It has been attributed to Warren Austin and Arthur Balfour. It was spoken by a character in a 1982 comedy movie.
Bottom line: Cruise O'Brien's memory is faulty. Note that he gets the date of the speech wrong too. He says it was late 1957. (But Cosgrave was out of office by then.)