Smith
Smith of Worcestershire.
No relation of
Doug Smith
.

Frederick Snow Smith, butcher, 4 Shambles, Worcester.
From Kelly's Directory, 1896.
See
full size
.
Frederick Snow Smith,
born Worcester, 1852 [census].
He mar 20 Oct 1873,
Malvern Link
, Malvern, Worcestershire, to
Ethelinda Evans
[born Gloucestershire, 1852].
He was a butcher in
Worcester
.
Listed as butcher, 4 Shambles, Worcester, in Kelly's Directory at least 1884 to 1896.
Ethelinda and children are
listed
in 1901 census at 34 St.Paul's St, Worcester. For some reason Frederick is
listed
at 33 Charles St, Worcester. Charles St is just yards away from St.Paul's St (see
map
).
They had issue:
Sarah Celia Smith,
born Worcester, 1874,
bapt 25 Oct 1874, St Swithun's Church, Worcester,
mar --- Thomas and had issue,
he died,
she and her children are living with mother in 1901 census.




Billy Smith,
William S. Smith, Billie,
born Worcester, 1889 [census] or 1892 [grave].
English steeplechase jockey. Raced in Ireland. Met May Flanagan.
In 1917 he won the Galway Plate at Galway on "Privit".
Listed as "professional jockey" at mar, living 1 Lincoln Place, Dublin.
He mar 21 Aug 1918 to May Flanagan [Mai, Mary, born 2 Mar 1896].
They lived in England.
In 1920 he won the Grand Sefton Chase (see winners) at Aintree on "General Saxham".

Billy dies in a race, 1922:
He was killed Thur 5 Jan 1922, riding "Sir Eyre" in the Clayton Plate steeplechase race at Gatwick. He broke his neck in a fall.
See Freemans Journal, January 6, 1922, parts one and two. "W. Smith was virtually killed on the spot".
See Irish Independent, January 6, 1922.
He is bur Epsom, Surrey.

May was left a widow age 26, in England, with 4 children under 4. Mary Anne Mayhew said her grandmother "was a lost soul following his death and my mom and her siblings were at the mercy of relatives who would take them in." Joanne Mayhew says "Mai fell into melancholy".
Strange that May did not come back to Ireland. May's mother was dead. Her widowed father Larry was alive.
The twins (age just under 3) were separated. Pat was raised in England by one of Billy's family. She was not happy. Anne went to Ireland to live with May's uncle The Bird at Walkinstown House.
May's father Larry died 9 Dec 1925. Her uncle The Bird died 14 Dec 1925. The Bird's widow Esther did not want to mind Anne. She was sent to boarding school.
May was at her sister's funeral 1933.
She died 1941, age 45 yrs.
Billy and May had issue:




Anne Smith,
Anne Josephine, born Nancy, always known as Anne,
born 15 Feb 1919, England, twin.
After her father died 1922 she was sent to live with The Bird at Walkinstown House in Ireland.
Her daughter Joanne says: "She remembered after her father's death .. she was separated from her family and twin, sent back to be raised in Ireland. Mom said she loved Uncle Willie who bought her a horse... And anything she wanted and she was sent away to boarding school at age Five not knowing why, crying when she was taken away. She said Ester did not like children so probably the reason."
In Ireland she got to know her great-grandfather the Alderman (died 1931), who she remembered all her life.
She mar 1943 to Harold Mayhew [Harold Joseph, born 1915, Canada].
They met in England in WW2.
Moved to Canada.
He died pre-2006.
She was in touch with Liam Cosgrave.
She died Feb 2012, age 92-93 yrs.
They had issue:

Carol Anne Mayhew.
William Mayhew.

Kevin Mayhew.
Kim Mayhew.

Allan Mayhew.




Pat Smith,
born 15 Feb 1919, England, twin,
born Dora, after grandmother, called "Dodo", later called Pat,
mar John Dixon [American],
she died in same month as her twin, Feb 2012, age 92-93 yrs,
had issue:

Jacqueline Dixon.




Teddy Smith,
Ted, Frederick, born 1921,
mar Gladys ----,
they lived England,
he was killed in a car accident in the 1960's,
had issue:

4 children, Smith.

Sydney Smith,
born 1922,
missionary,
drowned off the African coast in his 30's (1950s).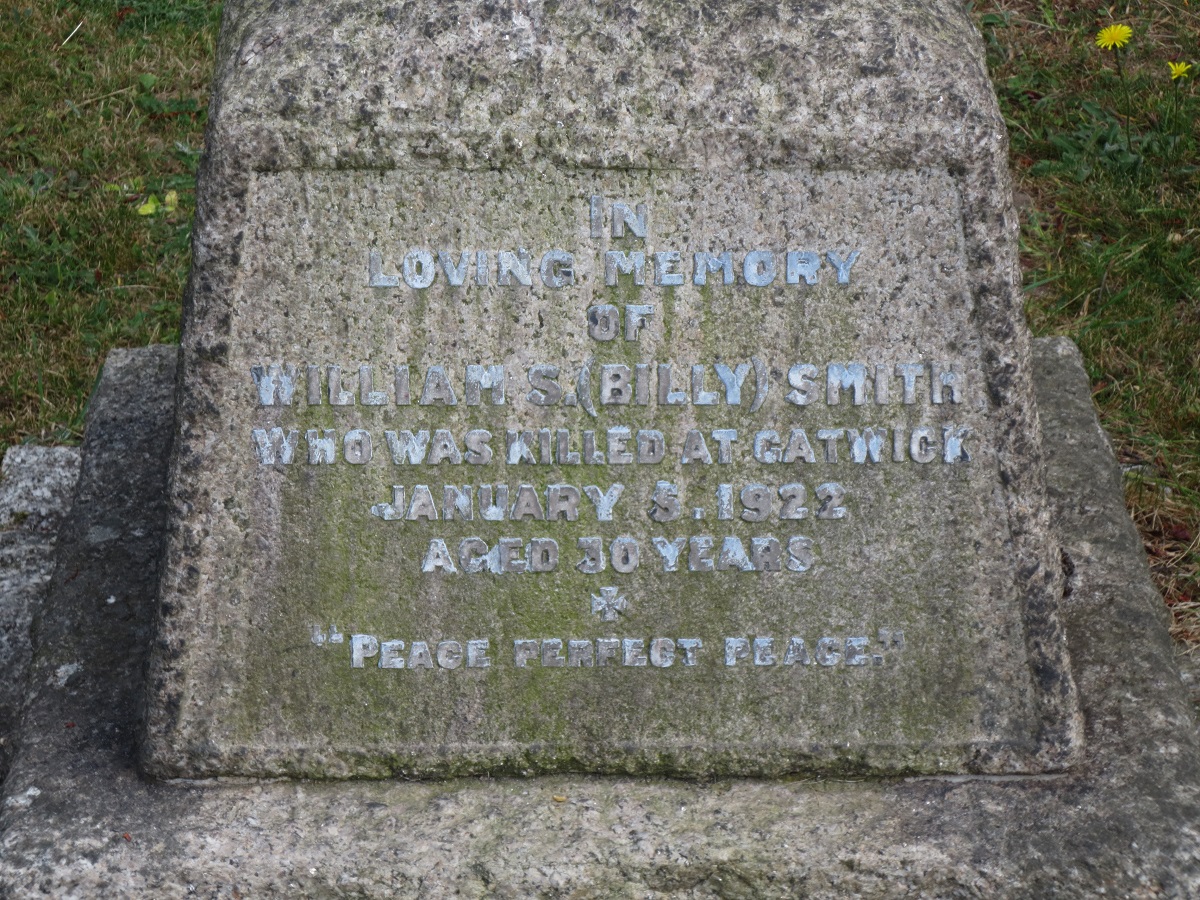 Grave of Billy Smith (killed 1922) at Epsom, Surrey.
See
larger
and
full size
.
Photo 2015. Courtesy of
Michael Peevey
.
See
wider shot
(and
full size
).