Sidney Herbert, 16th Earl of Pembroke
Sidney Herbert, 16th Earl of Pembroke
(and 13th Earl of Montgomery, and 5th Baron Herbert of Lea, see
here
), born 9 Jan 1906,
educ
Eton
,
educ at the "family" college,
Pembroke College, Oxford
.
He researched the family history. In 1933 he discovered a lost cellar at
Wilton House
with a large number of 17th to 19th century family letters.
He was author of
[Pembroke Papers]
1939 and 1950.
Hereditary Grand Visitor of
Jesus College
, Oxford.
He succ as Earl in 1960.
Author of
catalog of the paintings and drawings at Wilton
1968.
He died 16th Mar 1969, age 63 yrs [obituary,
Daily Telegraph
, 17 Mar 1969].
16th Earl had issue:
Henry Herbert, 17th Earl of Pembroke (and 14th Earl of Montgomery, and 6th Baron Herbert of Lea),
born 19th May 1939, educ Eton, and Christ Church, Oxford,
mar 1stly, 1966, to Claire Rose Pelly,
succ 1969,
film and TV director (see his filmography),
made additions to Wilton,
planted the North Forecourt garden 1971, including fountain commemorating his father,
directed the erotic film Emily (1976) starring Koo Stark,
planted the Cloister Garden at Wilton, in the courtyard surrounded by Wilton House, 1995,
erected the Millennium Fountain on the E lawn for 2000,
died 7th Oct 2003, age 64 yrs,
had issue by 1st wife:

William Herbert, 18th Earl of Pembroke
(and 15th Earl of Montgomery, and 7th Baron Herbert of Lea), born 1978,
succ 2003, current owner of Wilton House,
mar 2010 to Victoria Bullough and had issue:

Lady Ekaterina Alexandra Eloise Herbert, born 2011.
Reginald Henry Michael Herbert, Lord Herbert, born 2012.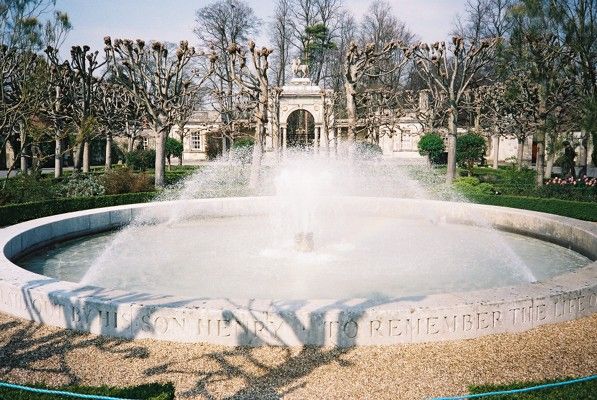 The fountain in the
North Forecourt
at Wilton.
This view is looking away from the house (the house is behind the camera).
An inscription on the fountain remembers the 16th Earl, erected by his son the 17th Earl.
In the distance, the N gate (the entrance gate).
Photo 2003. See
full size
.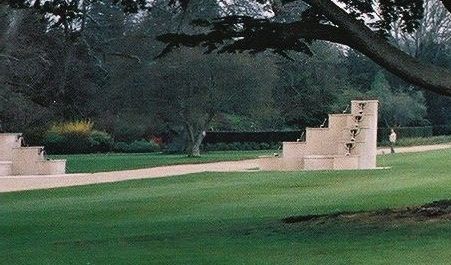 The Millennium Fountain on the E lawn at Wilton. Photo 2003. See full size.
---
Dora Gibbon wrote to her relative the 16th Earl (the historian) in 1960:

If this male line dies out, the title of Earl of Pembroke will go to the Earl of Carnarvon branch, who descend from the 8th Earl of Pembroke. The title of Baron Herbert of Lea will become extinct.

The Wilton estate includes the entire town and a huge area of surrounding countryside (including eight other villages).

Although many of the ground rents have by now been sold, the Pembroke estate in Ireland still exists, over 600 years after their ancestors the Fitzwilliams first started to acquire land in SE Dublin, and despite Irish independence.