William Herbert, 3rd Earl of Pembroke
Sources yet to be consulted: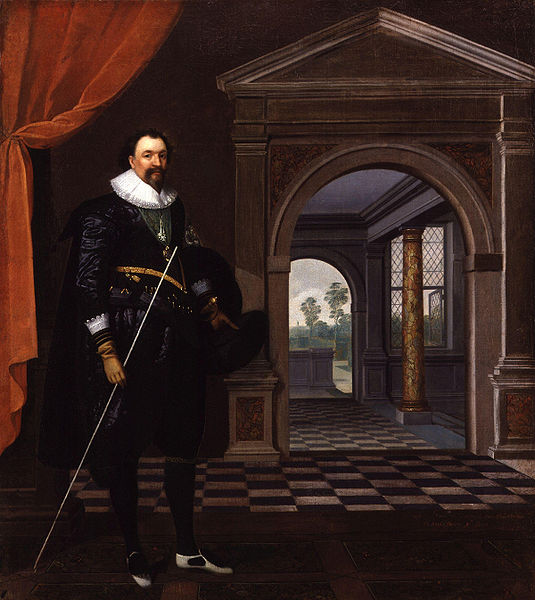 3rd Earl, c.1625.
By
Daniel Mytens
.
From
NPG
. Used at
Wikimedia Commons
.
William Herbert, 3rd Earl of Pembroke
(see
here
),
K.G., born 8 Apr 1580.
He was a poet, and a notorious womaniser.
He was the lover of
Mary Fitton
in 1600-01.
Both were unmarried. He got her pregnant, admitted paternity, but refused to marry her.
He succ as Earl in Jan 1601.
For refusing to marry Mary Fitton, he was sent to the
Fleet Prison
in Feb 1601.
Some have suggested he is the model for the
"Fair Youth"
in Shakespeare's sonnets.
It has been suggested Mary Fitton is the model for the
"Dark Lady"
. Though apparently this was not suggested before 1890.
See
Connections to Shakespeare
.
He mar 4 Nov 1604 to Mary Talbot [dau of Gilbert Talbot, 7th Earl of Shrewsbury].
He was an investor in the Virginia Company to colonize the Bermuda islands from 1612 onwards.
Pembroke Parish, Bermuda, is named after him.
He had an affair post-1614 with his 1st cousin Lady Mary Wroth and had issue:
William ----,
illegitimate son.
He settled in Ireland by 1640.
He was Captain under Sir Henry Herbert, and Colonel under Prince Maurice in English Civil War (1642-1651).

Catherine ----,
illegitimate dau.
She mar Mr. Lovel.
Lived near Oxford.

3rd Earl was Chancellor of Oxford University 1617-30.
Edward Herbert, 1st Baron Herbert of Chirbury sent a congratulatory poem to Mary Wroth: "A Merry Rime Sent to Lady Mary Wroth upon the birth of my Lord Pembroke's Child. Born in the spring". This seems to be spring 1620.
He became the first Visitor of Jesus College, Oxford, in 1622. After which the Earl of Pembroke was designated as Hereditary Visitor of the college.
Pembroke College, Oxford, was named after him when it was founded in 1624.
He died 10 Apr 1630, age 50 yrs.
He was bur Salisbury Cathedral, Wiltshire. See findagrave.
Memorial on grave says he "dyed without issue". It means he died without legitimate issue.
Mary Talbot died Mar 1649.
---
The Oxford statue
Statue of 3rd Earl.
Schools Quadrangle,
Bodleian Library
, Oxford.
From
Google Maps
.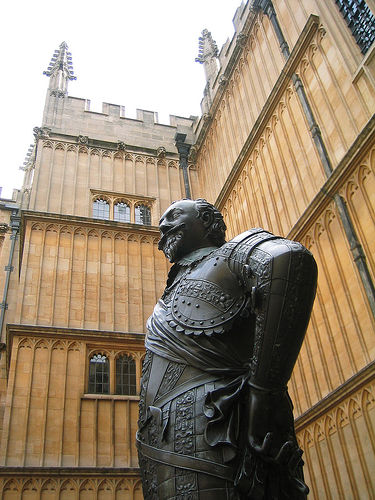 Statue of 3rd Earl.
See full size. Photo 2005 by Steve Roe. See terms of use.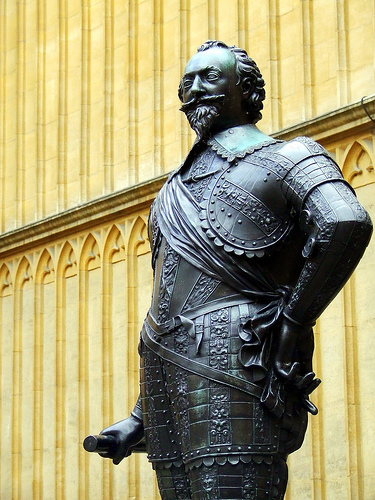 Statue of 3rd Earl.
See full size. From here. Used with permission.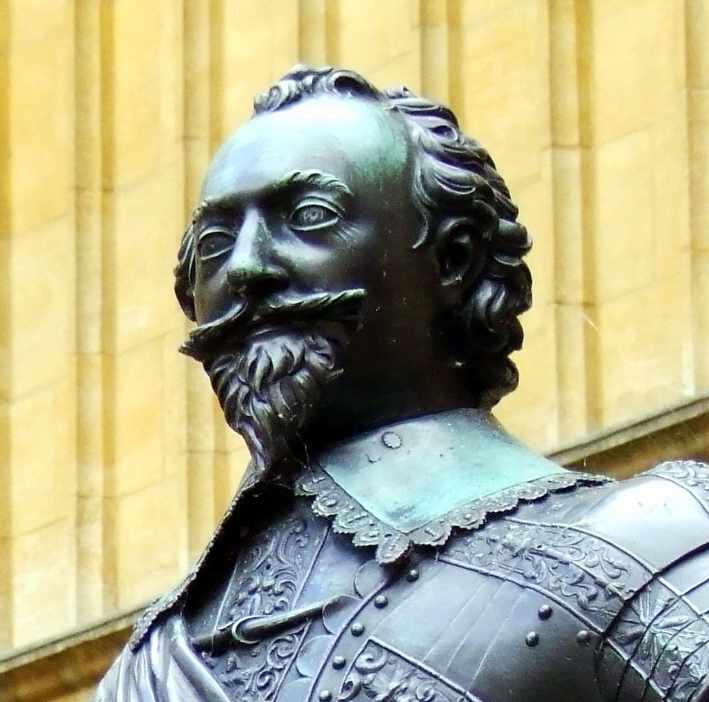 Statue of 3rd Earl. Detail from above.
---
---
After the 3rd Earl:

There is a Pembroke Square and Pembroke Rd in London (see map).