Herbert
In particular
Herbert, Earl of Pembroke
.
Herbert is listed as "Our common ancestors":
This family does not descend from the Norman FitzHerbert family
Genealogies have existed for centuries claiming to show the Herbert male line above Adam (born est c.1255), and in particular claiming descent from the Norman
FitzHerbert
family.
While that family did exist,
[Clark, 1886]
and others argue that these Herberts do not descend from them, and these genealogies were faked at an early period to show a Norman origin for the Earls of Pembroke.
Darrell Wolcott
agrees, and argues that the true origin of Herbert is native Welsh.
We begin as follows.
The surname "Herbert" was not established until the children of Sir William ap Thomas.
Adam,
born est c.1255,
mar Christian Ddu [dau of Gwarin Ddu, the "Black Lord" of Llandilo],
had issue:

Jenkin ap Adam,
mar Gwenllian [dau of Sir Aaron ap Bleddyn],
had issue:

Gwyllym ap Jenkin ap Adam,
William,
mar Gwenllian Ichon [dau of Howel Ichon],
he died 1377,
had issue:
Sir Thomas ap Gwyllym, 4th son,
mar Maud Morley [dau of Sir John Morley, Knt, of Llansantffraed Court, Llansantffraed, Powys, Wales],
inherited the Morley estate, Llansantffraed Court, 1400,
he died 1438,
had issue: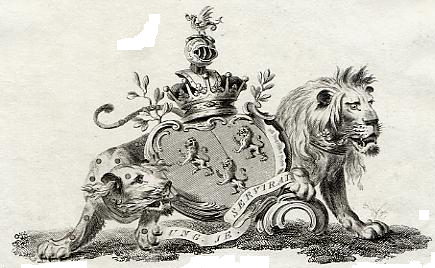 Arms of the
Earl of Pembroke
(creation of 1551).
Public domain image from
here
.
---
References
---
Sources yet to be consulted
---