John Williams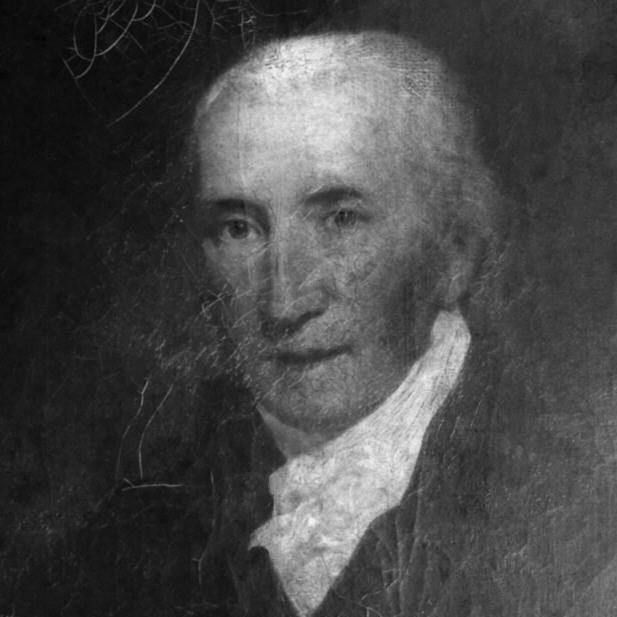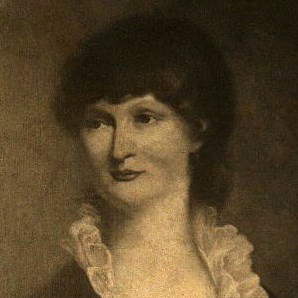 This is apparently John Williams and Caroline Medkaff.
From
here
and
here
in tree by
"templebacon"
.
(Image source unknown. User identity unknown. Contact not working.)
John Williams
,
born 5 July 1753.
Natural child of
Basil Bacon
. Basil Bacon recognised him and left him a large inheritance.
See
entry
in
tree
by
Grant McCulloch
.
See
entry
in
tree
by
Dan Rotman
.
See
entry
in
tree
by
Helen Favelle
.
At mar he is listed as of St. Bride's parish, London.
He mar 22 May 1786 to Caroline Medkaff [born 1768 or 1769].
She was the illegitimate daughter of the 10th Earl of Pembroke.
The 10th Earl paid for her and took an interest in her welfare, and he and his family stayed in touch with her.
John and Caroline married at St. Bride's Church, London. See mar entry from here.
John and Caroline lived after marriage at Dropmore Hill, near Burnham, Buckinghamshire.
They are living at Dropmore Hill in 1787.
The 1790 codicil of will of 10th Earl makes provision for her. He seems to call her "Carolina".
Dropmore Hill was sold in 1791.
They moved to London.
In the 1793 codicil to his will, the 10th Earl explicitly says Mrs. Williams is his daughter. Though he calls her "Catherine".
Herbert letters in [PP, vol.2] discuss John possibly taking Holy Orders. But it seems this never happened.
Instead he entered the customs service.
John's will says he is "one of the Commissioners of His Majesty's Honourable Board of Customs in London".
His will dated 22 [Nov or Dec] 1817. Codicil 19 Aug 1822. He is of Clapham, London. It mentions an annuity paid to his wife by the Earl of Pembroke.
He was bur 1 Nov 1827 at Holy Trinity, Clapham. See index.
Will proved 12 Nov 1827.
Caroline's will dated 17 Mar 1841. She is of Stanmore, NW London.
(todo) See death of Caroline Williams, [GRO.UK] 1st qr 1845, Hendon, vol 3 p 177.
Caroline Williams, age 75, was bur 24 Jan 1845 at Kensal Green Cemetery, London. See index.
Her will proved 31 Jan 1845.
They had issue:
George Henry Williams,
born 9 July 1787.
Caroline's half-brother George writes to his father the 10th Earl about her on 12 Feb 1787. See [PP, vol.2, p.335]. George tells his father that Caroline is pregnant (with his first grandchild).
Letter of 12 Aug 1787 [PP, vol.2, p.355] says a boy was born.
Clearly named after 11th Earl and 10th Earl.




Juliana Williams,
bapt 14 Oct 1788, Burnham, Buckinghamshire. See index.
Mentioned as "Julia" in the 1793 codicil of will of 10th Earl.




Frances Williams,
born 18 Oct 1799,
bapt 3 Jan 1800, St Mary-at-Lambeth, London. See index.
She mar 1821 to John Walter Scrivenor and had issue.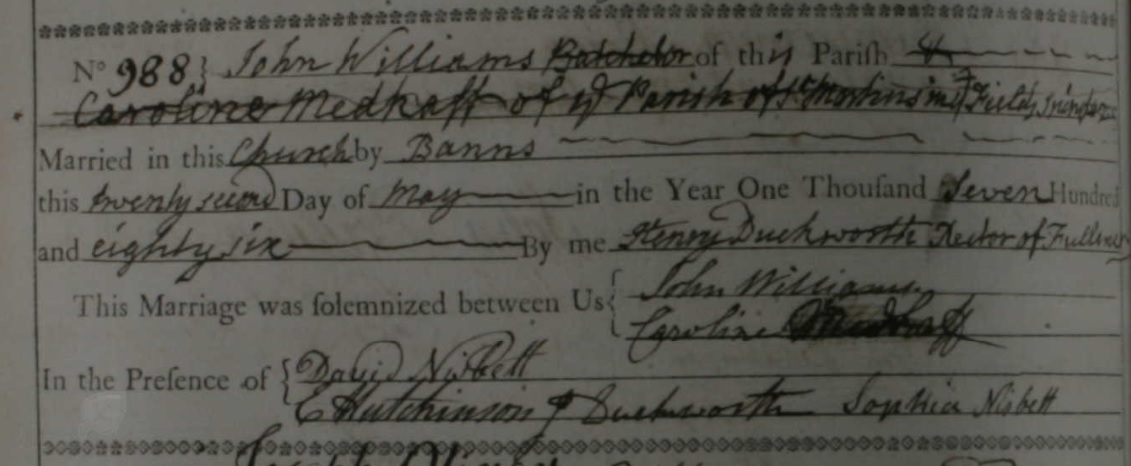 Marriage of John Williams and Caroline Medkaff, 22 May 1786.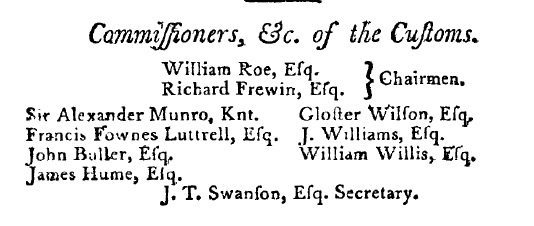 There is a "J. Williams" listed among the Commissioners of the Customs in [Post Office Directory, 1808, p.368].
This is for the whole country so this is a very senior position.
---
Dropmore Hill was a house to the NE of
Cliveden
, N of
Burnham
, Buckinghamshire.
It is named and shown on a map of 1770.
Dropmore Hill is the site that became Dropmore House.
John Williams and Caroline Medkaff are living at Dropmore Hill in 1787. They apparently lived there up to 1791.
William Grenville, 1st Baron Grenville purchased Dropmore Hill in 1791. It was then a house on 30 acres. See [Wood, 2019, p.61].
Grenville wrote in Jan 1792 that it was tiny: "It is so literally a cottage (having originally been inhabited by a labourer, as such)". See [Wood, 2019, p.68]. But this probably says more about Grenville's privileged background than about the house, which does after all appear and is named on the map.
Grenville built the huge Dropmore House on the site in the 1790s.
See 1882 map.
See modern satellite view and wider map.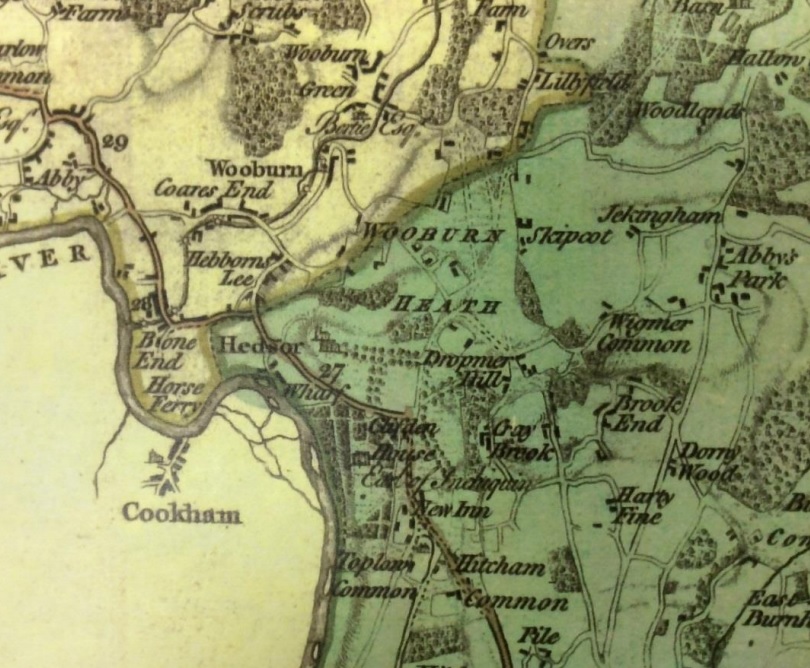 Dropmore Hill on map of 1770.
From T. Jeffreys's Map of Buckinghamshire 1770.
From
[Wood, 2019]
.
---
References
---
Sources yet to be consulted
The Diary of Joseph Farington, Vol.1 (1793-1794) of Yale edn.

See p.141 for when Farington met John Williams in 1794.

10th Earl's natural children discussed in [Gibson, 2018]. Pages 153-156 and 175-176.

John Williams in [CSORP]

Letter from John Williams and others, Customs House, [London], 1823-24. CSO/RP/1824/826.
Letter from John Williams and others, commissioners of customs, Custom House, London, to the lords of the treasury, London, 21 April 1824. CSO/RP/1824/1650.