Baldwin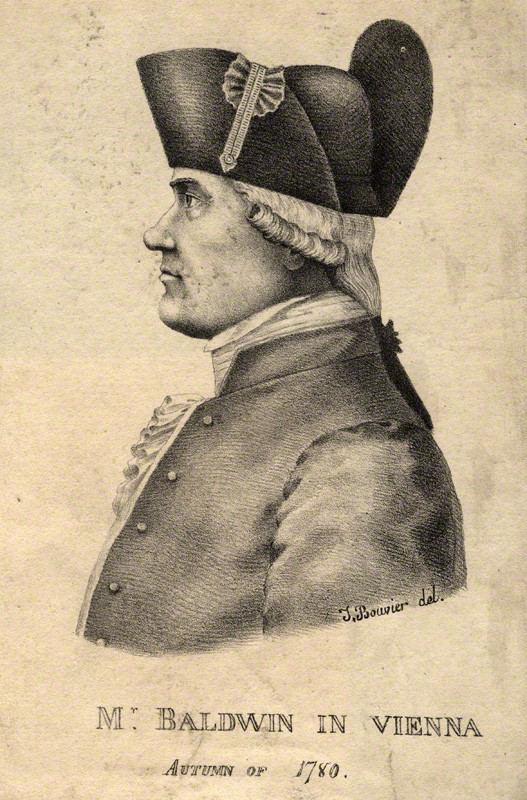 George Baldwin, 1780.
From
NPG
. See
terms of use
.
William Baldwin,
merchant,
of
Borough
(Southwark), London,
had issue:
George Baldwin, merchant, writer and diplomat,
born May 1744 (some sources give 1743), Southwark, London.
In the 1770s he established trade links for the East India Company in Egypt (then under Ottoman rule).
He was the only British merchant in Egypt at the time. He monopolised British trade caravans passing over land at Suez. There was then no canal (see map) so this trade route to India had to pass over land at this point.
He became very wealthy.
William Maltass of Smyrna is described as "his agent". Baldwin married his daughter.

He mar 1779 [her age 16, him age 35] to Jane Maltass [born 26th June 1763, Smyrna, Turkey].
They travelled to England.
They stopped en route in Vienna in 1780 (her age 17), where they were received by the British Ambassador to the Holy Roman Empire, Robert Murray Keith.
In Vienna, Emperor Joseph (born 1741) was so entranced with Jane's beauty he commissioned a bust of her, and the elderly Prince of Kaunitz-Rietberg commissioned a portrait of her.
[Jane's obituary] says they arrived London 1781. She was known as the "pretty Greek" in London society. (She was not Greek, but the W European merchants lived among the Greek community of W Turkey.)
"This pretty Greek as we call her" [Diary of Mrs Hester Lynch Thrale].
Her portrait was painted in London by Sir Joshua Reynolds in Feb 1782 (her age 18). He painted her in Eastern dress.
Fanny Burney and others in London society were much impressed by her.
Her portrait was painted by Richard Cosway.
She lived in England for a number of years.
Her intelligence and beauty attracted many admirers, including the Prince of Wales (future George IV, born 1762).
Even old Dr Johnson (died 1784) asked permission to kiss her.

British Consul-General in Egypt:
George was British Consul-General in Egypt 1786 to 1796.
He departed England with his wife in Aug 1786. They stopped with her family at Smyrna. He went on to Alexandria, Egypt.
He built up extensive property in Alexandria.
Jane joined him in Egypt and was there as at 1789.
He warned London of French plans for Egypt, but was not listened to and his post was terminated in 1793 (though oddly he did not receive the message until 1796).
He left Egypt 1798 as the French invasion loomed, leaving behind his property in Alexandria, which the French seized.
He went to Italy, where he assisted with the planning of the British counter-invasion of Egypt.
He returned to Egypt with the British forces in Mar 1801.
He returned to England in May 1801.

Jane's portrait was painted by William Pyne (born 1769).
Their marriage was unhappy.
George wrote on his belief in magnetic therapy. (Now regarded as pseudoscience.)
He retired to Earl's Court, London.
He died Earl's Court, 19 February 1826, age 81 yrs.
Jane died 1839, age 76 yrs.
George and Jane had issue:

(dau) Baldwin.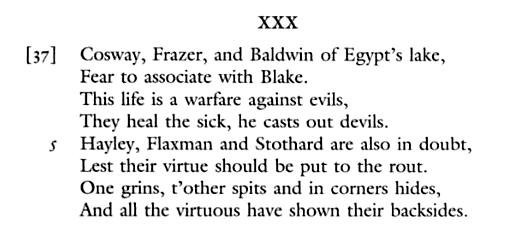 George Baldwin features in an undated, unpublished poem found in the
notebook
of
William Blake
.
Untitled, and so normally titled after the opening line,
"Cosway, Frazer, and Baldwin of Egypt's Lake"
, it is thought to be from 1808 to 1811.
Scan from
Blake: The Complete Poems
(2007).
Also in
The poetical works of William Blake
(1905).
---
Jane's portrait was painted in London by
Sir Joshua Reynolds
in Feb 1782 (her age 18).
He painted her in Eastern dress, and this has long been one of the more admired paintings by Reynolds.
See
search
and
image search
.
The portrait was done by Reynolds for his own interest and was not given to the Maltass/Baldwin family.
After Reynolds' death it was owned by his niece, the wife of Murrough O'Brien, 1st Marquess of Thomond.
Then owned by Richard Westall.
Bought by 3rd Marquess of Lansdowne 1813. It hung at Lansdowne House in Berkeley Square, London, then later at his family's seat Bowood House, Wiltshire.
It is listed as "Portrait of a Greek lady" in the Bowood collection in Treasures of Art in Great Britain, Dr. Waagen, 1854, Vol.III, p.160.
Sold for £3.4m at Sotheby's in 2004, the 2nd highest auction price ever reached for a work by Reynolds.
Now in Compton Verney art gallery, Warwickshire.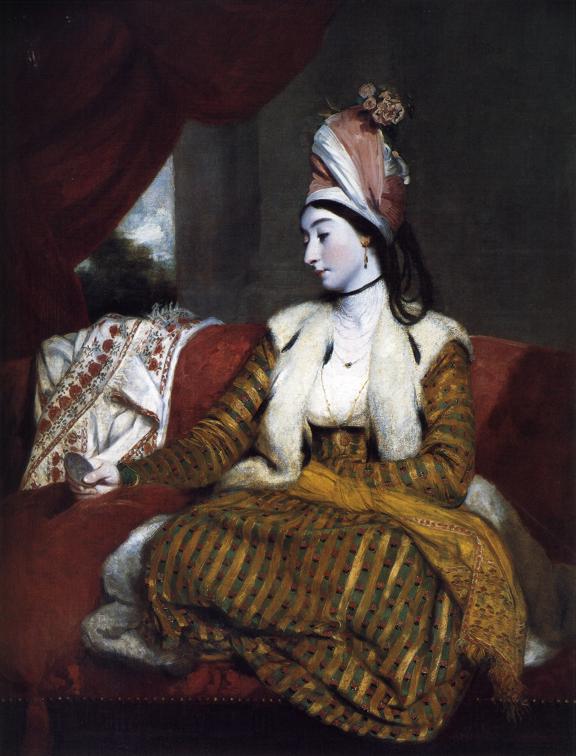 Jane Maltass ("Mrs. Baldwin") in Eastern dress.
Portrait by
Sir Joshua Reynolds
in Feb 1782 (her age 18).
Ancient coin of Smyrna in her hand.
Now at
Compton Verney
art gallery, Warwickshire.
From
abcgallery.com
. See
terms of use
.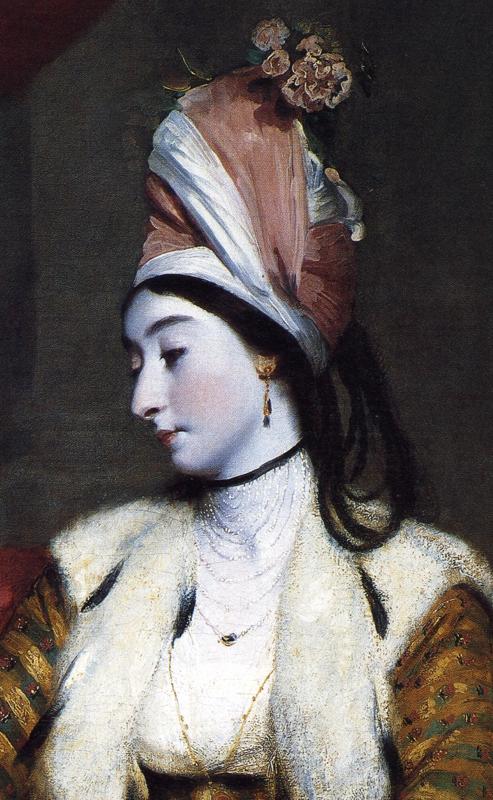 Jane Maltass in Feb 1782, age 18.
Detail of above.
Now at Compton Verney art gallery, Warwickshire.
From abcgallery.com. See terms of use.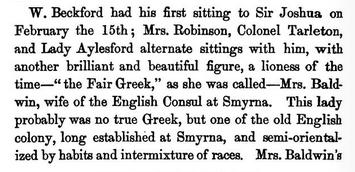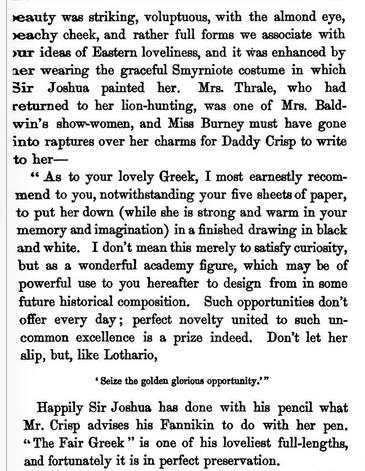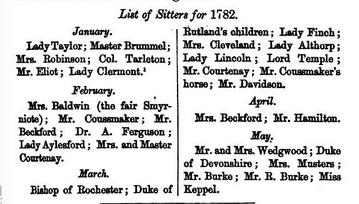 From [Leslie and Taylor, 1865, vol.2].
Left: Pages 350-351. Right: Page 387.



Letter from Samuel Crisp to Fanny Burney, 25 Feb 1782.
Pages 98-99 of Diary and letters of Madame d'Arblay (Diary of Fanny Burney), vol.2, 1854.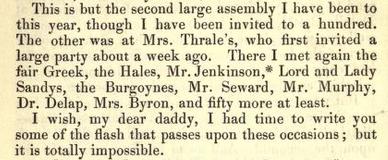 Letter from Fanny Burney to Samuel Crisp, 15 Mar 1782.
Page 102 of above.
---
McCormick copy of the painting
There is a second, identical copy of this picture, mainly painted by Reynolds' studio assistants.
It was incorrectly labelled as by Reynolds for many years.
It was purchased c.1892 by the collector
Robert Hall McCormick
(1847-1917) (also
here
).
[Rees family papers]
say "Mr. McCormick of Boston" owned it temp c.1910.
It was acquired by
William Randolph Hearst
1920. This is the one featured in
[Harpers Magazine, Sept 1924]
.
Hearst sold it 1945.
It was "lost" for more than 50 years.
Rediscovered in a private US collection. Was up for auction at
Christie's in 2003
(and
here
).
But it was
withdrawn from auction
when it emerged it was mainly by Reynolds' assistants.
---
Met copy of the painting
There is a further, cropped, copy of this picture, from the "Workshop of Sir Joshua Reynolds".
It was in the collection of the
Earl of Charlemont
.
Then in Blodgett family.
Presented to the
Metropolitan Museum of Art
, New York, in 1906. See
[Story, 1906]
.
Still at
Metropolitan Museum of Art
today.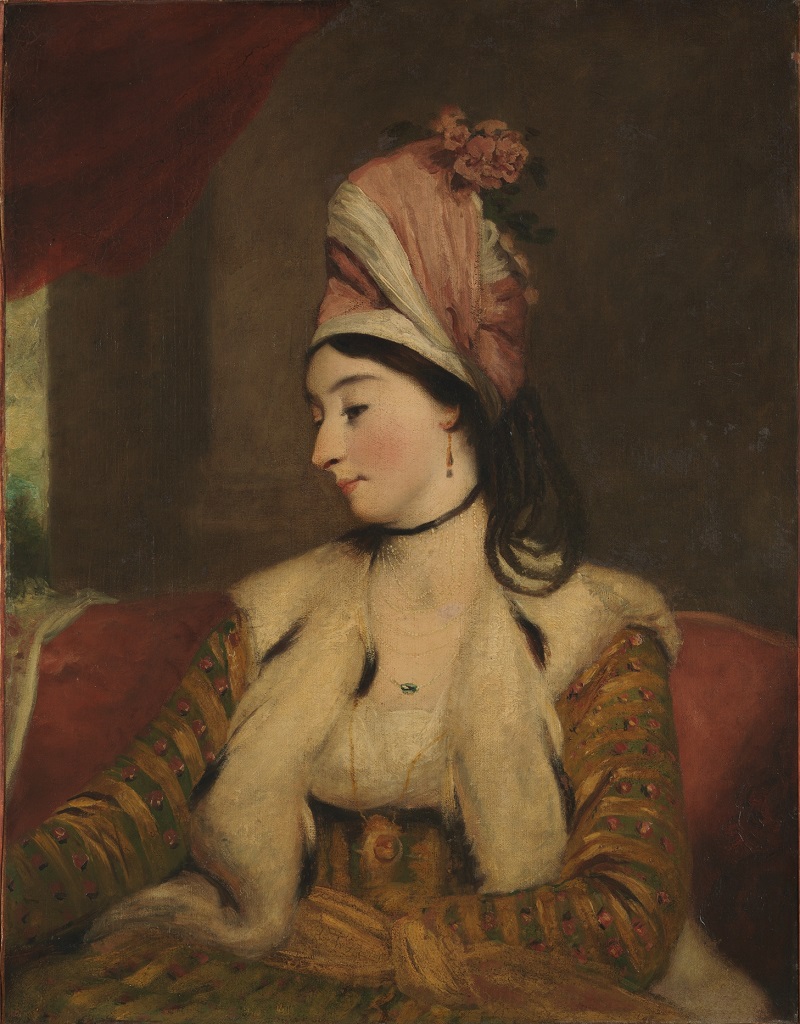 The Met copy of the portrait, from the "Workshop of Sir Joshua Reynolds".
See
full size
.
From
Metropolitan Museum of Art
. Public domain.
---
References
---
Sources yet to be consulted
George Baldwin in modern [DNB]
Travellers in Egypt by Paul Starkey and Janet Starkey (2001).

Chapter 4, "George Baldwin: Soldier of Fortune?" by Rosemarie Said Zahlan, pp.24-38.

Thraliana; the diary of Mrs. Hester Lynch Thrale, pub 1951, Vol.1, pp.530-531.
Obituary of Jane Maltass, written by her grand-nephew Dean Burgon, Gentleman's Magazine, Dec 1839, New Series, vol. xii (apparently not vol. ii), p.656. Extract here.

Reynolds portrait: