Griffin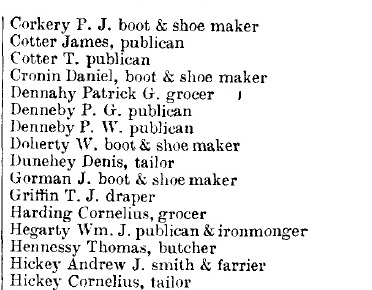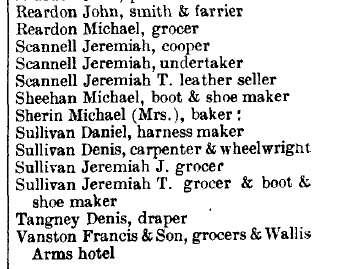 The Griffin and Sullivan businesses in Millstreet.
From
[Slater's Directory, 1894, Munster p.271]
.
John Griffin,
farmer,
had issue:
Thomas Griffin,
Thomas J. Griffin, born 1858, Co.Cork.
He was a draper in
Millstreet
, Co.Cork. Listed as such at mar.
He mar 14 July 1888, Millstreet RC church, to
Hannah Sullivan
[or O'Sullivan, born 1861, Co.Cork, dau of Jeremiah Sullivan, shopkeeper].
See
mar cert
from
here
. She is "Sullivan", "shopkeeper", living Millstreet.
At son's birth 1899 he is listed as a draper, of West End, Millstreet, Co.Cork (W end of Main St, see
map
).
They are
listed
in 1911 census at Coomlogane St (old name for West End), Millstreet, Co.Cork. He is "general draper".
They had issue:
Patrick Griffin,
Patrick Joseph Griffin,
of Millstreet, Co.Cork [NOT of London],
born 23rd May 1899, West End, Millstreet, Co.Cork
[GROI]
, NOT 1898.
He was an accountant. A.C.A. (Associate
Chartered Accountant
), later C.A. (Chartered Accountant).
Listed as "auditor" at mar, living 11 Botanic Rd, Glasnevin, Co.Dublin (near Ena's family home).
He mar 6 June 1922, Drumcondra RC church [GROI] to Ena O'Rahilly [born 2nd Dec 1898].
Listed as accountant, living 22 Belgrave Square, Rathmines, at son's birth 1924.
"Patrick Griffin, accountant", and "Griffin and Co, accountants", and "Burns, Griffin and Co, chartered accountants", are listed with office at 116 Grafton St, Dublin (NOT 115) in [Thom's] from 1927 to 1958.
Patrick and Ena are listed as living 42 Northumberland Rd, Dublin, in [Thom's] from 1927 to 1933.
Their (then) only child died of scarlet fever 1932. Ena got it too. She was very ill for a time.
He is listed as a chartered accountant at son's death 1932.
They lived "Frankfort", 147 Strand Rd, Merrion, Dublin (NOT 142), there as at late 1933. Listed there in [Thom's] from 1934 to 1936.
They then moved to Annville Park, Cork.
He had a business in Cork ("McGuinness, Griffin and Co."), kept his Dublin office running too.
He knew Henry Ford. It was said he helped him set up Ford in Cork. But Ford set up in Cork in 1917.
Patrick and Ena separated c.May 1937, did not live together after that.
Ena lived (without him) at 7 Eglinton Park, Donnybrook, Co.Dublin. Listed there in [Thom's] from 1938 to 1939.
"Ena Griffin" sent message of sympathy at Nell Humphreys' death 1939.
She lived (without him) in Galway c.1939-40.
She moved to England Apr 1946, to London.

Patrick stayed in Ireland.
He lived (without Ena) at 46 Merlyn Rd, off Merrion Rd, Dublin, moved there c.1948. Listed there in [Thom's] from 1950 edn to 1962-63 edn.
He moved business to 79 Merrion Square, Dublin.
As at 1969 Ena was living 251 Bath Rd, Slough (the main road heading W, see map).
Ena died 23rd Jan 1969, Wexham Park Hospital, Wexham, near Slough, age 70 yrs [GRO.UK].
She was bur in Slough area, (todo) find grave.
Patrick lived in flat, Adair House, 68 Sandymount Ave, Sandymount, Co.Dublin.
He must be long retired but "P. Griffin and Co.", chartered accountants, were still in business at 79 Merrion Square as at his death 1985. They describe him then as "our esteemed founder".
He died St. Vincent's Hospital, Dublin, 28 Jan 1985, age 85 yrs.
See death notice in Irish Times, January 29, 1985.
Funeral 30 Jan 1985, bur Griffin grave, Glasnevin. Glasnevin records say he is in same grave as son.
Patrick and Ena had issue:
Gerald Griffin,
Gerald Thomas O'Rahilly Griffin (both of his grandfathers were Thomas),
born 19th Oct 1924, 93 Lower Baggot St, Dublin [GROI],
died Mon 28th Mar 1932, Donard, Co.Wicklow, of scarlet fever, age 7 yrs [GROI],
bur Griffin grave, Glasnevin, headstone apparently only put up when father died 1985.




Bernadette Griffin,
mar 1stly to John Stevens,
mar 2ndly to Christopher McGrath,
had issue by 1st husband:

Anna Stevens, mar and had issue:

Dominic Shepherd.
Christian Shepherd.




Patricia Griffin (later Hunt),
mar Francis Lyon and had issue:

Brendan Lyon, mar Sinead O'Connell.
John Lyon, mar Carmel Byrne and had issue:

Francesca Lyon.
Genevieve Lyon.

David Lyon, partner of Kathy Brady.
Colm Lyon, mar Niamh Ballance and had issue:

Emily Lyon.
Joseph Lyon.
Sophie Lyon.
Mark Lyon.

Peter Lyon, mar Louise Barton and had issue:

Dylan Lyon.
Sarah Lyon.
Christopher Lyon.

Stephen Lyon, mar Denisse Maurer and had issue:

Alicia Lyon.
Brendan Lyon.
Ciara Lyon.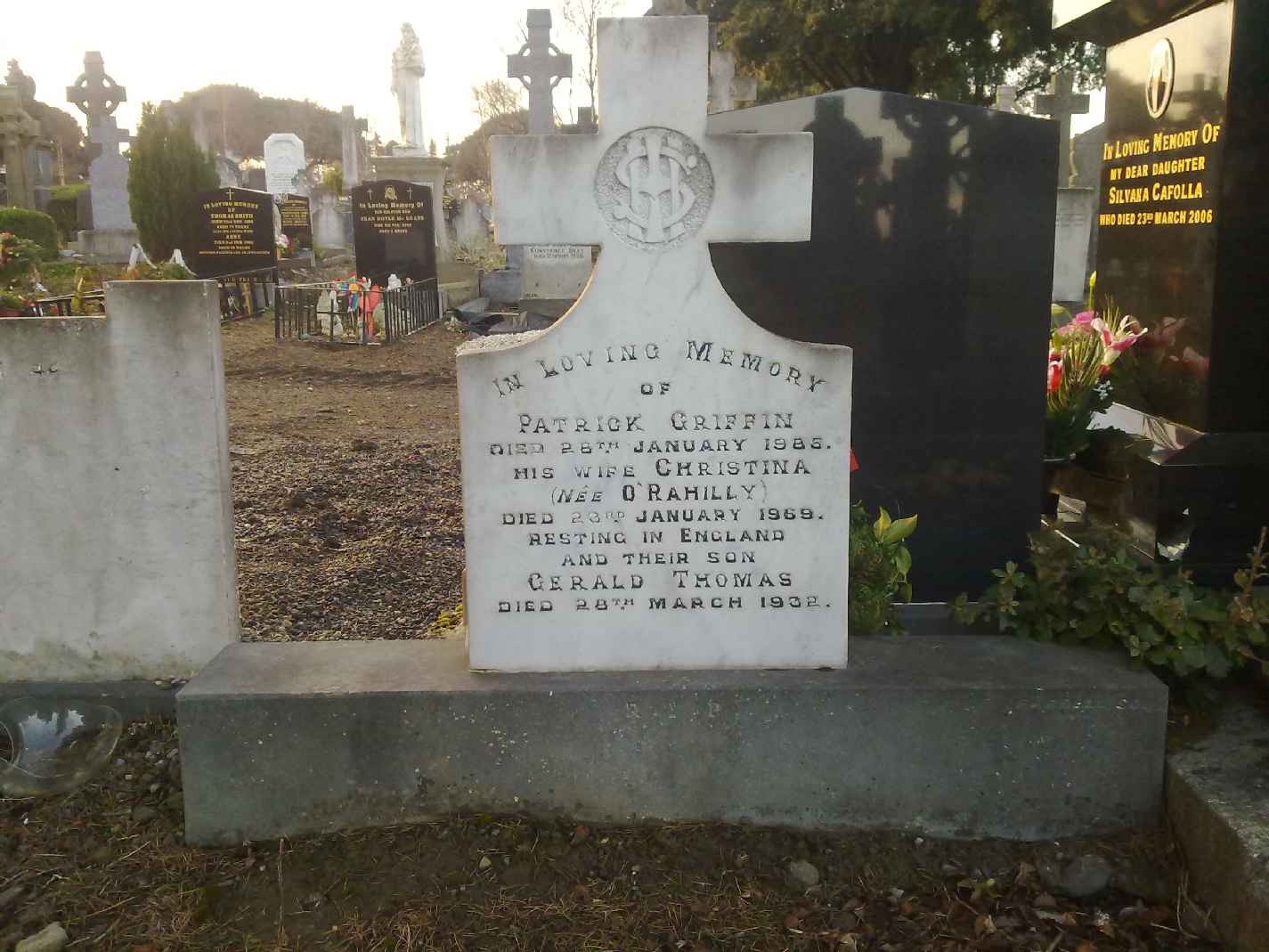 Griffin grave, Glasnevin.
Photo 2010. Courtesy of
Peter Lyon
.
See
larger
and
full size
.
See
wider shot
showing location.
Julia O'Rahilly grave
is in background.
See
close-up
.