Ryeves
Sources yet to be consulted:
Sir Robert Ryeves,
or Ryves,
mar
Dorothy Tuchet
[possibly a descendant of
Edward III
but not proved],
had issue:

Col. James Ryeves,
of Carrignafeela Castle near Tralee, Co.Kerry (formerly a Denny seat).
He came to Carrignafeela after 1627.
There was a 1638 letters patent listing every freeholder and householder on the Denny estate of Co.Kerry, including James Ryeves. This is referred to in [Hickson, 14 Apr 1897] and was possibly burnt in 1922.
He mar Alice Spring.
They had issue:
Catherine Ryeves,
or Katherine,
mar Edward Conway and had issue.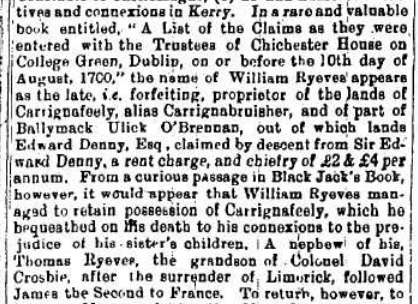 Extract from "Old Kerry Records" by Hickson, re-published on
2 May 1908
.
Refers to a 1700 document showing William Ryeves at Carrignafeela.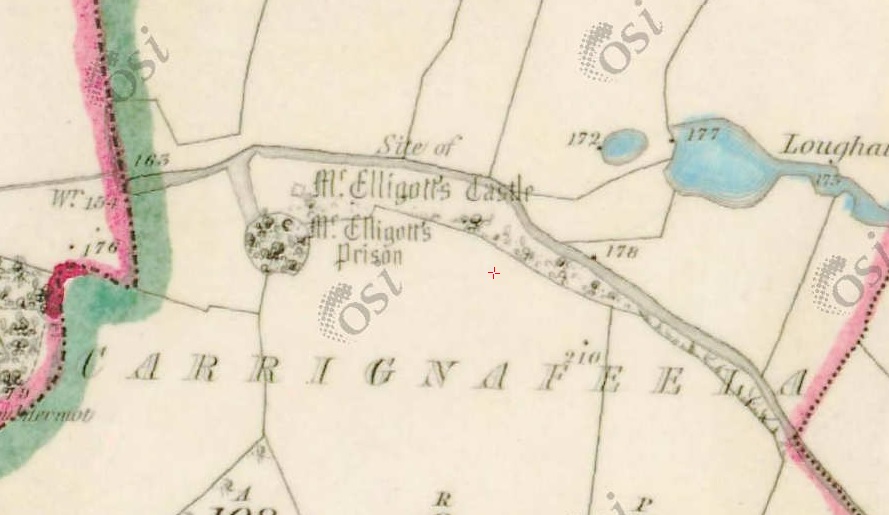 Carrignafeela Castle ("McElligott's Castle"), near Tralee, Co.Kerry, on 1829 to 1842 map.