Sir John Villiers
Sir John Villiers
(see
here
),
born est c.1470,
of
Brooksby, Leicestershire
.
He succ his
grandfather
1480.
He and other Villiers used
enclosures
to turn common land at
Brooksby
into more profitable sheep pastures. This led to the eventual complete depopulation of the village of Brooksby.
Sir John Villiers is recorded to have enclosed 4 farms on the estate on a single day, 6 December 1492, fencing off 160 acres and forcing 24 people to leave their homes and occupations.
He mar
Agnes Digby
[dau of
John Digby
of
Coleshill
, Warwickshire].
Agnes is not to be confused with a later
Agnes Digby, dau of John Digby
, whose mother was Throckmorton.
John was knighted at the marriage of
Prince Arthur
1501.
He served at the marriage of
Margaret Tudor
to
James IV, King of Scotland
in 1503.
His will dated 1 Sept 1506.
He died 2 Sept 1506, or 2 Dec 1506, bur
Brooksby church
.
Sir John and Agnes had issue:
William Villiers,
of Brooksby,
a younger son, eventually succeeded his brothers at Brooksby,
mar Colett Clarke,
she is "Colett" in William's will,
others write her as Coletta, or Colletta, or Collet,
she was dau of Richard Clarke (or Clerke) of Huntingdonshire,
William's will dated 26 Oct 1558,
he died 1 Nov 1558 (5 and 6 Philip and Mary),
bur Brooksby church,
had issue:




Sir George Villiers,
born 1544 (age 14 or more at father's death).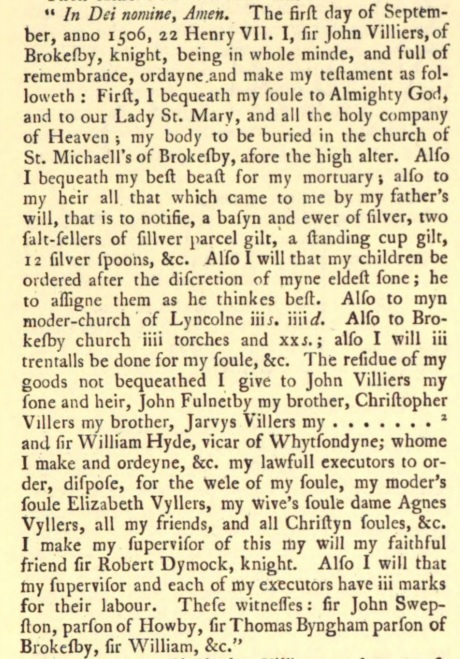 Will of Sir John Villiers, 1506.
From p.192 of
[Nichols, 1800]
.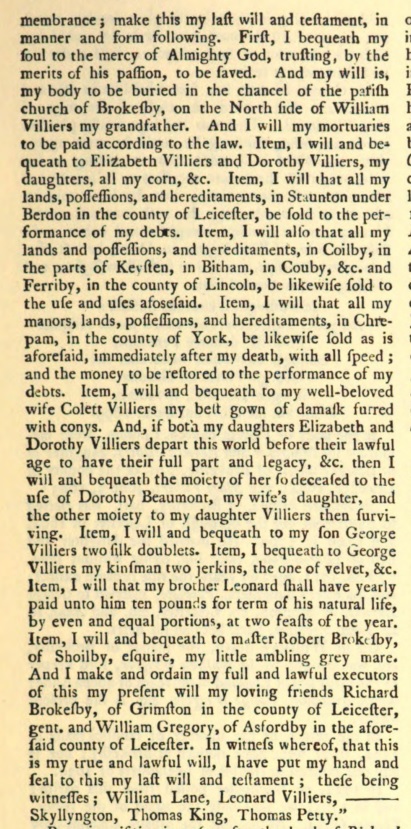 Will of William Villiers, 1558.
From pp.192-193 of [Nichols, 1800].