Sir George Villiers
Sources yet to be consulted: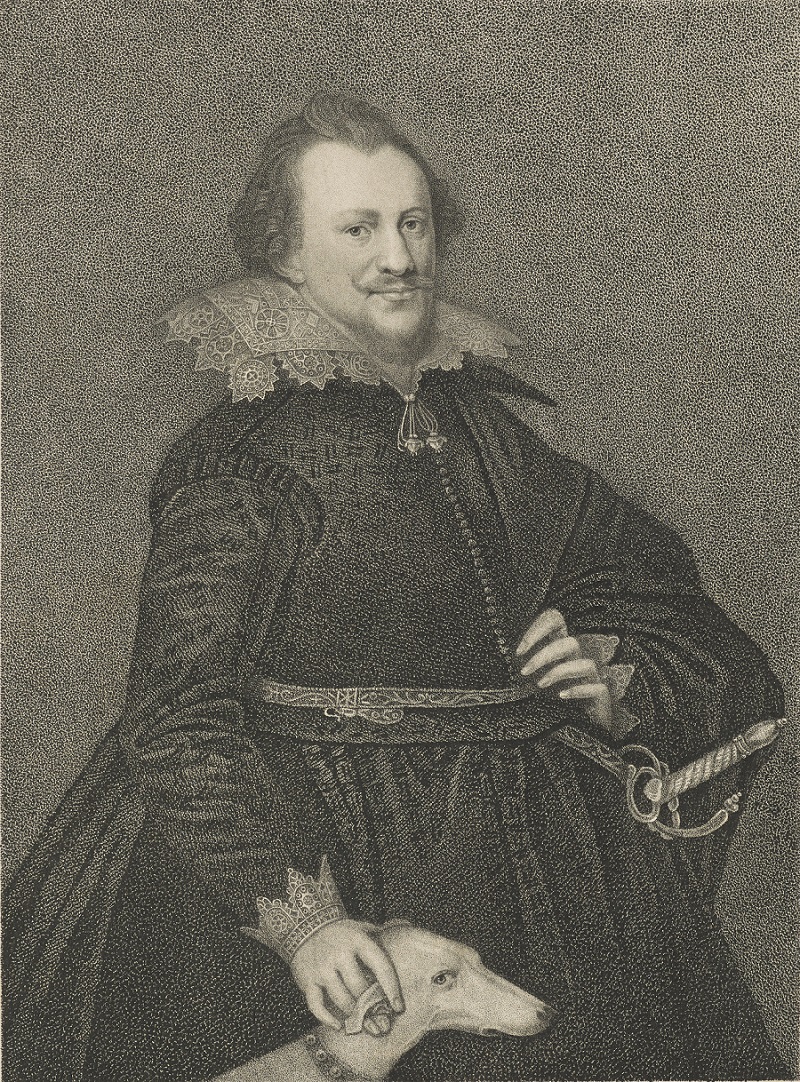 Sir George Villiers. Father of the 1st Duke of Buckingham.
Engraving of 1800 from an original portrait by
Cornelius Johnson
. Portrait then at
Strawberry Hill
.
See
larger
and
full size
.
From
Scottish National Portrait Gallery
.
Sir George Villiers
,
born 1544,
of
Brooksby, Leicestershire
.
See
wikipedia
and
thepeerage
.
He succ to Brooksby at his father's death 1558.
He mar 1stly to
Audrey Sanders
.
Audrey died 1 May 1588, or 7 May 1587.
Sir George had issue by 1st wife:
Sir William Villiers, 1st Baronet,
born 1575 (by age at death).




Sir Edward Villiers.
Lord President of Munster 1625-1626.
He died 1626, College of Youghal, Youghal, Co.Cork.
He was bur Boyle Chapel, St Mary's Collegiate Church, Youghal.
See 2019 photos of tomb and close-up and plaque.
He had issue:

William Villiers, 2nd Viscount Grandison,
had issue:

Barbara Villiers,
mistress of Charles II and had issue by him.

Sir George mar 2ndly, c.1590, to Mary Beaumont [dau of Anthony Beaumont].
Knighted in 1593.
Death, 1606:
He died 4 January 1606 [new style year, at the time regarded as end of 1605], age 61 yrs.
He was buried on 5 January 1606 at St Denys church, Goadby Marwood, Leicestershire.
After his death, Mary married twice again.
When her son became a favourite, she was created Countess of Buckingham in 1618.
In 1631 Mary had the Villiers monument at Westminster Abbey made, with an effigy of her 1st husband Sir George, even though he is not buried there.
She died 19 April 1632.
She was bur 21 Apr 1632, Westminster Abbey.
Sir George had issue by 2nd wife Mary:
George Villiers, 1st Duke of Buckingham,
born 1592, Brooksby Hall.
He was a favourite (and possibly gay lover) of James I.
He was created Viscount 1616 and eventually Duke 1623.
He was granted Dromahair, Co.Leitrim, Ireland, as part of the small Plantation of Leitrim.
He was assassinated 1628.
His half-brother Sir William inherited Dromahair.
1st Duke had issue:

Mary Villiers, born 1622.
She mar 1stly, Jan 1634, to Charles Herbert.
Charles died Jan 1635.
Mary mar 2ndly, Aug 1637, to James Stewart, 1st Duke of Richmond and had issue.
James was cr 1st Duke of Richmond 1641.
He died 1655. Title extinct 1672.
Mary died 1685.
See many portraits.




Christopher Villiers, 1st Earl of Anglesey,
mar Elizabeth Sheldon and had issue,
he died 1630,
she remarried.


Burial entry of Mary Beaumont (Countess of Buckingham), 21 Apr 1632, Westminster Abbey.
From
p.130
of
[Westminster Abbey Registers]
.
---