de Vere, Earl of Oxford
Sources yet to be consulted:

Things to do:

Colne Priory (burial place of de Vere) is apparently now cleared, but surviving tombs, some with effigies, were removed in the 1930s to St Stephen's Chapel near Bures, Suffolk.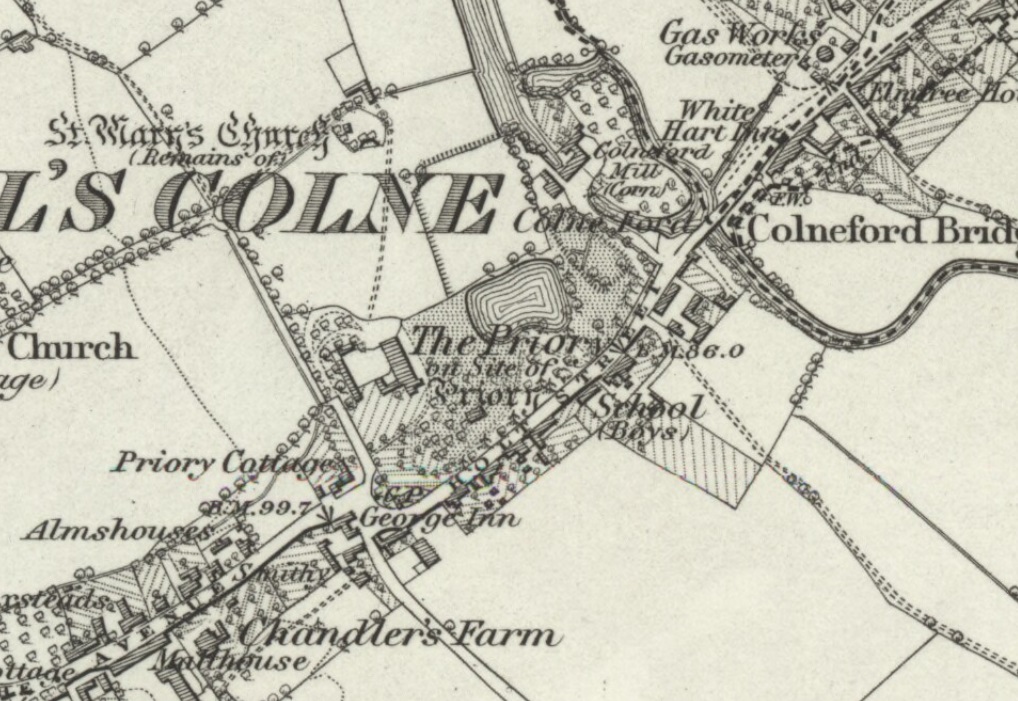 Site of Colne Priory, at Earls Colne, Essex.
Burial place of de Vere.
From
old map
. Surveyed: 1876. Published: 1881.
Aubrey de Vere
,
awarded the manor of
Hedingham
by
William the Conqueror
before 1086,
listed at Hedingham in
Domesday Book
1086,
founded
Colne Priory
, at
Earls Colne
, Essex, in or before 1111,
died c.1112-1113,
bur Colne Priory (which became burial place of de Vere for generations),
had issue:

Aubrey de Vere,
mar Alice de Clare [descendant of Charlemagne],
killed by a mob in London in May 1141 during the civil war,
bur Colne Priory,
had issue:

Aubrey de Vere, 1st Earl of Oxford,
cr Earl in July 1141,
mar 3rdly to Agnes of Essex,
died 26 December 1194, bur Colne Priory,
had issue by 3rd wife:
---