Edward Blennerhassett, of Rossbeigh
Stop! €1,000 competition! Contact me now!
Stop! This is one of the most important pages on this site.
If you know anything about the people on this page, contact me now. You may solve a problem I have been working on for years.
I will give €1,000 to anyone who solves this problem. If you know anything about the people on this page, contact me now!
Sources yet to be consulted:
Edward Blennerhassett
, of Rossbeigh,
born 31 Mar 1705.
He grew up
Castle Conway, Killorglin
, Co.Kerry.
He mar 1731 to
Mary Fitzgerald
.
His father died c.1738. His older brother's line inherited Castle Conway.
In 1760 he built
Rossbeigh Lodge
, Rossbeigh, Co.Kerry.
His will
is dated 6 Nov 1774. He is Edward Blennerhassett of "Rosbeagh".
He died 1774, age 69 yrs.
His will was proved in Ardfert and Aghadoe in 1774
[Index to Irish Wills]
.
Edward and Mary had issue:
Rev. John Blennerhassett,
"Parson Jack",
born Jan 1733.




Rev. Conway Blennerhassett, born May 1736,
mar Lucy Orpen, no issue,
Rector of Ballyseedy 1796-1804,
died 1805, age 69 yrs,
see abstract of will printed in [MGH, 1883].




Robert Blennerhassett.
He mar Anne Blennerhassett.
See descendants in extract from [Burkes Irish, 1976].
See much more detailed family tree of Blennerhassett of Killorglin, etc. by Bill Jehan.
Robert and Anne had issue:




Edward Blennerhassett,
Edward Conway Blennerhassett, born Jan 1776,
died at St.Louis, Missouri, Dec 1855, age 79 yrs,
will not filed in St.Louis probate court until 1904,
the claim then was that the inheritance was property in Ireland worth $2 million, which caused great media interest,
had issue:




Thomas Blennerhassett.
Arthur Blennerhassett.
Avis Blennerhassett, mar Gerald Blennerhassett.
Anne Blennerhassett, mar Robert Hilliard.
Jane Blennerhassett, mar Hilliard Giles.




Elizabeth Blennerhassett, born 1736.
Ancestry.com lists her as born in Newry, Co.Down. But this must be just an error caused by her appearing in the [Crossle newspaper abstracts] from newspapers at Newry library.
She mar 1stly to (think) Daniel Connell.
Some sources list him as "Daniel O'Connor".
But she is listed in her father's 1774 will as his dau "Elizabeth Connell (wife of Samuel K. Williams of Milltown)". Think this must be surname of 1st husband rather than a middle name.
She mar 2ndly, pre-1774, to Samuel K. Williams and had issue.




Mary Blennerhassett,
born probably after 1736.
She was unmarried at time of father's will 1774.
She mar post-1774 to --- Clifford and had issue.
He was apparently a Catholic.
Their descendants were Catholic.
---
The will of Edward Blennerhassett was indexed in
[Index to Irish Wills]
.
An abstract was published in
[MGH, 1883]
.
Unfortunately the original will would have been burnt in the Four Courts in 1922.
Also unfortunately,
[MGH, 1883]
made an error in the name which is still being propagated today.


Blennerhassett wills listed in Ardfert and Aghadoe in
[Index to Irish Wills]
.
He is listed correctly as "Edward".


Abstract of will printed in [MGH, 1883].
The author just makes an error here by writing "Robert". It should be Edward.
Note that in the family tree in the same article, the author writes "Edward", not Robert.
Note that Black Jack names his children and does not name any "Robert".
---
The Edward Blennerhassett inheritance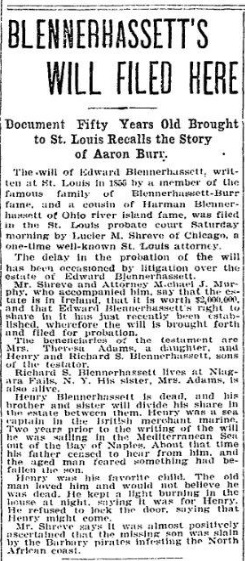 The late filing in 1904 of the will of Edward Blennerhassett of St.Louis (died 1857).
From
St.Louis Post-Dispatch
, 6 Aug 1904.
Bill Jehan
notes many inaccuracies in the above.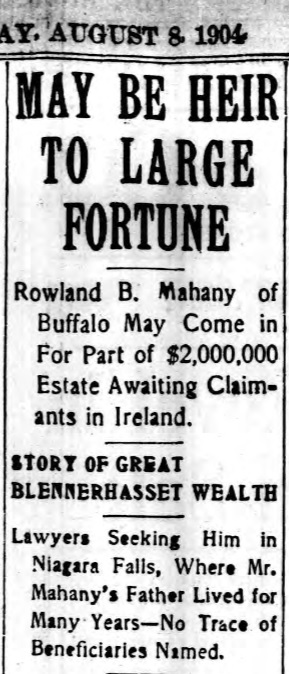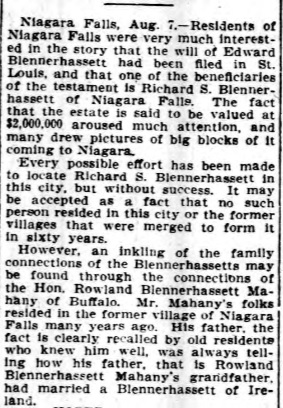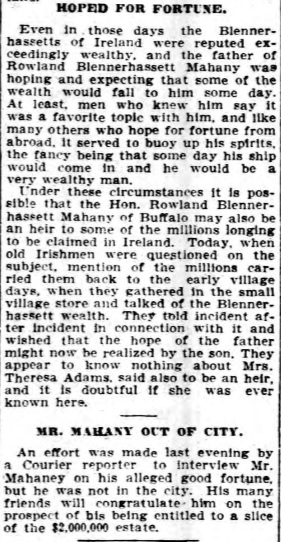 Another rather inaccurate article in The Buffalo Courier, 8 Aug 1904, about the Edward Blennerhassett inheritance.
It speculates that Rowland Blennerhassett Mahany (1864-1937) may be an heir, but this seems to be based on nothing.
From Fultonhistory.com newspaper archive.
---
Rossbeigh Lodge, on
Rossbeigh strand
(or Rossbehy), Glanbehy par, near
Glenbeigh
, some distance SW of
Killorglin
, Co.Kerry.
Built 1760 by
Edward Blennerhassett
.
Edward died 1774.
Letitia Blennerhassett
born here 1780.
Long vanished. Exact location unknown.
See
old map
and
modern map
.
Public domain photos of Rossbeigh on
Flickr
and
Wikimedia Commons
.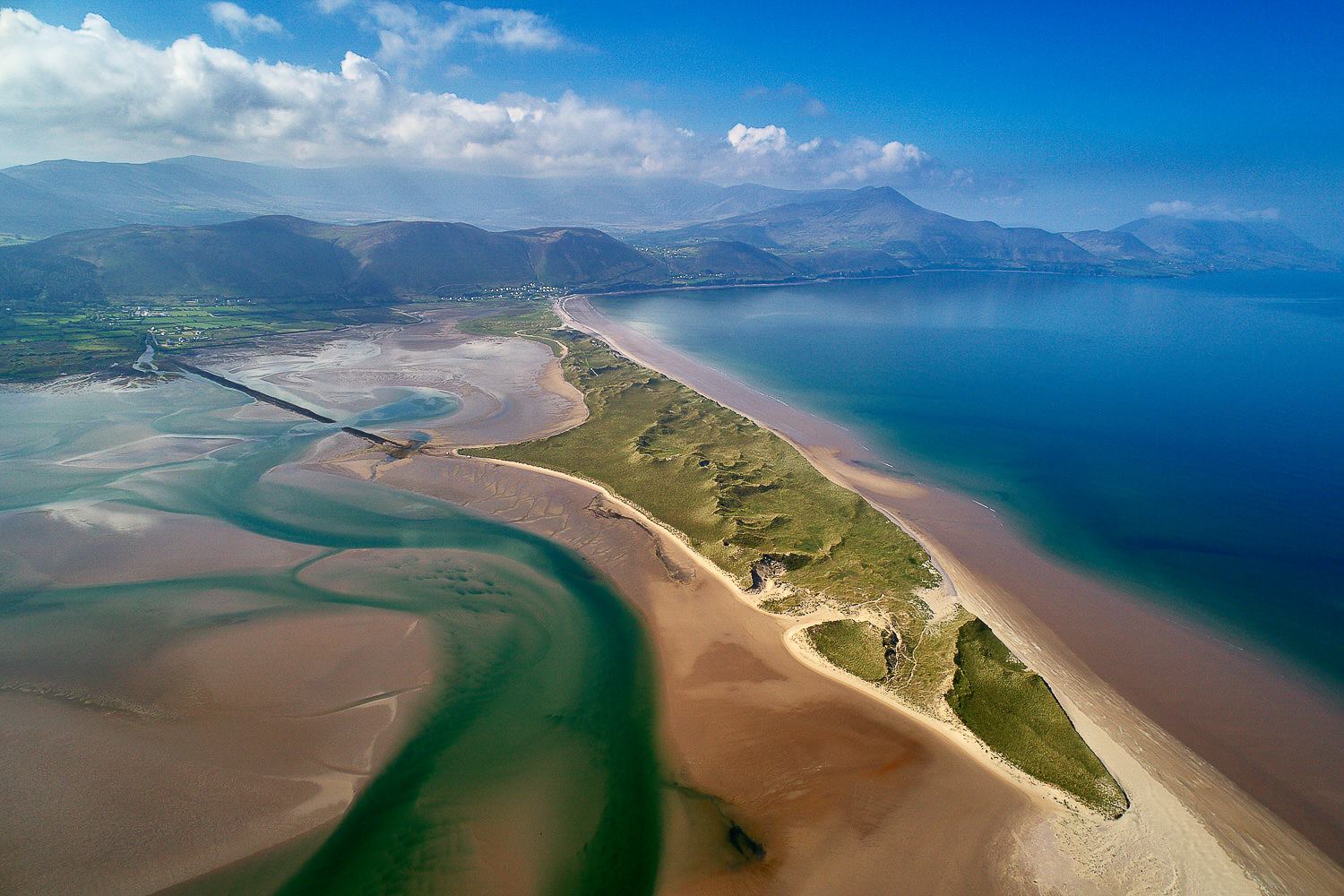 Rossbeigh, Co.Kerry.
Photo by Peter Cox. Posted 2019 by
Eva Ní Shuilleabháin
.
See also
2008 photo
. From
Stephen Gerard O'Callaghan
. Creative Commons.
See
street view
from strand.


Rossbeigh Strand, by drone.
See more videos.