Sir Thomas Fitzwilliam, Kt
References:

Sources yet to be consulted: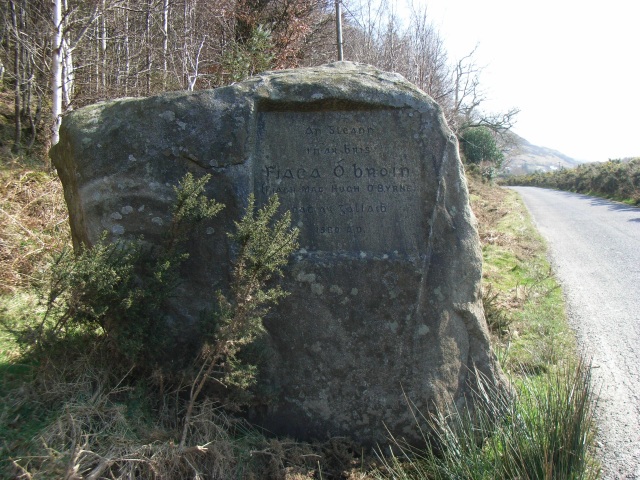 Memorial to the 1580 rebel Fiach McHugh O'Byrne, Glenmalure, Co. Wicklow.
Photo 2009. From
Geograph
. Creative Commons.
See
street view
.
On the other side of the same rock is a memorial to the 1798 rebel
Michael Dwyer
.
Sir Thomas Fitzwilliam, Kt
,
of Merrion, Baggotrath,
Booterstown
and
Simmonscourt
,
born c.1519 (succ aged c.9 yrs),
succ 1528,
mar
Genet Finglas
,
lived initially at Baggotrath, but later moved the seat of the family to
Merrion Castle
,
seems to have left
Baggotrath
and rented it out by 1547,
MP for
Co.Dublin
1559,
Vice-Treasurer of Ireland
1559,
fought in the campaign against
Shane O'Neill
1560,
Sheriff for Co.Dublin as at 1564,
the Lord Deputy
Sir Henry Sidney
visited him at Merrion in 1565 after arriving in Ireland and before entering Dublin,
fought in a further campaign against Shane O'Neill 1566,
after this, Sir Henry Sidney knighted him, at
Drogheda
, autumn 1566,
the family conformed to Protestantism at the Reformation, but their conversion was only nominal and by 1600 they were Catholic again (although they were always loyal to the crown in Ireland),
Constable of
Wicklow Castle
,
this was a frontier castle at the edge of
the Pale
, facing hostile Irish tribes (whose traditional leaders were the
O'Byrnes
),
he fixed the boundaries of
Wicklow county
(as Sir Henry Sidney did with
Clare county
in 1565),
will dated 1591 (copy of will burnt in 1922),
died 9th Nov 1592, age c.73 yrs,
had issue:
Sir Richard Fitzwilliam, Kt,
of Merrion, Co.Dublin,
Constable of Wicklow Castle,
mar pre-1581 to Jane Preston [descendant of Edward I],
succ 1592,
[Ball, vol.2, 1903] says "he attended in person a great assembly of the Militia at Tara, accompanied by two armed men",
this must be the general hosting at Tara, 24 Sept 1593,
rebuilt Dundrum Castle 1590s,
died at Merrion, 5 Mar 1595,
bur at Donnybrook church, erected the Fitzwilliam tomb, which was in the family chapel attached to the old church,
Jane's will dated at Merrion, Nov 1597,
had issue:




Thomas Fitzwilliam, 1st Viscount Fitzwilliam, of Merrion, born 1581.

Mary Fitzwilliam,
mar 1stly to Matthew Plunkett, 5th Baron Louth and had issue.

William Fitzwilliam of Dundrum,
mar 1614 to Mary Smyth,
died at Dundrum Castle 16th July 1616,
[Ball, vol.2, 1903] references his will.




Catherine Fitzwilliam,
mar 2ndly, pre-1584, to Christopher Preston, 4th Viscount Gormanston [born 1537] and had issue.

Nicholas Fitzwilliam,
lived at Baldungan, Co.Dublin.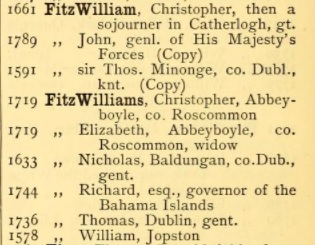 Fitzwilliam wills listed in
[Vicars' index of wills 1536-1810]
.
Includes the will of Sir Thomas Fitzwilliam, dated 1591.
All these wills were burnt in 1922.
---
The Battle of Glenmalure, 1580
The
Battle of Glenmalure
on 25 August 1580 was a major victory for the native Irish against The Pale.
For centuries the native Irish of Co.Wicklow had been raiding The Pale.
After the Reformation, some of the "Old English" (old Anglo-Norman settlers who stayed Catholic) would sometimes be allied together with the native Irish against the Protestant crown.
One such alliance was during the Desmond Rebellions (1569-83) against Elizabeth I.
In 1580 at Glenmalure, Co.Wicklow (near Glendalough, W inland from Wicklow town, in heart of Wicklow mountains, see map), the forces of the Crown under Arthur Grey, 14th Baron Grey of Wilton were defeated by a coalition of native Irish and Pale rebels under Fiach McHugh O'Byrne and James Eustace, 3rd Viscount Baltinglass.
It was the high point of the rebellion. For a brief time Dublin itself was threatened.
[O'Byrne] says: "There was panic in Dublin as the news of the battle filtered back. This defeat was the worst reverse ever suffered by a royal army in Ireland. The question on every Elizabethan official's lips was almost certainly whether Glenmalure's victors would march on Dublin."
The O'Tooles and the O'Byrnes were finally conquered in 1601.
The song "Follow me up to Carlow"
The 19th century song
"Follow me up to Carlow"
celebrates the Irish rebel victory.
The tune is traditional, but the lyrics are by
Patrick Joseph McCall
in the 19th century.
The lyrics:

"Lift Mac Cahir Og your face brooding o'er the old disgrace
That black Fitzwilliam stormed your place and drove you to the fern.
Grey said victory was sure, soon the firebrand he'd secure
Until he met at Glenmalure Feach Mac Hugh O'Byrne.


(Chorus:) Curse and swear, Lord Kildare, Feach will do what Feach will dare
Now, Fitzwilliam, have a care: fallen is your star, low!
Up with halbert out with sword, on we go for by the Lord
Feach Mac Hugh has given his word, follow me up to Carlow!


See the swords of Glen Imayle flashing o'er the English Pale
See all the children of the Gael beneath O'Byrne's banners.
Rooster of the fighting stock, would you let a Saxon cock
Crow out upon an Irish rock, fly up and teach him manners!


From Tassagart to Clonmore flows a stream of Saxon gore
Och, great is Rory Og O'More at sending loons to Hades.
White is sick and Lane is fled, now for black Fitzwilliam's head
We'll send it over, dripping red, to Liza and the ladies."
"Black Fitzwilliam"
Who does "black Fitzwilliam" refer to?
The following have been suggested:
Sir Thomas Fitzwilliam, Kt, Constable of Wicklow Castle ("The Black Castle") and long-time enemy of the O'Byrnes.
Captain Bernard Fitzwilliam, an officer leading the English army into Glenmalure, who was killed by the rebels.
"Fitz William" refers to Arthur Grey, 14th Baron Grey of Wilton, the son of William Grey, 13th Baron Grey of Wilton.
The song "Follow me up to Carlow", about the Battle of Glenmalure (1580).
And search for
more
.