---
Things to do - Letitia Blennerhassett
The solution to
The Blennerhassett Challenge
may or may not lie with this person:

But one must keep an open mind. The solution to The Blennerhassett Challenge may lie elsewhere.
---
General
Have checked all George Cashel material for LINDSAY, BRODRICK, PONSONBY, MILLER, MONSELL

Law cases published. Search for "Reports of Cases Argued ... in Ireland" in:
---
Google searches
---
The theory is that Letitia Blennerhassett met a Mr. Cashel in Tarbert around 1806.
There is no CASHEL living in Tarbert area around 1806. So who is he?
He might be from a temporary population, e.g. the Army base at Tarbert Island.
Or he might be from further away in Co.Kerry and visiting.
---
If Letitia separated from Ponsonby in 1806, where did she live in 1806 to 1811? Where did she baptise the baby?
---
Letitia may have lived with her brother Capt. Thomas Blennerhassett in Cork in 1806 to 1811 period.

Consider the following:

By the 1806 deed, Richard Ponsonby is paying Thomas Blennerhassett the yearly sum of £40. My theory is that this is for the maintenance of his disgraced wife Letitia. Thomas is the eldest brother. The father is dead.
If Thomas is being paid maintenance for his sister Letitia, it is likely that Letitia lives in the same town as Thomas. It would be a lot of trouble to get the money to her if she did not.
Maybe after her disgrace, Letitia went to live with her brother Thomas?
Maybe the money was paid to him, and not to her, in order to get him to take her in.

Where did Thomas live?

He grew up in Tralee. He lived in Tralee at least 1792 until 1806.
In 1806 he moved to Cork. He lived in Cork at least 1806 to 1810.
His son Conway Blennerhassett was born 1808 in Cork.

Does it mean something that Thomas moved from Tralee to Cork in 1806?

It would be difficult for a disgraced Letitia to live in Tralee, where she grew up, and people knew her.
Did Thomas deliberately move to Cork in 1806 to protect his sister?
Thomas named his own daughter Letitia, probably after 1809. So the scandal did not put him off naming his daughter after his sister. Maybe Letitia was living with him when his daughter was born. She might be godmother for the baptism. Either way, he must have been fond of his sister Letitia.

Search for George Cashel baptism
---
School
George Cashel in school records in Tarbert 1811 to 1826
Protestant school in Glin?
Protestant school in Ballylongford?
Erasmus Smith school, Tarbert
Church
George Cashel in Kilnaughtin Vestry Minutes Book 1815 to 1834.

DONE first pass of online version. PONSONBY, CASHEL not found.
Find original.
Original is NOT in [RCB].
Original is NOT in Limerick cathedral.
Early job
Did he have a job in 1821 to 1828, before the police?
Maybe in Customs?

George Cashel in Customs records at NA.UK 1821 to 1828.

Tarbert is found under Limerick or Kilrush.
Division 9 within CUST. Irish Customs Board Records.
CUST 20. Irish Revenue Board and Irish Board of Custom: Salary Books and Establishments. 1682-1826.
CUST 110. Board of Excise: Irish Board and Establishment. Minutes and establishment lists.

Minutes and appointments 1824 to 1829 period. CUST 110/2.

CUST 111. Irish Revenue Police. 1830-1857.
CUST 113. Outport Records: Ireland. 1679-1849.

LIMERICK CUST 113/45 1828-1830 General Orders and correspondence
LIMERICK CUST 113/46 1826-1827 Entry book of correspondence, Collector to Dublin Board
TRALEE 1824 to 1826 in CUST 113/62 to CUST 113/66.

CUST 119. Board of Excise and successor: Miscellaneous Bundles

CUST 119/351. Irish Revenue Police. 1827-1850.
CUST 119/389. Establishment of the Irish Assessed Office: correspondence and lists of Officers. 1820-1824.

Have seen these:

CUST 20/51. Establishment book. Oct 1820. Lists staff at Tarbert.
CUST 20/52. Establishment book. Oct 1826. Lists staff at Tarbert.
CUST 20/53. Establishment book. 1826. Lists staff at Tarbert.
CUST 20/54. Establishment book. 1817. Lists staff at Tarbert.
CUST 20/55. Establishment book. Tarbert section is close to a date of 1824. Lists staff at Tarbert.
CUST 20/160. Officers' appointments. 1815 - 1823. Can't find any section for Tarbert.
Minutes and appointments 1824 to 1829 period. CUST 110/3.
Minutes and appointments 1824 to 1829 period. CUST 110/4.
CUST 110/8. Excise Appointments. 1827-1833.
---
If Mrs. Ponsonby caused scandal at Tarbert in 1806, almost any Co.Kerry family might mention it in gossip.
Sir Edward Leslie, Baronet, letters:




Knight of Kerry papers at [PRO.NI]

William Ponsonby papers - His regiment was at Tarbert in 1808.
---
VO and NAI.VO
Track Lindsay properties in Tarbert
Find Memorial (not full deed) of 1778 separation - Is it phrased same way as 1806 memorial?

Identify "A.Blennerhassett J.P."

DONE first pass of BLENNERHASSETT in 1758-1812 (before got interested in Rev. John and Letitia)
DONE first pass of BLENNERHASSETT in 1794-1815 (since focused on Rev. John and Letitia)
DONE first pass of CASHEL/CASHELL in 1758-1812

DONE first pass of PONSONBY 1800-15 and 1822-39.
See complete PONSONBY index of 1800-1809:
p.485 and p.486 and p.487 and p.488 in Grantor index N-Q 1800-1809

(todo) FULLER
(todo) FINN

Not relevant: Deed of 18 Oct 1802. Patrick Maher of Tarbert to Officers of Ordnance. Book 549, p.203, no. 363194. Page 111 (online numbering) in Deeds, etc., v. 549-550 1802-1803.

LINDSAY - have searched around 1806 and 1811

Have done first pass of 1813-99.
Irrelevant:

William Lindsay, 1814
William Lindsay, 1817
William Lindsay, 1818
William Lindsay, 1819
William Lindsay, 1820 (all)
William Lindsay, 1821 (all)
William Lindsay, 1823
William Lindsay, 1825 (all)
William Lindsay, 1828
William Lindsay, 1829
William Lindsay, 1831
James Lindsay, Tralee, 1855

Find 1804 deeds
Search for Ponsonby deed, 12 Nov 1795
Wider search of index for these names:

MILLER - have searched around 1838.
MONSELL - have searched around 1838.
LR - Search for more deeds for Thomas and John
(todo) see transcripts of the following ones of interest:
| | | | | | |
| --- | --- | --- | --- | --- | --- |
| Grantor | Grantee | Date | Vol | Page | No |
| John Blennerhassett | Bourke | 1811 | 631 | 333 | 434016 |
| John Blennerhassett | Leake | 1811 | 631 | 491 | 435842 |
| John Blennerhassett | Bourke | 1812 | 639 | 391 | 442391 |
| John Blennerhassett | Curtayne | 1812 | 654 | 136 | 449907 |
| John Blennerhassett | D'Esteere | 1813 | 663 | 93 | 454920 |
| John Blennerhassett | Flood | 1814 | 677 | 330 | 466554 |
| John Blennerhassett | Allman | 1814 | 682 | 182 | 469330 |
---
NAI - CSORP
[CSORP] agrarian policing actions

See William Lindsay policing actions against agrarian insurgents in co-operation with Robert Leslie junior.
George Cashel, if stepson, would have been the oldest child at home, and a teen. He might have helped.
Found newspaper accounts of William Lindsay policing actions 1821-22.
Agrarian rebellion was 1821-24.
Online CSORP index is 1818-22.
Indexes removed from shelf for cataloguing, but can be ordered.
Any sources other than CSORP?




CSORP searches done:

| | | | |
| --- | --- | --- | --- |
| Search | Done | To do | Notes |
| TARBERT | 1818-22 | | Online so could do free text search |
| LESLIE | 1818-22 and 1824-27 | 1823 | |
| LINDSAY | 1818-22 and 1824-32 | 1823 | |
| MILLER | 1827-32 | | |
| CASHEL | 1827-40 | | |

Try this:

R.Leslie, Co.Kerry, 1826 / 13,440

Irrelevant:

MILLER, 1827, no.2075
LINDSAY, 1828, no.1477
LINDSAY, 1829, no.622

Apparently nothing on Belfast police

CASHEL police career:

DONE proper pass of CASHEL 1827 to 1840, and 1861-62
DONE quick pass of CASHEL 1844-46, and 1853-60, and 1867 and 1882
(todo) proper pass of CASHEL, 1841 to 1883




[CSORP] other
NAI - Other
List of children at Erasmus Smith school, Tarbert, in 1809 was sent to Dublin Castle. Are there any other lists?

DONE search of LINDSAY in Petty Sessions in North Co.Kerry

Ballylongford Petty Sessions records, 1855 on.
Tarbert Petty Sessions records, 1860 on.
These are digitised at findmypast.ie

Customs records

Have searched CUSTOMS in "Index of Official Papers" (up to 1831) (OP), RR card index. Match these references into the second index (behind counter).
Have done these, nothing found:

Salaries of customs officers, Irish Office, 23 Apr 1810, OP ii 299/6
Letters re: Vacancies for boatmen, Irish Office, Mar-May 1810, OP ii 299/12
Compensations to customs officers, Mar-Dec 1810, OP ii 299/24
Commissioners of customs, and Salaries of customs officers, 1810, OP ii 342-43

(todo) Search second index itself (may not be fully indexed in card index)

Court cases - See "High Court of Justice, 1699-1964", finding aid, RR

(todo) For this see finding aid p.215:
Finding aid has nothing for these:

Monsell family, M.6124, Misc. Subject Index.
Private Accessions, J.F. Fuller, 4 Jan 1923, 1/9.

[O'Kief]

done quick pass of LINDSAY, MILLER, PONSONBY
(todo) exhaustive search - big job
---
NLI Ms
O'Hara papers

We are proposing that Richard Ponsonby, the nephew of Charles O'Hara (the younger) (MP for Sligo County 1801-22, died 1822), separated from his wife around 1806 after she had an affair. Quite possible that some O'Hara letter would mention it.

Rowan papers

Might be more Ponsonby papers.

[Denny, 1923] mentions a Ponsonby pedigree in the possession of Thomas Sadleir.

This might be in various Sadleir papers at NLI.
NOT FOUND in these:

Letters of Thomas Ulick Sadleir, NLI GO MS 1000. Finding aid in NLI GO RR is same as this PDF:
NLI Report on Private Collections, No. 31: Report on the Sadleir Papers, NLI GO RR.
NLI newspapers - 1829 - Clashmore Petty Sessions
George Cashel drunk incident - 1829 - Clashmore Petty Sessions

Waterford newspapers. Short period: 17 Aug 1829 to 2 Sept 1829.
Clashmore is close to Co.Cork border. Could also try Cork newspapers.

DONE search. No mention of Clashmore Petty Sessions at all.

(todo) Get exact date of 1829 Clashmore Petty Sessions.
Find an Irish Law Calendar 1829
NLI newspapers - other
search (no known article)

Louisa case 1827 - try Chute's Western Herald
William Miller arrested, jailed and dismissed 1830
confirm Honoria Ponsonby death 1864
deaths - funeral lists
Court cases - See [NAI] section

Belfast funeral lists

Thomas Lindsay, Belfast, 1861

searched Belfast Morning News
searched Belfast Newsletter
searched Northern Whig

Thomas Lindsay's wife 1858

Belfast Morning News
Belfast Newsletter
Northern Whig (offsite - ring in advance)
NLI - other
[History of the Irish Parliament]

Sources for life of Charles Coote, 1st Earl of Bellomont.
---
GM

[RCB]

[RIA]

Have searched all Fuller papers.
Have gone through card index for all references to FULLER in Academy Minutes (VII and VIII) and Council Minutes (XXV). Have seen all these. They record many donations of books and material to the RIA by Fuller.

Ponsonby grant of arms in Dublin or London? (Might have genealogy.)
GROI
Blennerhassett
---
Co.Kerry
[KCL]

Other Blennerhassett papers
LESLIE, TARBERT
Nothing on LINDSAY in card index.
Done PONSONBY in [Denny, 1923]. Nothing on LINDSAY.
Lislaughtin Abbey inscriptions.
DONE file on St.John's church, Tralee drawer
DONE Kilnaughtin cemetery inscriptions (Tarbert). Nothing found.
Does this cover both old and new Kilnaughtin churches?

Tarbert

Large raised Gallagher tomb, Kilnaughtin Cemetery, old Kilnaughtin Church.

Aghavallen memorial inscriptions, [KGS]. Not in KCL.
Co.Limerick
Glin Castle papers and letters.

Limerick

St.Munchin's - can't find Monsell grave in the map held by the Cathedral - could try other list of inscriptions at [LG]

[LCL]

Done MONSELL file in filing cabinet, Local section.
Done first pass of Limerick Gazette (looking for Letitia scandal) for all of 1806.
---
---
Ponsonby in UK and Irish archives

Leslie in UK and Irish archives

Letters to Sir Edward Leslie, 1st Baronet, in England, could mention Letitia in 1806 (local scandal).
Where are Pierce Leslie Pielou's papers?

[NA.UK]

British military

[CUL]
U2 at
Live Aid
in 1985 - the summer when my lifelong quest for Letitia Blennerhassett began.
Is it about to finally end?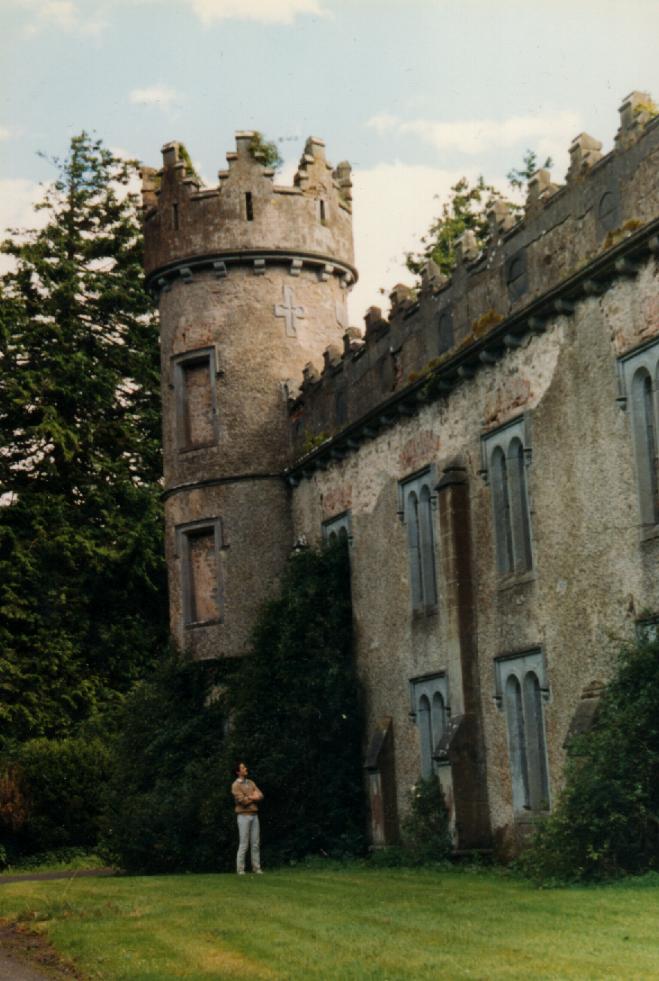 Me at Ballyseedy in 1985, at the start of the life-long hunt for Letitia Blennerhassett.
Is it about to finally end?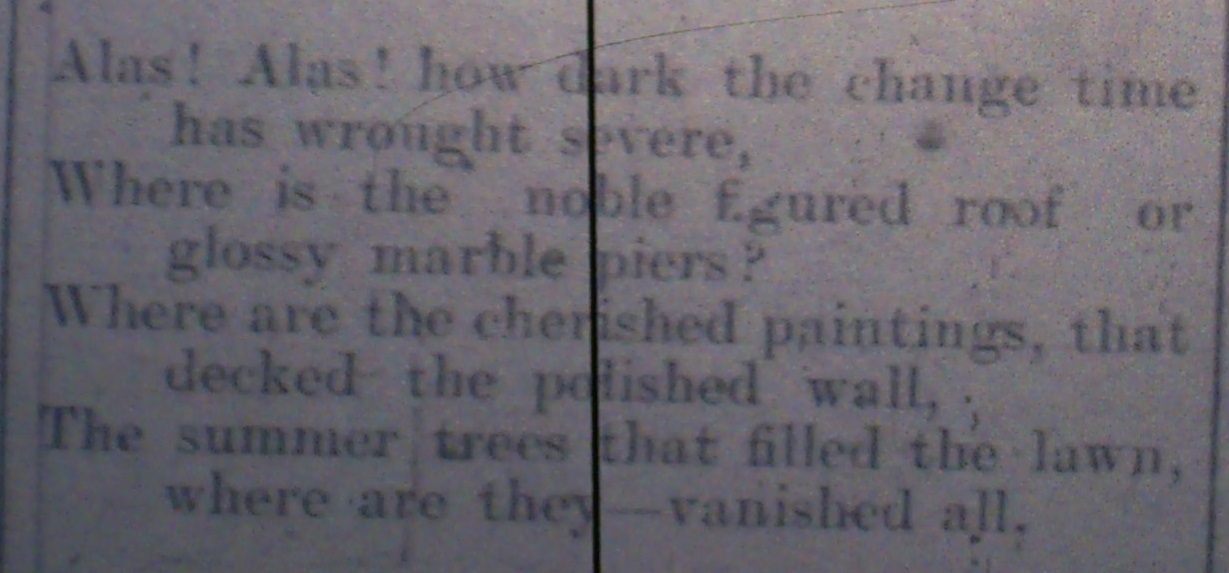 Extract from 1925 poem, "Ruins of Crotta House".
"Where are the cherished paintings".
Indeed, where are the Ponsonby portraits, letters and papers?