Francis Blennerhassett Chute
Sources yet to be consulted:

Marriage settlement of Francis Blennerhassett Chute, 5 Feb 1869. Registered 12 Feb 1869. Book 5 No 114. Notes on it in in SL/B/1.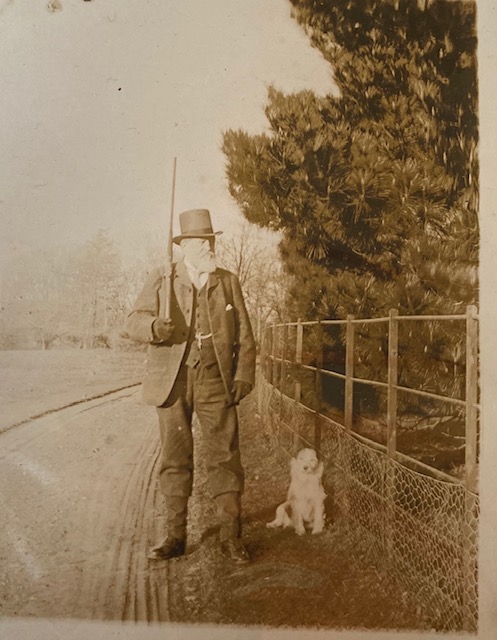 Francis Blennerhassett Chute at Chute Hall.
Courtesy of Alice Chute.
Francis Blennerhassett Chute
,
of
Chute Hall
, born 1837.
His father died 1862.
He inherited
Blennerville
.
High Sheriff of Co.Kerry
1865-66.
He mar 6 Feb 1869 to
Cherry Roberts
[Cherubina Herbert D'Esterre Roberts, dau of Norcott D'Esterre Roberts of Dublin by his wife Charity Torrens].
See
Roberts of Ardmore, Co.Cork
.
The name "Chaloner" came into this branch with one of their sons. He would be named after a notable 17th century Chute, Chaloner Chute of The Vyne, Speaker of the House of Commons. The name is sometimes spelt "Challoner" but it seems the correct spelling is "Chaloner".
He died 1902.
They had issue:
Major Richard Chute,
Richard Aremberg Blennerhassett Chute,
born 24 June 1870, 74 Lr Leeson St, Dublin.
See birth cert from here.
He inherited Chute Hall and Blennerville House.




Arthur Chute,
Arthur Torrens Chute, born 1871,
mar Edythe Mary Geiger,
had issue:

Arthur Chute,
Arthur Sydney Torrens Chute, born 1916.
He mar Jean Barnett.
They had issue:

Sydney Chute.
Edythe Amelia Chute.
Adrienne Chute.
Ann Chute.




Chaloner Chute,
Chaloner Francis Trevor Chute, born 1885.