Richard Chute
References:

Sources yet to be consulted:

Marriage settlement of Helena Jane Chute and Capt. Francis Ogilvie Fuller, 29 Nov 1875. Mentioned in SL/B/1(102). This says it refers to the will of her grandmother Helena Jane Mullins.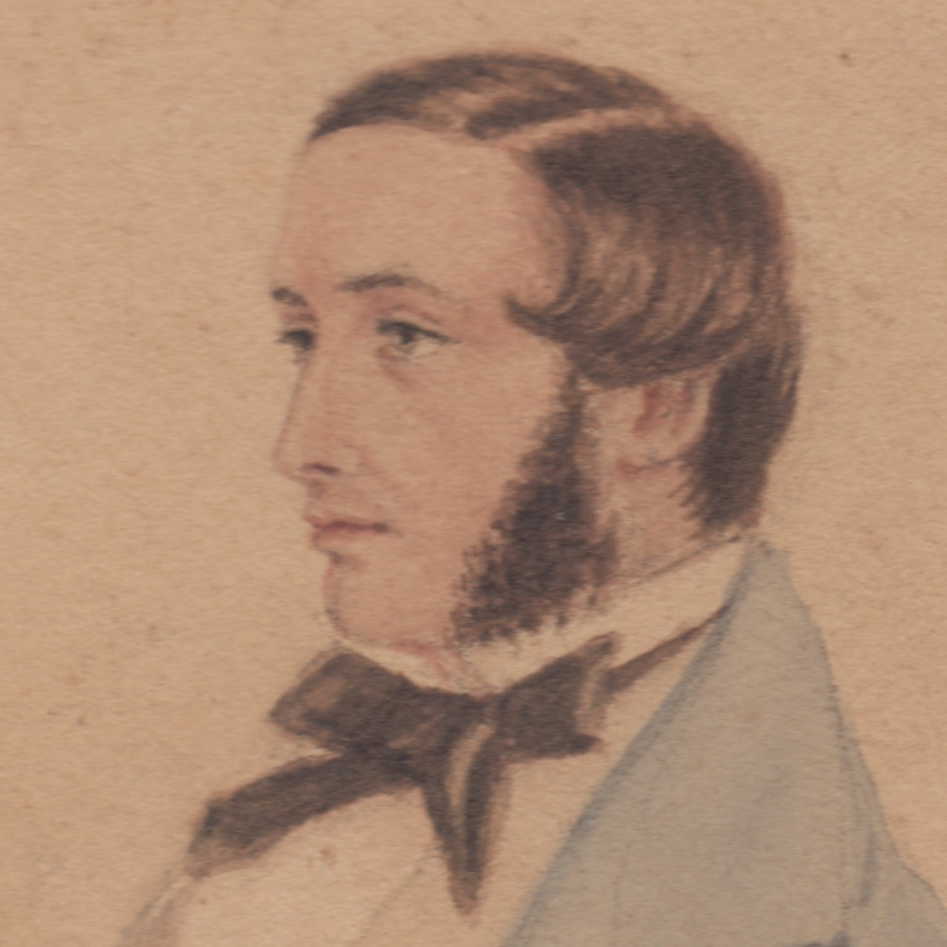 Richard Chute.
See
full size
.
Posted by Anna Green
here
.
Richard Chute
,
born 22 May 1811,
of
Chute Hall
, near Tralee, Co.Kerry.
See
entry
in
tree
by
Anna Green
.
Listed in mar settlement 1836 as then of
Springhill
(or Spring Hill), Co.Kerry.
He mar 1stly, 1836, to Theodora Blennerhassett [born 1812].
Through her the Chutes inherited Blennerville House and most of Blennerville.
They lived Blennerville.
Listed at Blennerville at probate of her father Arthur 1839.
[Slater's Directory, 1841] lists "Richard Chute" as the owner of Blennerville House.
They are listed at Blennerville in [Deed, Jan 1841] and [Deed, Apr 1842].
Theodora dies, 1845:
She died Blennerville, evening of Thur 24 July 1845, age 33 yrs, leaving him with young children.
See Kerry Evening Post, Sat 26 July 1845, [KCL] RR microfilm.
See item in Tralee Chronicle, 26 July 1845.
Papers in [Landed Estates Court box 3494] and SL/B/1 thought she died 25 July 1845.
She was bur Mon 28 July 1845 [Blennerville CoI par records] at Blennerville. She was bur with her father "in the new vault erected in Blennerville church-yard".
See death notice, 30 July 1845.
Richard had issue by 1st wife:
Francis Blennerhassett Chute,
of Chute Hall,
born 1837.
He inherited Blennerville.




Arthur Rowland Chute,
born 1838.
At death of his mother in 1845, the Kerry Evening Post, Sat 26 July 1845, said: "She inherited the extensive landed property of her father, which descends to her second son, Master Arthur Chute, who is, we understand, to take his deceased grand-father's name".
[Griffiths Valuation, 1853] lists "Arthur B. Chute (minor)" as owning most of Blennerville. His name must now be "Arthur Blennerhassett Chute". He owns "ruins of windmill" and King's House. Can't identify Blennerville House in listing.
Arthur was in the 90th Regiment.
He died unmarried at Calcutta, 1858.
His brother inherited the Blennerhassett properties.




Melicent Agnes Chute.
She mar 1867 to Robert Leslie and had issue.




Helena Jane Chute.
She mar 1875 to Capt. Francis Ogilvie Fuller.
He died 1876. No issue.

Richard Chute is listed among the Magistrates of Co.Kerry in [Thom's, 1847, p.478]. Living at Blennerville. From here.
He mar 2ndly, 3 Mar 1847, to Rose de Moleyns [born 1830].
High Sheriff of Co.Kerry 1856-57.
His will dated 7 Oct 1861.
He died 13 Sept 1862.
(todo) See Irish Times, 19 Sept 1862, p.3.
Rose died 1898.
Richard had issue by 2nd wife:
Marian Chute, born 1856,
mar Milhem Shakoor Bey,
had issue:

Trevor Shakoor, born 1880,
mar Maud Ridings,
had issue:

Diana Maud Shakoor, born 1917,
mar William Joseph Foster,
had issue:

Anna Foster.
DNA match to Adrian Stokes and Terence Stokes. They have common ancestors in William Mullins (7th cousins) and John Blennerhassett, "Black Jack" (7th cousins once removed) and John Blennerhassett of Ballycarty (9th cousins 2 times removed). We will take it that the DNA match is confirming the first two descents.
DNA match also to John Chute and Chaloner Chute and James Chute and Desmond Devitt.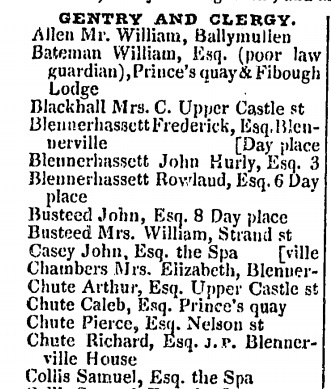 Richard Chute listed at Blennerville House under
TRALEE
in
[Slater's Directory, 1846]
.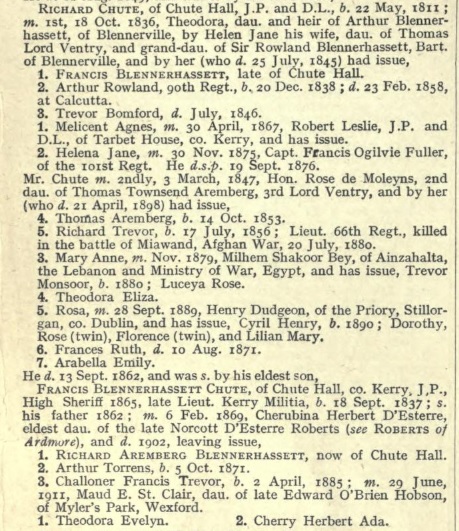 The Richard Chute branch in [Burkes Irish, 1912]