John Hurly
John Hurly
,
of
Bridge House
, Tralee (at Bridge Lane),
and of
Glenduff House
(or Glenduffe House), NE of Tralee,
mar 1814 to Anna Hill,
he died 1854,
had issue:
Robert Conway Hurly,
born 1815,
of Bridge House, Tralee, and of Glenduff, Co.Kerry.
He mar 1stly, 1845, to Dorcas Blennerhassett.
She died 1854.
He mar 2ndly, 1860, to Annie Cummins and had issue.




John Hurly,
of Fenit House, on the coast W of Tralee, Co.Kerry.
He mar 1853 to Elizabeth Augusta Grant.
In 1857 he bought an estate around Lyreacrompane, Co.Kerry (between Tralee and Listowel, see map). He did not live there himself. His agent did.
There is a stone at Fenit House with inscription "J.H. 1860".
He died 1878.
John and Elizabeth Augusta had issue:




John Hurly, born 1864,
of Fenit House.
He is listed at Fenit House in 1901 census. His separated married sister Augusta is with him.
He died unmarried, 1929.




Augusta Hurly,
mar 1894 to Harnett Fuller [born 1866] and had issue.
She inherited Fenit House.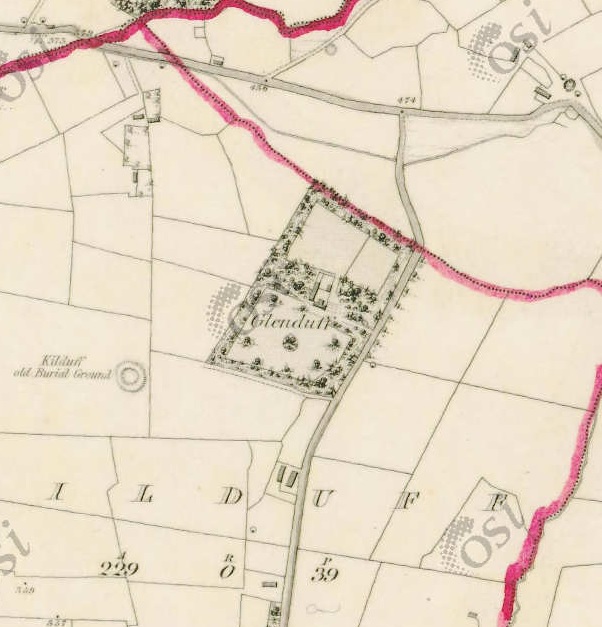 Glenduff on
1829 to 1842 map
.
See modern
map
and
street view
.
---
Hurly sold Bridge House, Tralee, in 1880.
It became Tralee RIC station.
Later Tralee Garda Station.
It was demolished 1983.
Site is now the new Tralee Garda Station. See street view.

Hurly sold Glenduff House in 1912.
It is now a guesthouse, Glenduff Manor.