Fleek
References:

Sources yet to be consulted: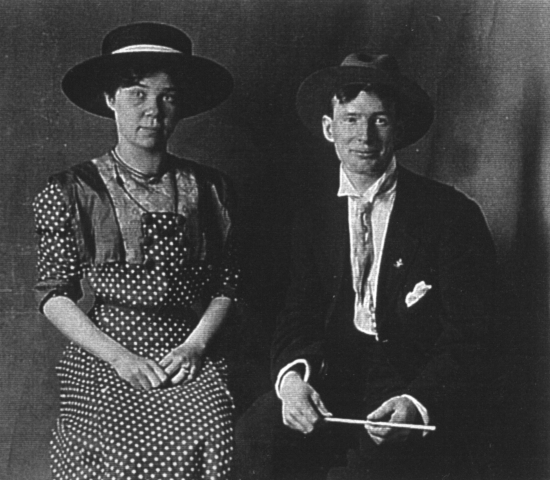 George Fleek and Elizabeth Berg.
From
here
in
[GCM]
.
Wilson Fleek,
Wilson Bird Fleek,
mar Eva Strickland [Eva Orilla Strickland],
ran family farm, Little Cooley,
Richmond Township
, Crawford County, Pennsylvania,
had issue:
George Fleek,
George Arthur Fleek, "Arthur G. Fleek" in 1910 census,
born 17 Sept 1886 [death cert] or 1887, on family farm, Richmond Township, Crawford County, Pennsylvania.
[1910 census] says born Sept 1886.
Went to Douglas, Alaska 1908.

He mar 1909, Juneau, to Elizabeth Berg [born 18 Nov 1892, descendant through Blennerhassett of Edward III].
In 1910 census they are listed in Douglas. Living with them is Elizabeth's widowed father. And next door is Elizabeth's aunt Mary Cashel and her husband and brother Edward Cashel. See part 1 from here. See part 2 from here. This must be South St. Ann's Ave.
Between 1911 and 1912, George worked as a laborer for the Treadwell gold mine, near Douglas.
Living St. Ann's Avenue, Treadwell, as at 1911 when his brother came from Pennsylvania to join them.

He became a Mine Electrician.
He was a member of the Odd Fellows Alaska Lodge No.1. Elizabeth was member of the Rebekahs.
In Oct 1913 they moved to Chichagof, Alaska, where he was put in charge of the 10-stamp mill at the Chichagof Gold Mine.
Treadwell gold mine collapsed in 1917.
They moved to Miami, Arizona, July 1917.
He worked for nearby Inspiration Copper Company mine. They moved to Inspiration mine site, near Miami, Arizona. They lived in houses owned by Inspiration Mining Company.
Their house at "Cactus Garden", Inspiration, burnt down 1932.
Inspiration Copper Company closed 1934.
They moved back to Douglas, Alaska, in August 1934.
He worked at the Perseverance Mine, near Douglas.
He worked as a Power House Operator in and around Juneau.
They are listed at Douglas in 1940 census. He is "electrician" in "gold mine".
After work at the power plant, George carried out his own searches for gold. He searched at the old Thane Mill 1945-46, after it was "cleaned up". He also searched on the Thane beach.
They went back to Arizona 1956 [death certs].
They lived 6406 W Van Buren St, Phoenix, Arizona.

George died 7 Nov 1960 in Phoenix General Hospital, age 73 or 74 yrs [death cert], NOT 6 Nov. He is "retired electrician".
Funeral 9 Nov 1960, bur Memory Lawn Cemetery, Phoenix.
Elizabeth died 26 Dec 1961, 6406 W Van Buren St, Phoenix, age 69 yrs [death cert].
Funeral 28 Dec 1961, bur Memory Lawn Cemetery, Phoenix.
George and Elizabeth had issue: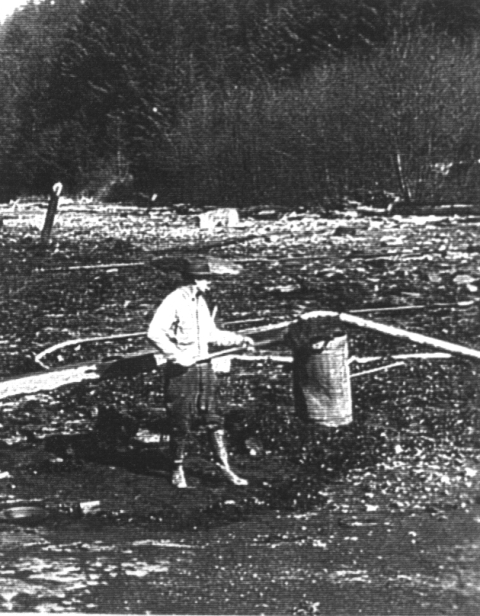 George Fleek.
Searching for gold at the old Thane Mill site, 1945-46.
From
here
in
[GCM]
.