Sheahan
References:

Papers of Patricia Lavelle. Sheahan tree in no.1 in [PAT/13].

Canon Sheehan, Rev. Francis Boyle, Dublin, 1927.
Canon Sheehan of Doneraile, M.P. Linehan, Dublin, 1952.

Sources yet to be consulted:

The Collected Letters of Canon Sheehan of Doneraile 1883-1913 by James O'Brien, 2013.
Sheehan papers in the archive of the Presentation Sisters, Southern Province.
D. Sheahan,
mar M. Savage
and had issue:

T. Sheahan,
mar M. Reilly
and had issue:
Michael Sheahan, shopkeeper,
of Buttevant, Co.Cork,
mar Elizabeth Costello [dau of D.Costello [son of D.Costello and M.Power] and K.Oliver [dau of B.Oliver and M.Charters]],
had issue:

David Sheahan,
NOT Sheehan,
David Benjamin Sheahan, born Co.Cork,
bapt 13 Feb 1846 [Buttevant RC par records, Co.Cork], sp Will Reily and Mrs. Pigot,
living Buttevant, Co.Cork, at mar.
[PAT/7, no.1]
says David Sheahan was a 1st cousin of the writer priest, so that Michael Sheahan and Patrick Sheehan would be brothers:
Patrick Sheehan (thus spelt),
mar Joanna Regan and had issue:

Canon Sheehan, the writer priest,
Patrick Augustine Sheehan (thus spelt), born 17 Mar 1852, William O'Brien Street, Mallow, Co.Cork,
P.P. of Doneraile, N Co.Cork 1895, remained there until his death,
first novel pub 1895, wide popularity, classic works of conservative Catholic Ireland of the 19th-20th centuries,
D.D. 1902, Canon 1903,
see entry in [Census, 1911], living Doneraile,
died 5 Oct 1913, Doneraile, age 61 yrs, bur Doneraile.
See his house.
See [Boylan's DIB] and [Dict. Ir. Writers].
Plaque on birthplace of Canon Sheehan, William O'Brien Street, Mallow.
Photo 2013. From
here
.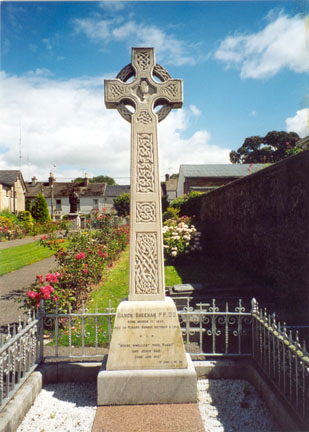 Grave of Canon Sheehan, Doneraile.
From irishgraves.com.
---
There is a Canon Sheehan Society.