Nell Ebrill

Marriage of Nell Ebrill and Patrick Pigott, 29 Nov 1832
[St John's, Limerick]
.
Nell Ebrill
,
Ellen,
born 1808 [by age in burial record].
The story of Nell Ebrill and John Nevitt:
[PAT/2, p.21]
and
[PAT/31]
tell the story of Nell's doomed romance with John Nevitt.
When Nell was a girl, she was very fond of John Nevitt, a Protestant.
"She would not listen to his proposals because she feared their meetings would be stopped"
(i.e. Ebrills were Catholic before 1832).
Nevitt lived with cousins. Then one of Nevitt's cousins fell in love with him. This cousin upset Nell with her stories about John and his flirtations, with the result that Nell was cold towards him when they next met.
"John Nevitt was now easily led on by his cousin until he had committed himself too far to retreat so he left Limerick. The sad end of the romance was that Nell's father, not knowing that his own daughter's affections were in any way involved, was the person who journeyed to Dublin to make John Nevitt marry his cousin."
This might be the marriage of John Nevitt and Susan McGill, 13 Oct 1832, St.Mary's CoI church, Dublin, wit Richard McGill. See
mar entry
from
here
. This couple married by
consistory
licence.
"Nell's heart was broken and she became very ill." She refused all offers of marriage.
Then Patrick Pigott, a widower with young children, asked Nell to marry him. She was pressed to agree to this by her family. She was terribly sad, felt that he was so much older than she was and love did not enter into this at all. On the way home from the market she met him and he persuaded her to accept him.
She mar 29 Nov 1832 to Patrick Pigott [born 1788] and had issue.



[PAT/2, p.21] said "They were married in her father's house on the night of the terrible storm in 1844".
However the marriage is found in [St John's, Limerick] in 1832.
They mar at [St John's, Limerick]. He was age 44, she was age 24. They are listed as "Patrick Pigott" and "Ellen Ebriel".
The mar was wit by "John Ebriel" and "Jno Lacy" (abbreviation for "John Lacy").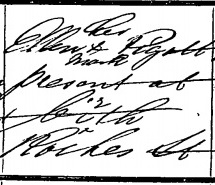 Nell Ebrill reports the birth of her grandson
James O'Mara
in 1873.
"Her mark" implies illiterate, but this is not true.
We have letters from her!
This shows that in general "his mark" and "her mark" cannot be taken as proof of illiteracy.
See
full size
.


"Ellen Pigott" (Nell Ebrill) signs an undated letter of maybe around 1876.
See full size.