Jackson
References:

Sources yet to be consulted:

Muriel's baptism, 1 May 1882, St. Cronan's CoI church, Roscrea.
Baptism not found in search at rootsireland, but think 1882 is not indexed. See parish record details.
According to RCB list, Roscrea baptisms after 1875 are in local custody. (They are microfilmed before 1875.)
Alison Roe saw the original.
Proof of who Muriel Jackson is
Michael Flanagan
had a long relationship with "Muriel Jackson" and had children by her.
It took a while for me to work out who Muriel Jackson is.
Muriel was said to be closely related to Eamonn Shortt of Rathfarnham.
She was remembered by her family as "Muriel Roe".
She was said to be of the family of Roe of Middlemount, near Rathdowney, Co.Laois. She possibly lived at Middlemount House.
She was said to be related to the Barton family, with a possible connection to Arthur Barton, CoI Archbishop of Dublin.
When I fleshed out Eamonn Shortt's family, I got a family with all of these links, and a link to Jackson too.
Finally, I found the
Jackson tree
by Sharon Oddie Brown already listed Muriel Jackson on it.
And I found that George Jackson's widow was living in old age in 1919 at our Muriel's house in Dublin (her daughter).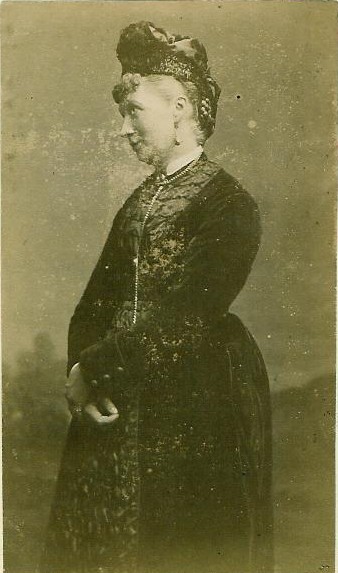 Frances Roe.
Courtesy of Alison Roe.
George Jackson,
born 1809 (by age at death).
He mar 1stly, 1836, to
Elizabeth Jones
[Bessy] and had issue.
She died 1859.
He lived at
Laurel Hill
, Fancroft townland, Seirkieran par, King's Co. (Co.Offaly). This is N of
Roscrea
(across the border in Co.Tipperary). It is close to the border of both Queen's Co. (Co. Laois) and Co.Tipperary.
At 2nd mar he is gentleman, widower, living Laurel Hill.
He mar 2ndly, 1872, to Frances Roe [Fanny, Fannie, born 21 Feb 1844].
Church of Ireland.
George died at Laurel Hill, 25 Oct 1881 [death cert], or 20 Oct 1881 [admin], age 72. See death cert.
See admin in 1883 and 1902.
Looks like Frances immediately left Laurel Hill.
She was pregnant when George died. Her baby was born Apr 1882. At child's bapt May 1882 she is living "Sunnyside", Roscrea.
This must be Sunnyside House, just SW of Laurel Hill, across the border in Co.Tipperary. See street view.
At 2nd marriage Nov 1882 she is living Sunnyside, Roscrea.
Frances mar 2ndly, 30 Nov 1882, Roscrea, to Robert Duke [merchant, of Dublin].
Laurel Hill was sold in 1885 out of Jackson family. Can't find Fancroft townland in 1901 census. No Jackson in Fancroft townland in 1911 census.
Frances and Robert had a son David Duke born in 1887 in Dublin. They are living 2 Reilly's Terrace, Dolphins Barn, Dublin.
Robert might be the Robert Duke, grocer, married, who died in 1890 in Dublin, age 48.
Can't find Frances in 1901 census. She is not with her Roe relations at Middlemount.
She must be Frances Duke, widow, age 66, born Queen's Co., who is listed in 1911 census as housekeeper for a CoI Rector in Co.Fermanagh.
Clearly became poor in old age.
She came to live with her dau Muriel in Dublin in old age.
At death in 1919 her address is given as her dau Muriel's house, 9 Somerset St, Ringsend, Dublin.
She died in the Workhouse, South Dublin, 16 May 1919, age 75 yrs. See death cert.
George and 2nd wife Frances had issue:
William Jackson,
born 1875, Laurel Hill.

Fanny Jackson,
Frances Roe Jackson,
born 1877, Laurel Hill.




Muriel Jackson,
Muriel Roe Jackson.
Baptism has her as "Muriella". "Muriella" was a name in the Roe family. She was always "Muriel" as an adult.
Baptism says she was born 9 Apr 1882 (after her father's death). Can't find birth cert.
She was bapt 1 May 1882 at St. Cronan's CoI church, Roscrea.
Her mother re-married in Nov 1882.
It was thought that Muriel lived for a time when young at her mother's family's house, Middlemount House, Queen's Co. (Co.Laois).
A neighbour of hers in Ringsend, Dublin, said he once worked on the estate where Muriel lived.
She is probably Muriel Jackson, CoI, nurse, single, age 17 (born 1884), born Co.Tipperary, who is listed in 1901 census with a family in Co.Down.
The story was that her family was wealthy. She came to Dublin with a cousin, and she smoked, drank and gambled. Lost contact with family except the cousin.
This makes sense. The cousin was her 1st cousin Anna Barton, who married 1905 to Edward Shortt.
Though she did not lose all contact. Her mother came to live with her in old age.
Muriel had a long relationship, starting in 1904 or earlier, with Michael Flanagan [born 24 September 1872, a wealthy bachelor] and had issue.
She was Church of Ireland. He was Catholic.
Her first child was born in 1905.
He never married her.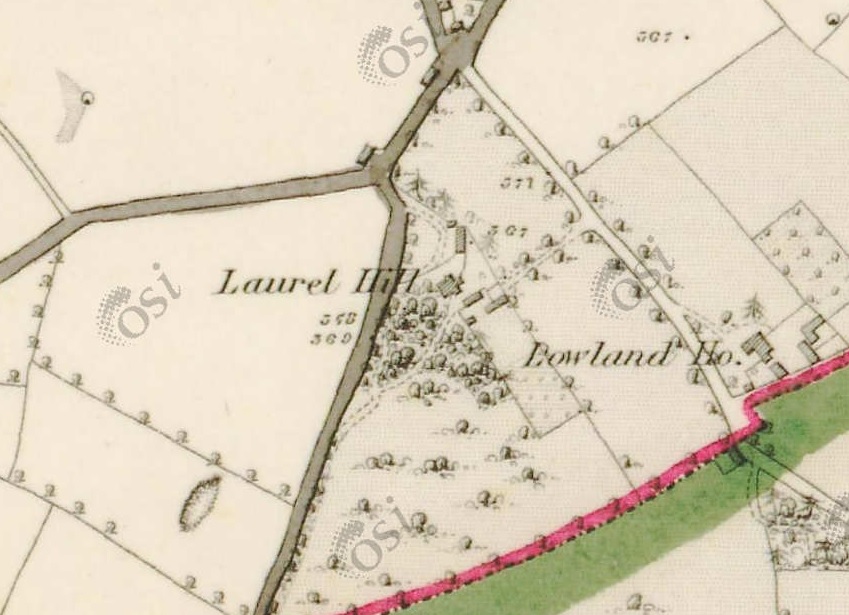 Laurel Hill, King's Co. (Co.Offaly).
From
1829 to 1842 map
.
See modern
satellite view
and
street view
.



There are 4 big houses in Fancroft townland in [Griffiths Valuation, 1851].
George Jackson is in one of them.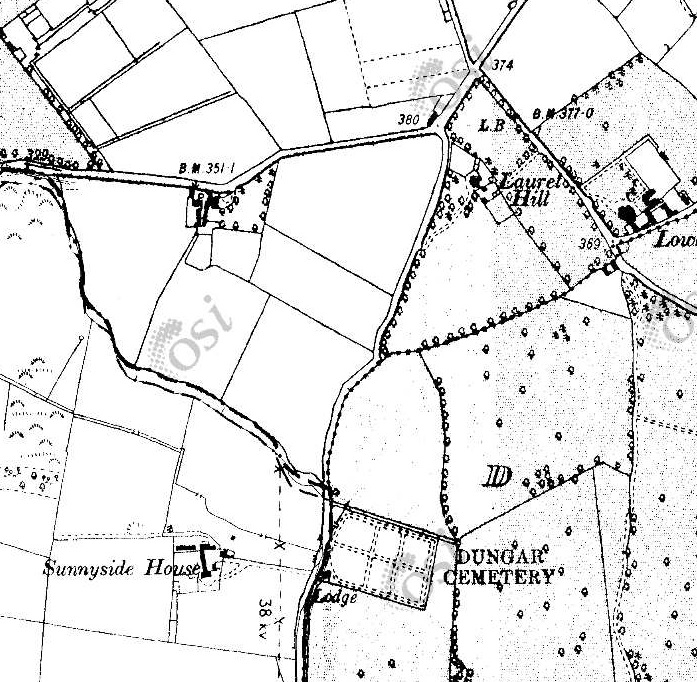 Sunnyside House and Laurel Hill on 6 inch OS map, Last Edition (based on 1829 to 1842 map).


Frances Roe's address at her death in 1919 is her dau Muriel's house, 9 Somerset St, Ringsend, Dublin.
---
Landed Estates Court Rentals
has the
sale
on 21 July 1885 of estate of Francis Joseph Jackson.
Francis Joseph Jackson is George's brother, who died 1876.
George died 1881. His widow re-married 1882 to Robert Duke.

Extract from
here
in 1885 sale.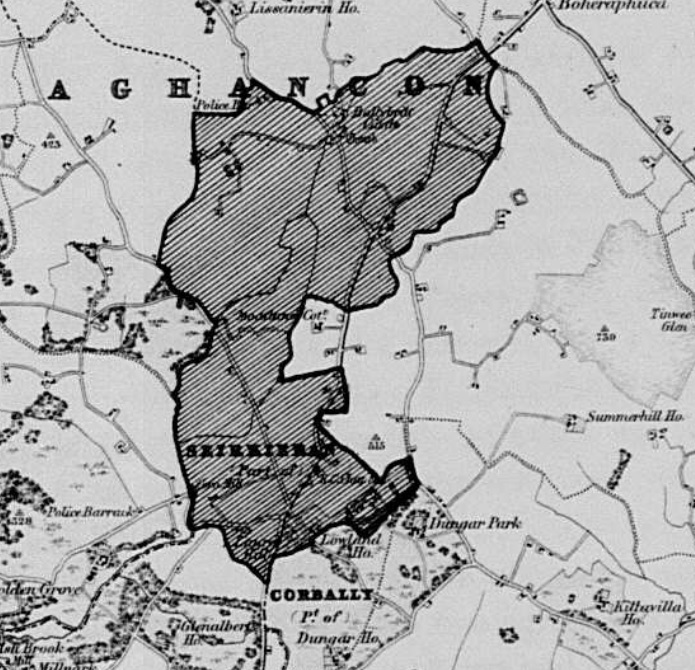 Map showing the Jackson estate.
From here in 1885 sale.
Includes Laurel Hill, at S edge of estate.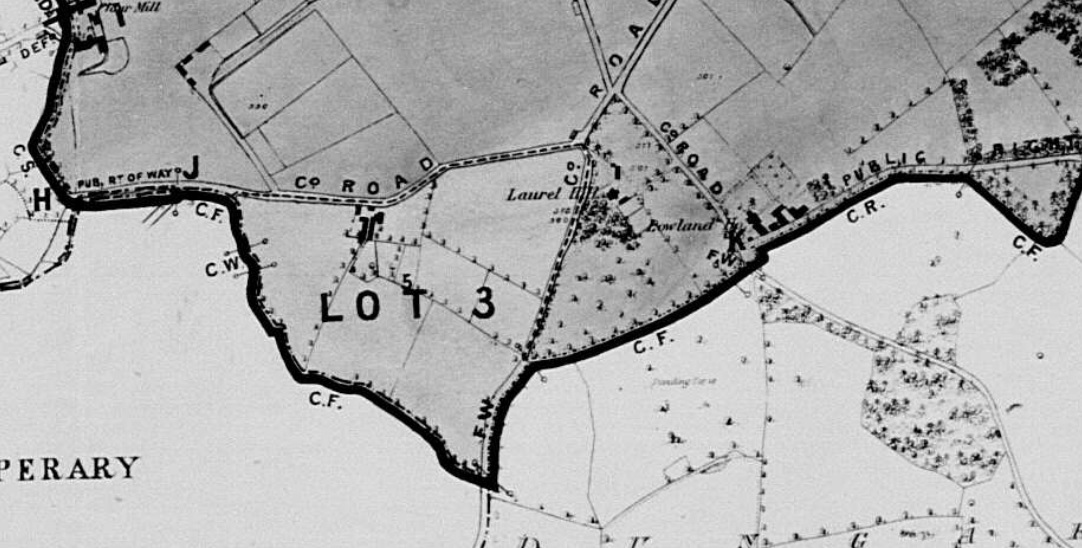 Close-up of S part of the Jackson estate.
From here in 1885 sale.
Shows Laurel Hill.