Dick Humphreys' motor sport career
Motor sport career of
Dick Humphreys
.
Sources yet to be consulted: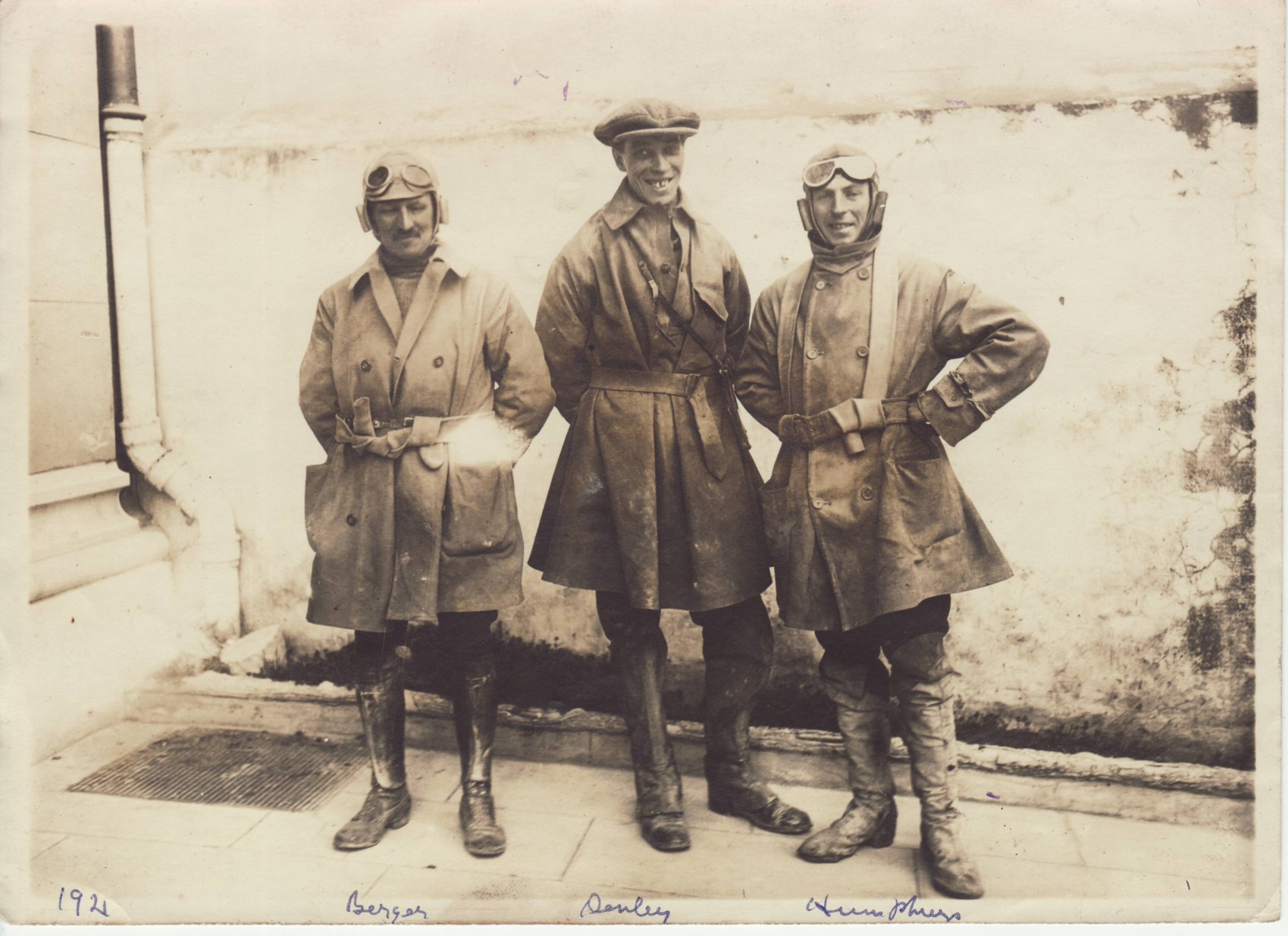 Dick on RHS, 1921.
See
larger
and
full size
.
See
other scan
.
Dick Humphreys
took part in motorcycle and motor sport from at least 1920-27,
including:
Isle of Man TT 1921.
He rode a 250 cc Velocette (made by Veloce Ltd), 1 cyl, 2 ¼ hp.
He rode in the Junior TT race (350 cc and under), Tue 14th June 1921, 65 starters. He was no.63, part of the Veloce team - although entered by himself, not by Veloce Ltd.
He came 14th overall, time 4 h 31 m 14 s, best Irish rider, 5th in his Lightweight 250 cc class (the winner in this class was 10th overall).
The motorcycling paper he wrote for, the Irish Cyclist, was very proud of him.
He wrote: "To this moment I cannot remember where I passed those odd 52 competitors. Certain it is that I never actually saw more than a third that number on the course" [Irish Cyclist, Wed 8th, Wed 15th, Wed 22nd, Wed 29th June 1921], [Motor Cycling, 22nd June 1921].
The Senior TT race (up to 500 cc) was on Thur 16th June 1921 - he was a spectator for this.

There were claims he competed in more TT races, though he is not found in any other results. He did NOT ride in the 1922 TT.
[Tommy O'Brien] said Dick rode in at least 2 TTs while he worked for him (i.e. post-1923), and probably 3. Tommy said he held the fort when Dick went over to the Isle of Man. He remembered one TT where Dick was in the lead (!), within a short distance of the finish, when one of the links on the front forks broke. Dick had to push it home.
Maybe Tommy was thinking of Dick's other races.

Dick's obituary says "He was a T.T. rider with Stanley Woods" [who won 10 TTs from 1923 to 1939].
But Woods was just a spectator in 1921, and did not first enter the TT until 1922.

Leinster 100, July 1923.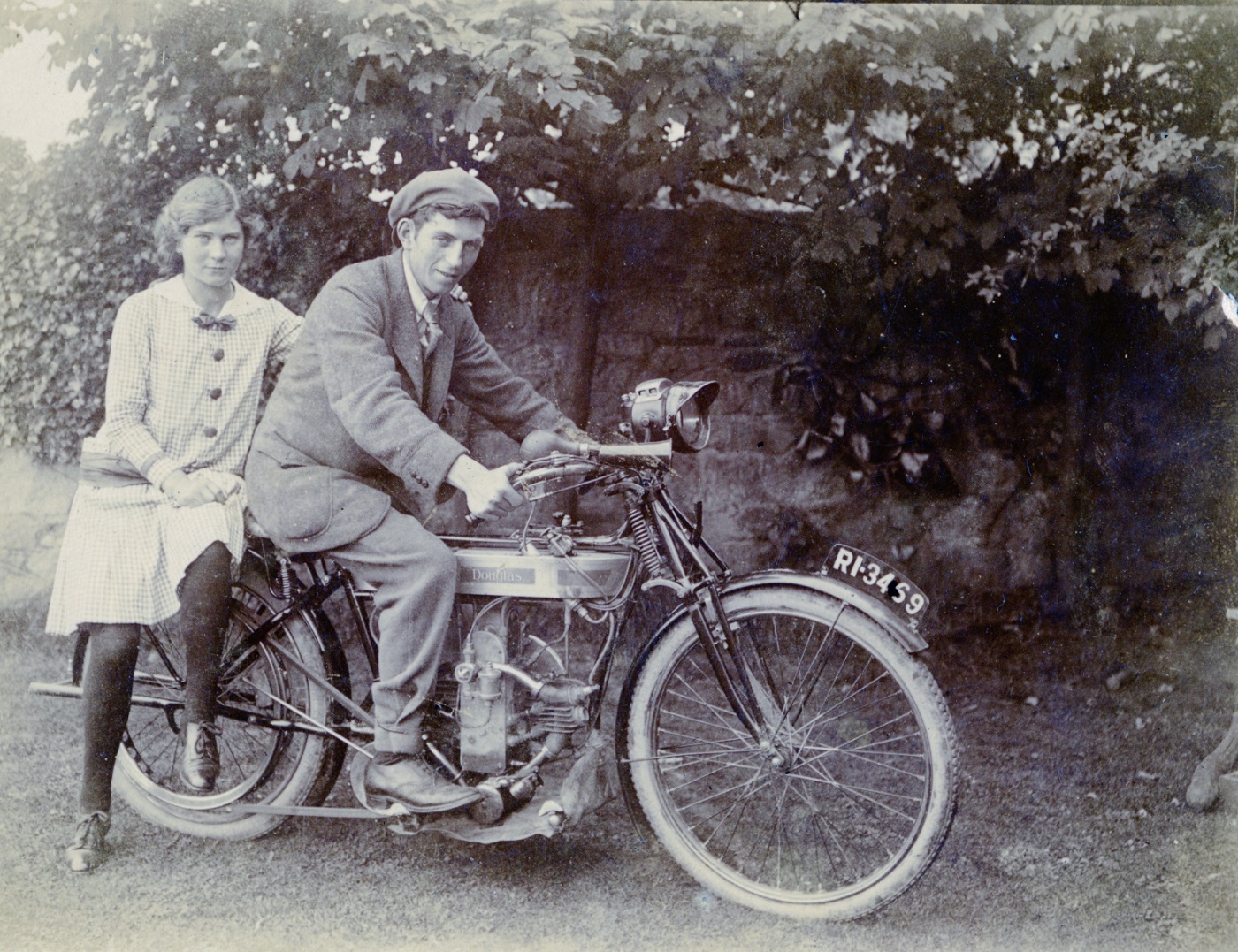 Dick on motorcycle with Sighle, c.1918.
This is
[P106/589]
.
See
larger
and
full size
.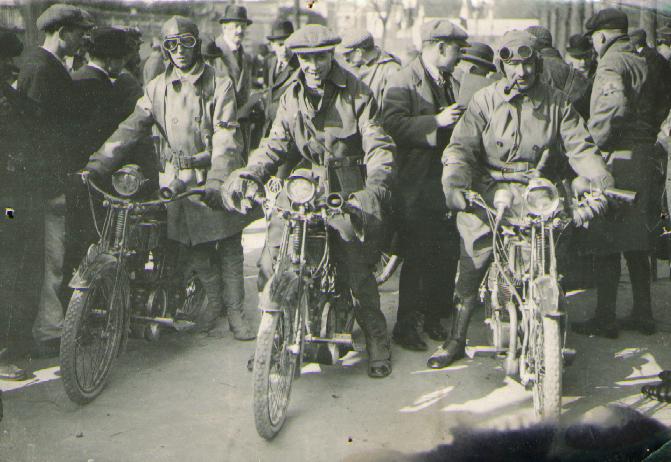 Dick (centre) at the start of the Paris-Nice Trial, Paris, Feb 1921.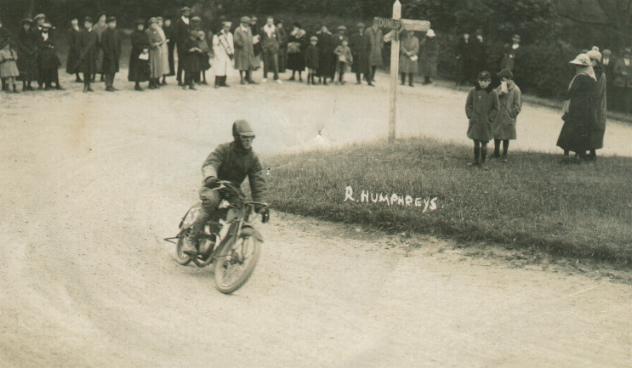 Dick riding in the Isle of Man Junior TT, June 1921.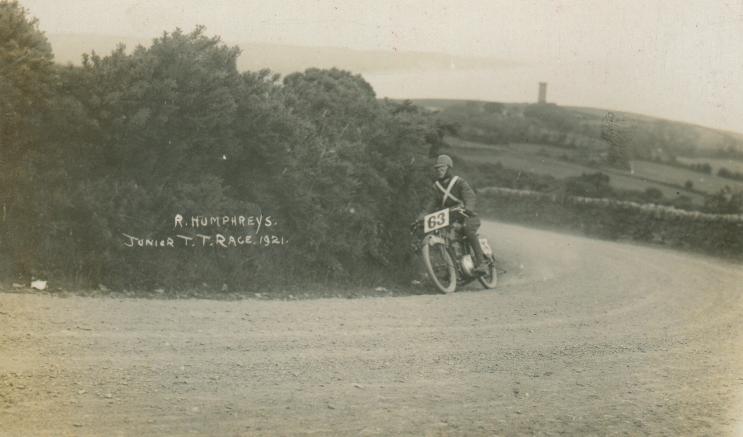 Dick in the Isle of Man Junior TT, 1921.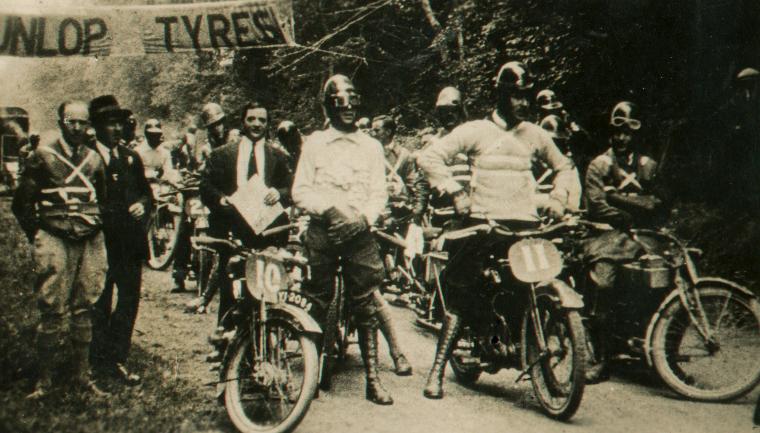 The Leinster 100, July 1923.
"Dick (No.10) won Lightweight class"
See copy in [P106/590(2)].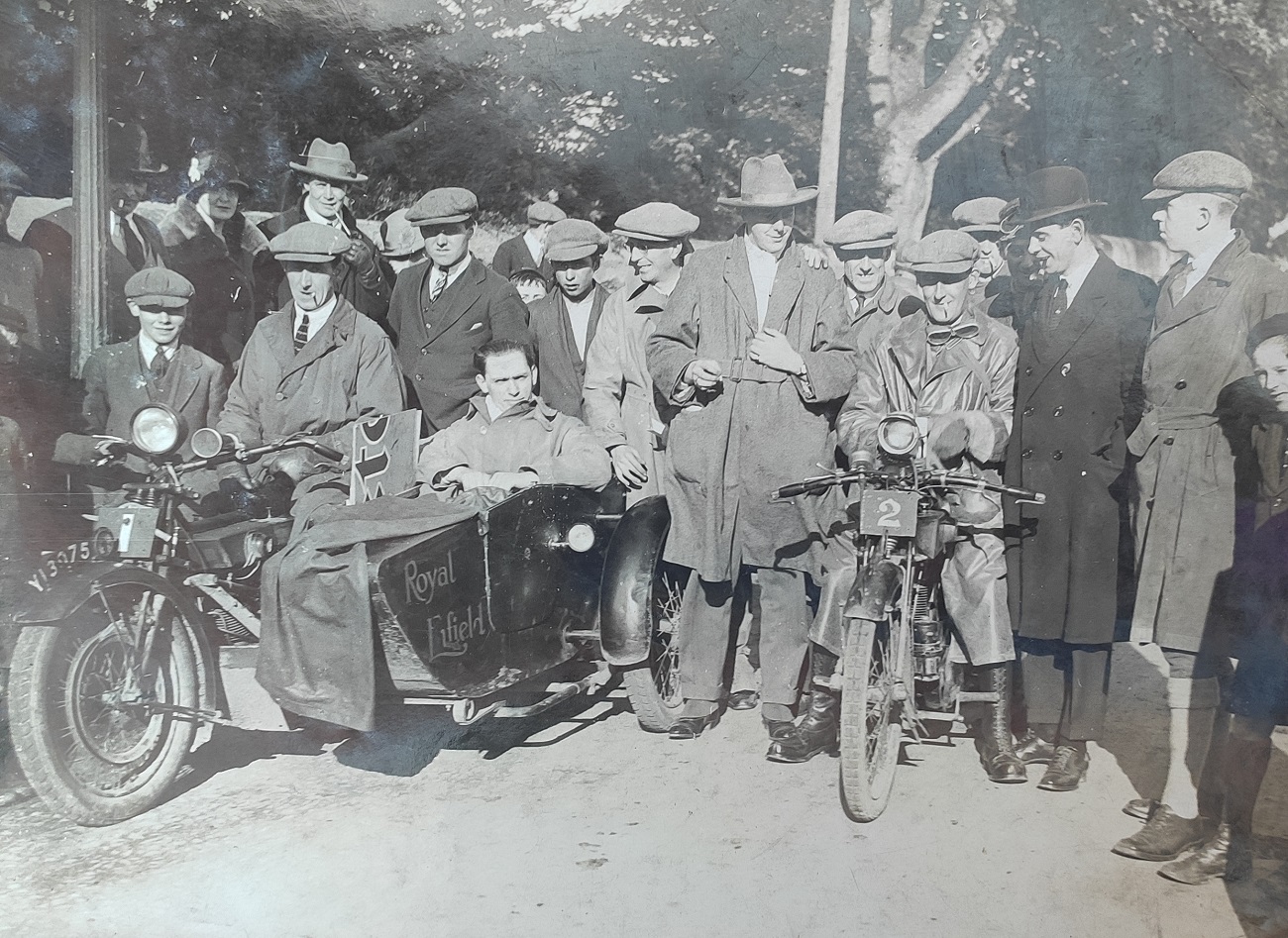 Unknown event. Looks like Dick in the crowd in the centre.
Back says it is Irish Times press picture.
See larger and full size.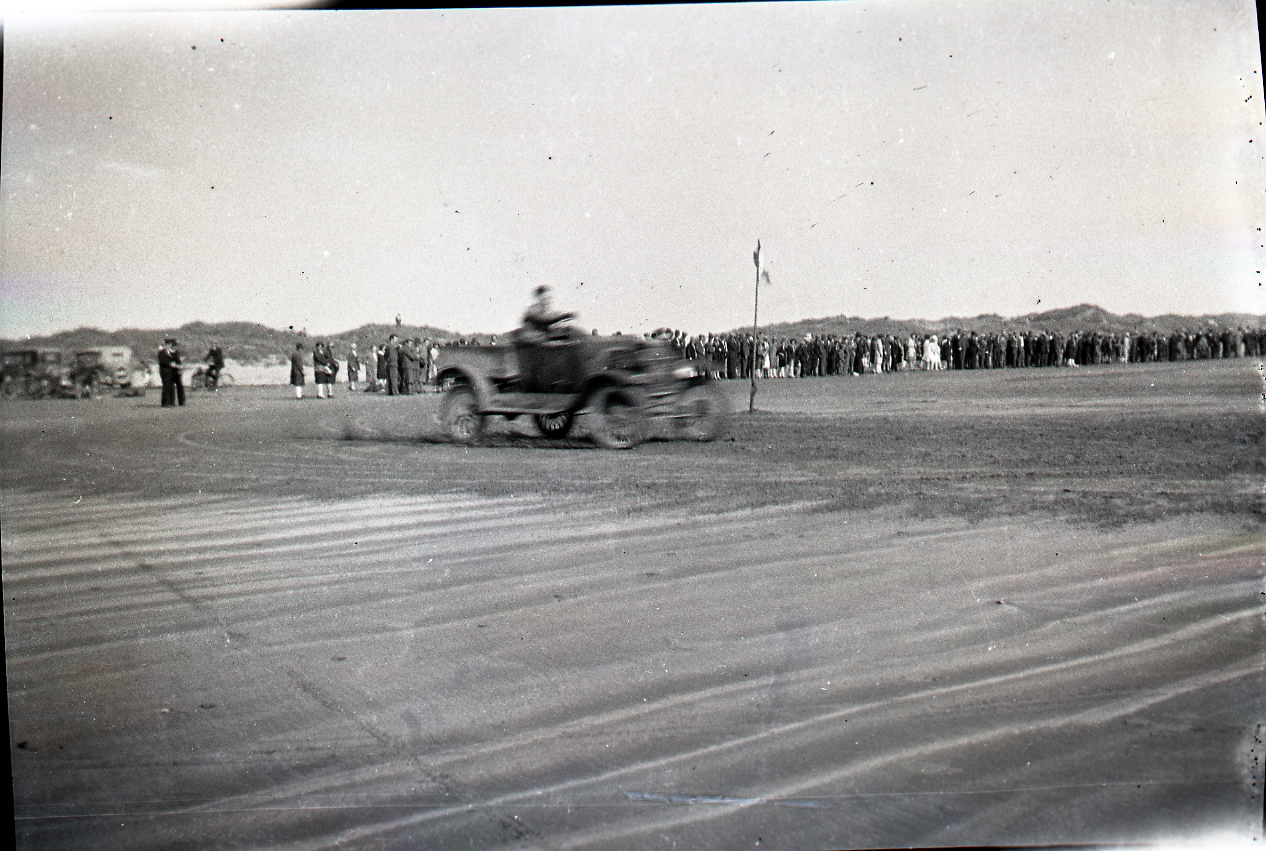 Unknown event. Maybe Dick.
This is [P106/599(12)].
See full size.
---