"B'í Mo Mhamó í" (2012)
Sighle Humphreys
was profiled in a TG4 TV program by
Loic Jourdain
, broadcast in 2012.
This was part of the TG4 TV series
"B'í Mo Mhamó í"
("She was my Granny").
Episode 3, "Manchán Magan & Sighle Humphreys", featured Sighle's grandson
Manchán Magan
in a program about his grandmother Sighle.
This was broadcast 4 Mar 2012.
See
TG4 Flickr
.
Part 1.
Length: 12 minutes.
Part 2.
Length: 14 minutes.
---
Credits
Directed by
Loic Jourdain
.
Research: Cliodhna Ni Chinneide.
Series Producer: Cliodhna Ni Chinneide.
A
Lugh Films
production for
TG4
.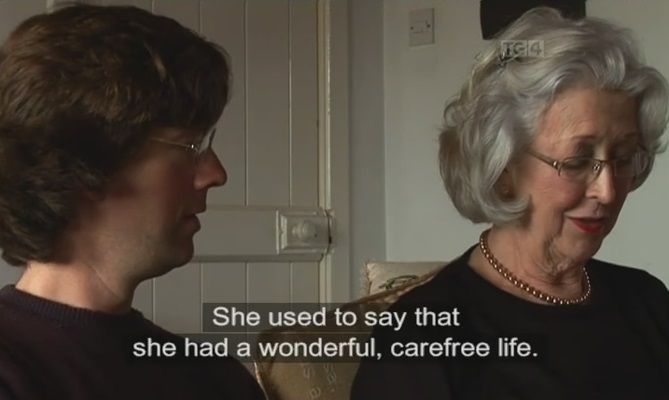 Manchán and Cróine chat about Sighle in the program.
Cróine recalls how Sighle would not let her friends in the house unless they could speak Irish.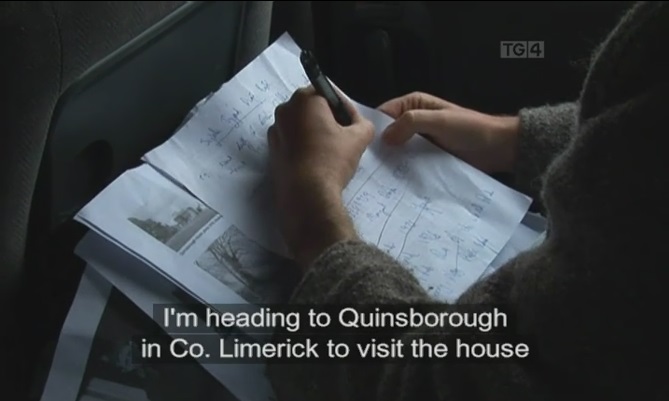 Manchán heads to Quinsborough House equipped with a good printout of my web page. Good man!
They get the location of the tennis court wrong though.
---
RTE Radio One
Manchan appeared on "Today with Pat Kenny", RTE Radio One, 1 Mar 2012.

Notes:

He talks as if it is definite that Sighle killed the soldier in 1922, but this is not what he said in 2003. It is only one theory.
Note that Todd Andrews visited the safe house during the day [O'Malley, 1978, p.162] but he did not stay there. He was not there during the raid in 1922. Only Ernie O'Malley was there.
---
Irish Times article
Manchan wrote an article: "Was my grandmother a Nazi spy?", Manchan Magan, Irish Times, February 27, 2012.
Some errata:

A sub-editor incorrectly says that Sighle's "brother" was killed in the 1916 Rising. It was her uncle.
In 1916 her "four young nephews" should read "four young cousins". And in fact she only brought the youngest one for a walk.
Also, a sub-editor chose the in-your-face headline. It is not Manchan's headline and he did not like it.

Follow-up letter to Irish Times, 20 Mar 2012, about Sighle's campaign of jury intimidation.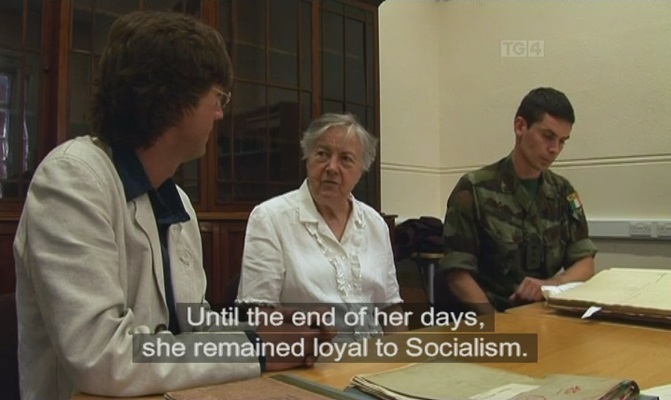 Historian Margaret MacCurtain sums up Sighle's beliefs.


Unsigned letter from Cumann na mBan head office to the IRA, 21 June 1940.
Cumann na mBan says in 1940 that the Nazis "are fighting Ireland's battle, and the battle of all oppressed nations within the Empire".
Found in [Sighle Humphreys papers]. P106/1197. She may have written it.
Scan from QUB. See full size.
Sighle was President of Cumann na mBan in 1941.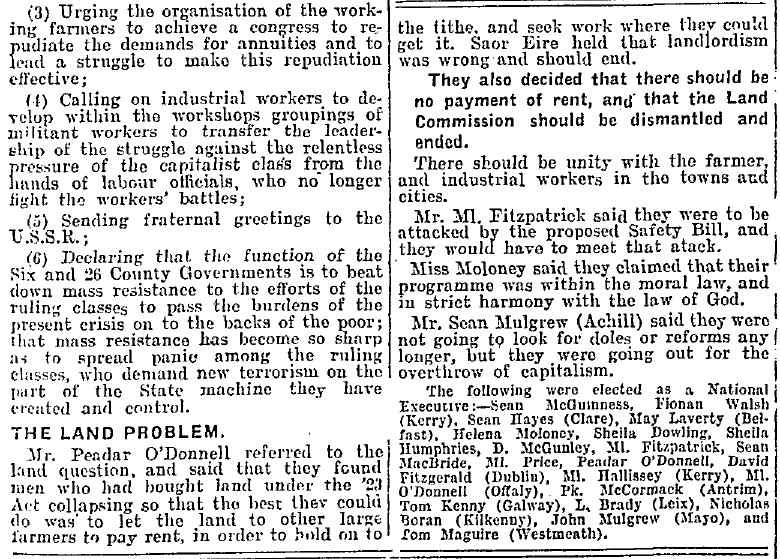 [Irish Independent, 28 September 1931] reports on congress of the new socialist group Saor Éire.
Note Sighle elected to National Executive.
Amongst the resolutions was one sending "fraternal greetings to the U.S.S.R.".
It is remarkable that in their search for a radical alternative to the status quo, Sighle and other Irish republicans looked at times to both Stalin and Hitler.
---

Return to Sighle Humphreys or Sighle Humphreys - Video.