1844 letter from Benjamin Maltass to Elizabeth Montgomery
Letter from
Benjamin Maltass
, 26 Nov 1844, from Smyrna, to his niece
Elizabeth Montgomery
.
This looks like a summary/transcript of the letter, written by someone else, rather than the original letter.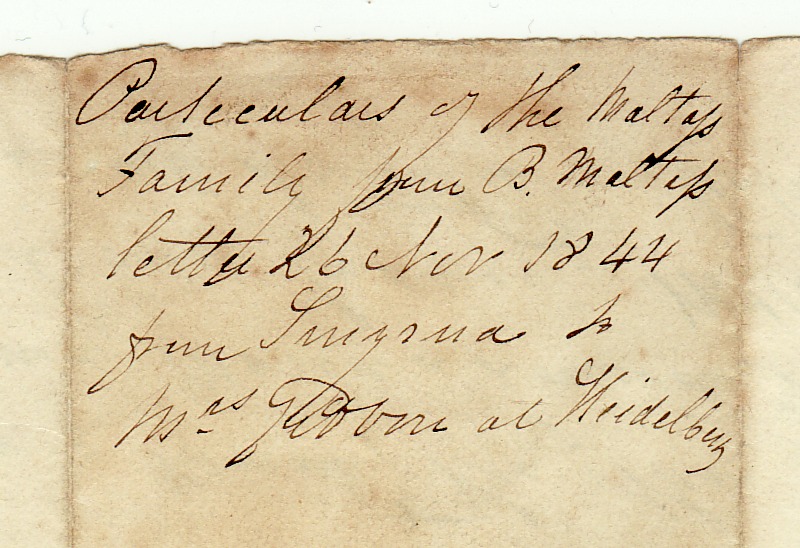 Particulars of the Maltass family from B. Maltass, letter 26 Nov 1844 from Smyrna to Mrs. Gibbon at Heidelburg.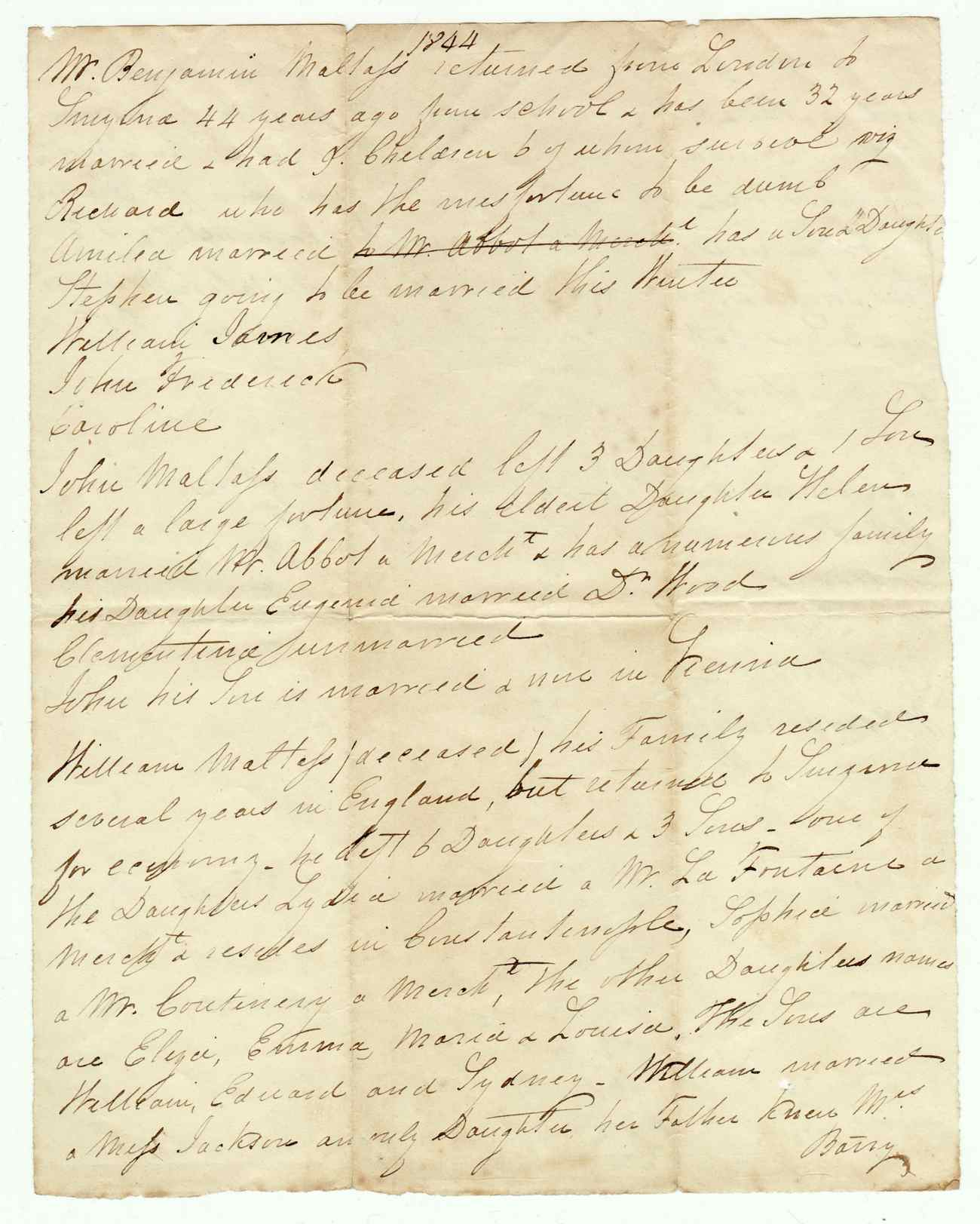 1844 - Mr. Benjamin Maltass returned from London to Smyrna 44 years ago from school, and has been 32 years married, and had 9 children, 6 of whom survive, viz.
Richard, who has the misfortune to be dumb.
Amilia, married ["to Mr. Abbot a merchant" crossed out, apparently error for Helen below] has a son and daughter.
Stephen, going to be married this winter.
William James.
John Frederick.
Caroline.
John Maltass, deceased, left 3 daughters and 1 son, left a large fortune.
His eldest daughter Helen married Mr. Abbot a merchant and has a numerous family.
His daughter Eugenia married Dr. Wood.
Clementina unmarried.
John his son is married and now in Vienna.
William Maltass, deceased, his family resided several years in England, but returned to Smyrna for [illegible]. He left 6 daughters and 3 sons.
One of the daughters, Lydia, married a Mr. La Fontaine, a merchant, and resides in Constantinople.
Sophia married a Mr. Coutinery, a merchant.
The other daughters' names are Eliza, Emma, Maria and Louisa.
The sons are William, Edward and Sydney. William married a Miss Jackson, an only daughter, her father knew Mrs. Barry. [Unidentified. Perhaps the actress Ann Street Barry who died 1801. Could not be the actress Elizabeth Barry who died 1713.]
See full size.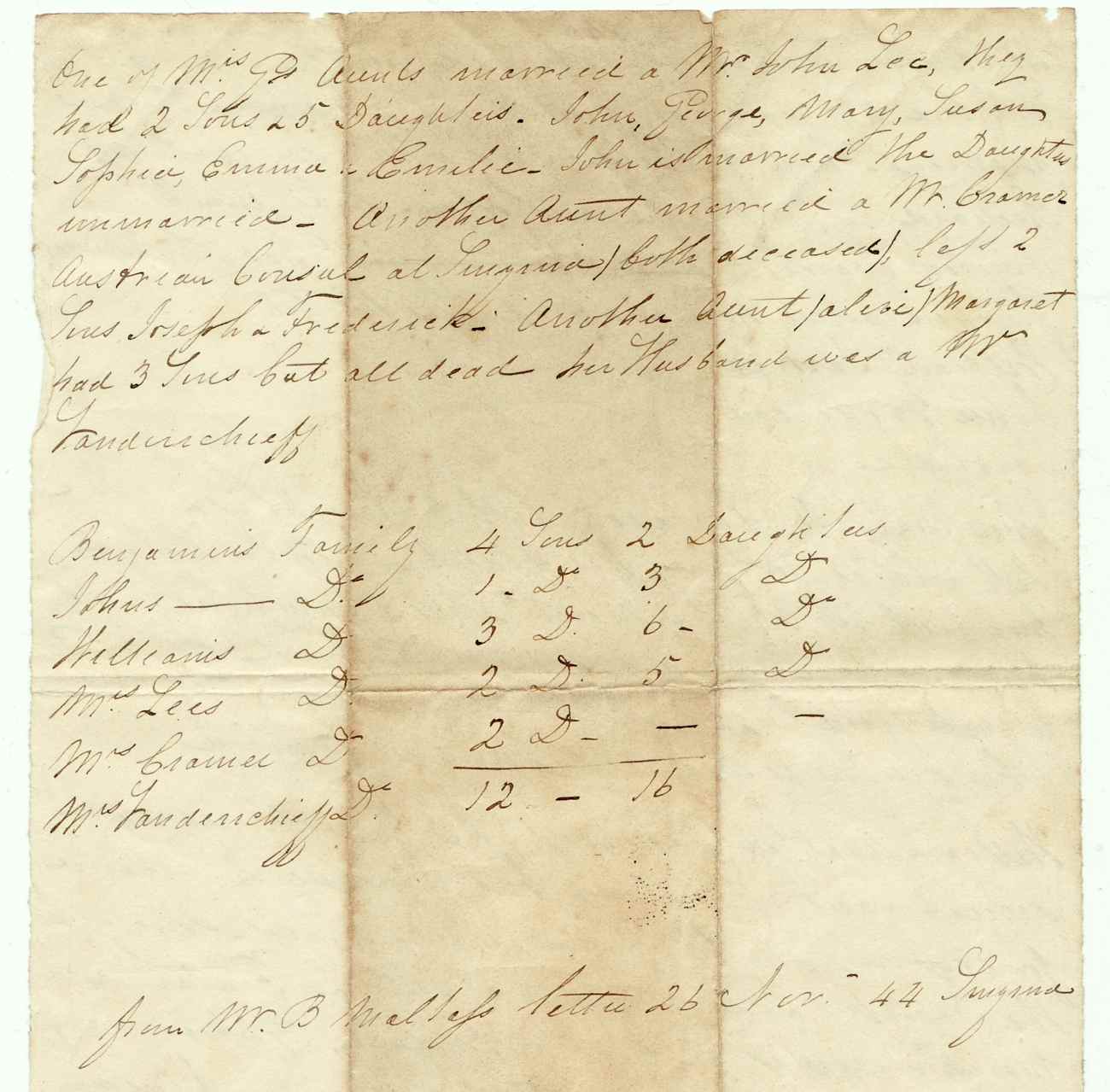 One of Mrs. G.'s aunts married a Mr. John Lee. They had 2 sons and 5 daughters: John, George, Mary, Susan, Sophia, Emma and Emilie. John is married, the daughters unmarried.

Another aunt married a Mr. Cramer, Austrian Consul at Smyrna. Both deceased, left 2 sons, Joseph and Frederick.

Another aunt (alive) Margaret had 3 sons but all died. Her husband was a Mr. Vanderrchieff.

[Adds up the total number of 1st cousins of Mrs. Gibbon]

From Mr. B. Maltass, letter 26 Nov 1844, Smyrna.
See full size.