de Cramer
Part of the European community in Turkey. See Historical background.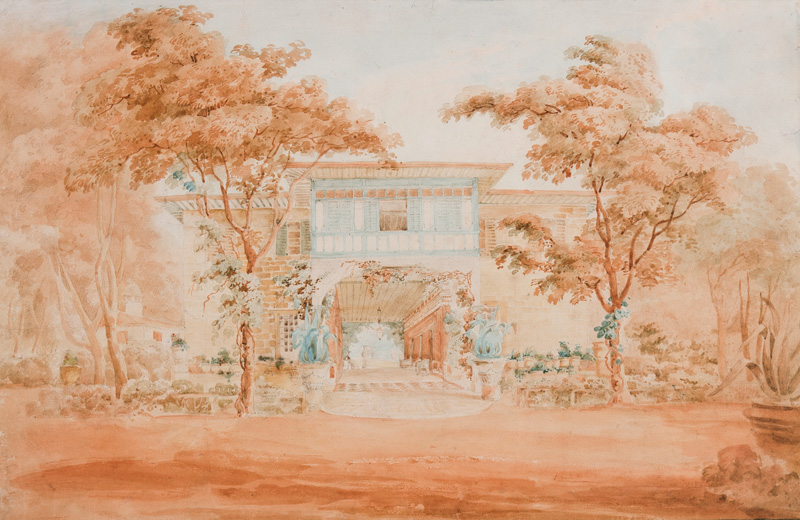 Drawing around 1812 of the former residence in Hacilar of Chevalier Ambroise Hermann de Cramer (died 1809).
Labelled as his widow's house:
"Mrs De Cramer's house at Hagilar"
.
From
Abbott and Holder Ltd
. For sale
here
.
Chevalier
Ambroise de Cramer
,
Ambroise Hermann de Cramer,
born Cremer, changed to Cramer,
born 10 Feb 1757,
Cologne
, Holy Roman Empire,
educ (in law and diplomacy) at
University of Vienna
,
Austrian
Consul at Smyrna 1777,
mar pre-1790 to
Sarah Maltass
,
was in the Austrian army,
in March 1799, when France was fighting the Ottoman Empire at
Jaffa
, he defended the
French Church of St. Polycarp
at Smyrna against desecration by Turkish troops,
see
account of this
in
[Goulburn, 1892]
,
for saving the church he was created a
Chevalier
of the
Order of Christ
by
Pope Pius VII
on 30 Sept 1802,
lived
Hacilar
(Hagilar, Hadjilar),
Hacilar was a village near
Bornova
(there is today a road called "Hacilarkiri Cd" coming out of Bornova, see
map
),
he died at Smyrna, 9 Nov 1809, age 52 yrs,
Sarah died pre-1844,
had issue:
Joseph Cramer.
Frederick Cramer.

Catharine Marguerite de Cramer,
born 7 Aug 1790,
we will follow [Goulburn, 1892] which has her as "Catharine Marguerite", other sources have her as "Catherine Margaret",
"Marguerite" must be after her grandmother Marguerite Icard,
she was of Austrian, English and French ancestry,
sometimes described as "Greek" but this is because all the Europeans in Smyrna (the Greek part of Turkey) were sometimes called "Greeks",
[Bayley, 1963] mentions a letter written to her when young, addressed to "Mademoiselle Margoton de Cramer, Chagillar",
"Margoton" is a French version of "Marguerite", "Chagillar" is unidentified,
mar pre-1812 in Smyrna to Thomas Burgon [born 1 Aug 1787] and had issue.
---
Miscellaneous de Cramer
We are not sure which if any of the following de Cramers descend from Maltass.
---