Benjamin Maltass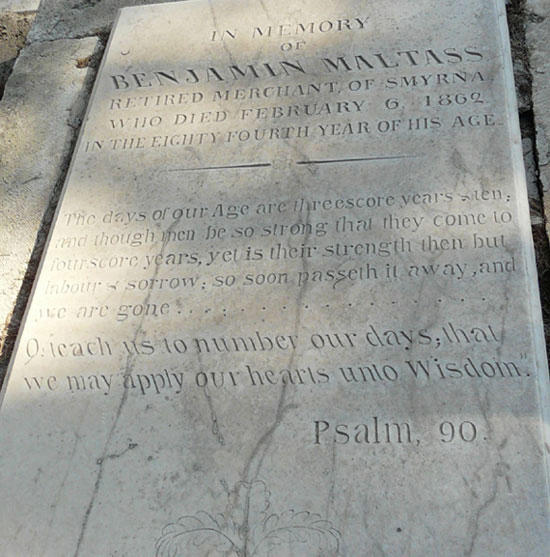 Grave of Benjamin Maltass (born 1778).
Anglican cemetery, Buca.
From
Levantine Heritage
. Used with permission.
Benjamin Maltass
,
born 1778.
He was educ at school in London.
He returned to Smyrna 1800.
He mar 1812 to ---- [probably
Rosina ----
, see below].
Merchant in Smyrna.
He wrote
1844 letter
from Smyrna to his niece
Elizabeth Gibbon
.
Elizabeth Gibbon in
letter of 1 Sept 1851
writes from Paris after her mother's death there in July 1851 (Benjamin's sister Susan). Elizabeth says that a
"letter from my Uncle from Smyrna"
has just been sent addressed to her mother, him
"not knowing of my mother's death"
.
He died 6 Feb 1862, age 84 yrs.
He was bur
Anglican cemetery
, Buca.
Benjamin and his wife had issue:
Richard Maltass,
"who has the misfortune to be dumb" [1844 letter].

Amilea Maltass,
mar and had a son and dau, as at 1844.

Stephen Maltass,
due to be mar winter 1844-45.
The [Rees family papers] refer to Benjamin as "ancestor of the Stephen Maltass family".

William James Maltass.

John Frederick Maltass,
must be "John F. Maltass" who mar Helene --- and had issue:

Oscar Alfred John Maltass, born 24th Nov 1863, Turkey [LDS IGI].

Caroline Maltass.
3 others, Maltass, who died young.

One of these must be:

"Eliza Ann Maltass",
dau of Benjamin Maltass and "Rosina",
born 2 Sept 1814,
bapt 21 Oct 1815 [British Chaplaincy, Smyrna].