Burgon
References:

Sources yet to be consulted:
The "Burgon amphora" (c.565 BC), discovered by Thomas Burgon in 1813.
This is now in the
British Museum
.
Image from
here
.
Thomas Burgon
,
of London, born 1 Aug 1787, NOT 1767.
He was of a family long connected with the commerce of the City of London.
English merchant in Turkey.
He became a senior member of the
Levant Company
.
He mar pre-1812 in Smyrna to
Catharine Marguerite de Cramer
[born 7 Aug 1790].
He was a collector and connoisseur of Greek antiquities.
He supervised the 1813 excavations in Athens, and discovered what is now called the
"Burgon amphora"
(c.565 BC). This is the earliest known
Panathenaic amphora
(prize given at the
Panathenaic Games
in Athens).
The unknown group of 6th century BC Greek artists that made this vase and other similar ones has been named the
"Burgon Group"
after the Burgon amphora.
They moved to England 1814.
He was a friend of Charles Robert Cockerell, who they met in Athens in 1814.
They lived Brunswick Square, London (near British Museum, see map).
He excavated on Milos.
He was also a numismatist (studied ancient coins).
His business failed in 1841, and he sought employment at the British Museum, London.
The British Museum acquired his collection of antiquities in 1842.
He was supernumerary assistant in the Department of Antiquities, British Museum, 1844-1858.
Catharine died 7 Sept 1854, NOT 1834, age 64 yrs.
Thomas died in Burton Crescent, London (now Cartwright Gardens, near the British Museum, see map), 28 Aug 1858, NOT 1838, age 71 yrs.
They are both buried in Holywell Cemetery, Oxford.
They had issue:
Sarah Caroline Burgon,
eldest dau, born 1 July 1812,
bapt 5th Oct 1812, British Chapel, Smyrna [LDS IGI],
mar 24 May 1838, St Pancras New Church, London, to Rev. Henry John Rose [born 3 Jan 1800, churchman, scholar and theologian],
he was Archdeacon of Bedford 1866-73,
he died 31 Jan 1873, age 73 yrs, bur Houghton Conquest, Bedfordshire,
she died 6 Apr 1889, age 76 yrs,
had issue:

Emily Susannah Rose.

Hugh James Rose, born Dec 1840,
cleric, wrote about Spain,
died 6 July 1878, age 37 yrs, bur with father at Houghton Conquest.

William Francis Rose, Vicar of Worle.

Anna Rose,
Anna Caroline,
mar Rev. George Maule,
lived Trotton, Sussex,
he died pre-1912,
she died Aug 1912.

Gertrude Mary Rose.




John William Burgon, Dean of Chichester,
"Dean Burgon", fundamentalist biblical scholar,
born 21st Aug 1813, Smyrna,
bapt 2nd Sept, British Chapel, Smyrna [LDS IGI],
[Bayley, 1963] shows a painting of him as a child, c.1815, wearing a Greek-Turkish outfit.




Thomas Burgon,
Thomas Charles Burgon, Tom, born 25 June 1816,
died 14 Feb 1872, age 55 yrs,
bur with parents at Holywell Cemetery, Oxford.

Emily Mary Burgon, born 16 Feb 1819,
died 6 May 1871, age 52 yrs,
bur with parents at Holywell Cemetery, Oxford.




Helen Burgon,
Helen Eliza Burgon, born 28 May 1823,
mar 26 June or 26 July 1853 to Charles Longuet Higgins [born 30 Nov 1806, son of John Higgins of Turvey Abbey, Bedfordshire],
no issue,
they lived Turvey Abbey,
he died 23 Jan 1885, age 78 yrs,
she was living Turvey Abbey as at 1889 [Bayley, 1963],
she was alive as at [Goulburn, 1892].




Catharine Margaret Burgon,
youngest child, named after her mother, born 27 Oct 1828,
died 28 Apr 1836, age 7 yrs,
bur (eventually) with parents at Holywell Cemetery, Oxford.
---
The Burgon family are buried in
Holywell Cemetery
, Oxford.
See
grave
. See
transcriptions
.
Holywell Manor, which now belongs to Balliol College, Oxford, backs onto the cemetery.
Their site says the Burgon memorials are visible from the Holywell Manor Garden side: "On the N-facing wall between the garden and the cemetery there are three inscribed stone tablets ... recording burials in vaults on the S side of the wall (where there are less informative inscriptions in Latin)."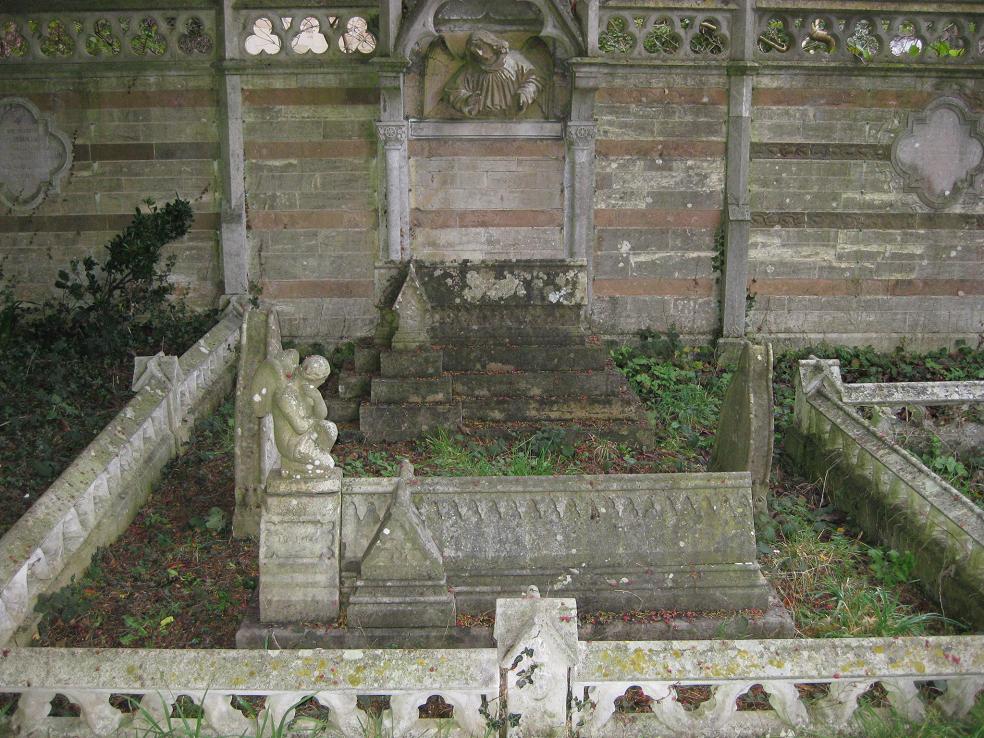 Burgon graves, Holywell Cemetery, Oxford.
Photo 2008. See
full size
.
From
Julia&Keld
at
findagrave.com
. Used with permission.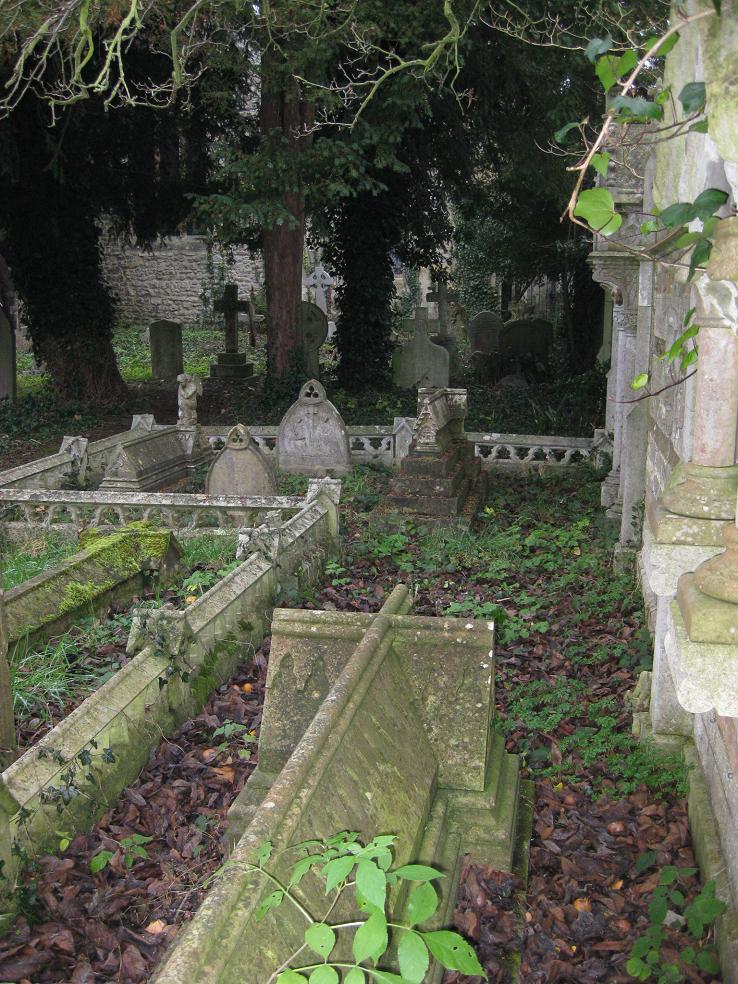 Burgon graves, Holywell Cemetery, Oxford.
Photo 2008.
From Julia&Keld at findagrave.com. Used with permission.
---