Mullins of Burnham House, Co.Kerry
References:

Sources yet to be consulted: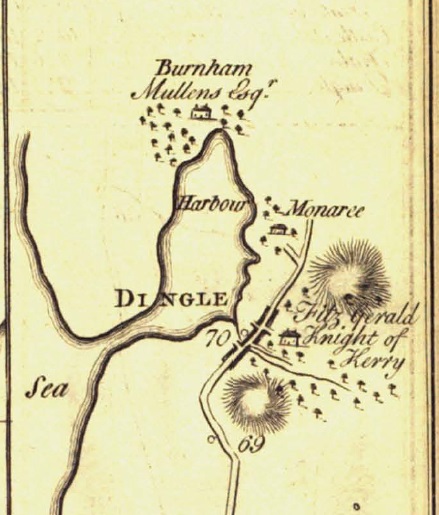 Burnham House, Dingle, Co.Kerry, in
[Taylor and Skinner, 1777]
.
William Molyneaux,
or Mullins,
of
Burnham
, Norfolk,
mar Jane Ludlow,
had issue:

Col. Frederick Mullins,
Frederick William Mullins,
born at Burnham, Norfolk, in 1616 [Collins papers, 3]. Though surely must be later.
He settled in Ireland.
Settled c.1666 at Ballingolin (now "Burnham"), near Dingle, Co.Kerry.
He named his seat Burnham House after his place of origin in England.
He mar Jane Eveleigh.
MP for Dingle 1692-1695.
MP for Tralee 1695-1696.
He died 3 Nov 1712.
Col. Frederick and Jane had issue:
Frederick Mullins,
of Burnham House, Co.Kerry.
He mar Martha Blennerhassett [descendant of Edward III].
Marriage settlement dated 7 Apr 1685 (poss. 1683).
He died 3 Oct 1695 (in father's lifetime).
Martha re-married.
Frederick and Martha had issue:




William Mullins, born 1691.




Major Richard Mullins,
had issue:

Jane Mullins,
mar 1732 to Charles Clarke [born 1700] and had issue.
---