Clarke
References:

Griffith and Rhual:

HEATON in [Burkes LG]
A short history of Rhual, Basil Heaton, 1987.

Sources yet to be consulted:
Charles Clarke
, born 1700,
of
Godmanchester
in Huntingdonshire,
mar 2ndly, 1732, to
Jane Mullins
,
MP, judge, one of the Barons of the Exchequer,
died 1750,
had issue by 2nd wife:
Henrietta Clarke,
Henrietta Maria, born 1743,
mar Thomas Griffith,
they lived Rhual (pron "Real"), just NW of Mold, Flintshire, NE Wales.





Alured Clarke,
Field Marshal Sir Alured Clarke,
born 24 Nov 1744 [grave], NOT 1745,
pronounced "Aller-ed".
He was 2nd cousin of Letitia Blennerhassett's grandmother Mary Mullins.

The Mullins-Clarke branch in
"Black Jack's Book"
, the early 18th century family tree by
John Blennerhassett, "Black Jack"
.
From
p.58
of
[Hickson, 1872]
.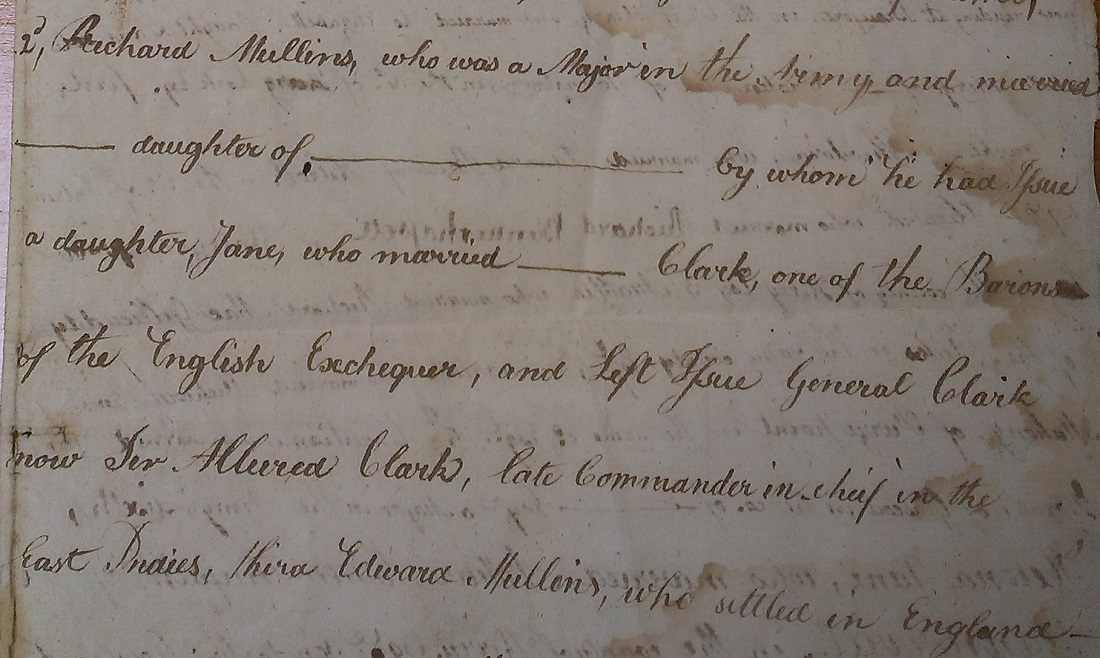 The Mullins-Clarke branch in [Collins (Blennerhassett) papers, 3].
See full size.