Sheehy
David Sheehy, MP
,
born 1844, Co.Limerick.
See
entry
in
tree
by
Mary McCoy
.
He mar 1876 to
Bessie McCoy
[Elizabeth, born 1849 or 1851].
He was an
Irish Parliamentary Party MP
from 1885 to 1900 and from 1903 to 1918.
He was prosecuted in 1889 along with his colleague
Stephen O'Mara
and other nationalists.
He was friends with the O'Maras. See
letters
in 1889-1893.
Stephen's son
James O'Mara
(later an MP) writes on
11 Feb 1898
that:
"I brought David Sheehy to Sydenham with me and he spent the night with us"
.
Bessie died 1918.
David died 1932.
They had issue:
Hanna Sheehy-Skeffington,
feminist and nationalist,
born Hanna Sheehy, 1877.
She mar 1903 to Francis Sheehy-Skeffington [born Francis Skeffington, 1878].
They adopted each other's names at marriage.
He was a nationalist and pacifist.
He was murdered by the crazed Capt. Bowen-Colthurst during the 1916 Rising.
Hanna was not a pacifist. She supported the anti-Treaty IRA in the Civil War.
She died 1946.
They had issue:

Owen Sheehy-Skeffington, born 1909,
university lecturer and senator.




Mary Sheehy.
She mar Tom Kettle, MP.
He was a writer, poet and Irish Parliamentary Party MP 1906-10.




Kathleen Sheehy,
mar Frank O'Brien
and had issue:

Conor Cruise O'Brien,
mar 1stly to Christine Foster,
mar 2ndly to Maire Mhac an tSaoi.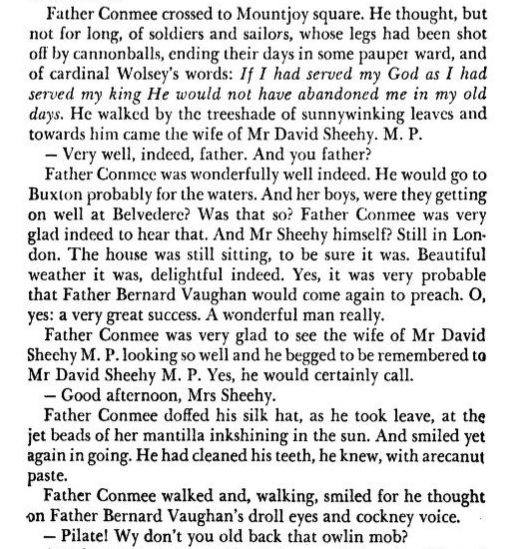 The wife of David Sheehy, MP, appears in
Ulysses
by Joyce.
Ulysses
is set in 1904.
From
p.216
of Modern Library edn.
---
Sources yet to be fully consulted
---
Sources yet to be consulted
Sheehy Skeffington Papers. [NLI] Ms.

Sheehy Skeffington Papers. Collection List No. 47. Mss 33,603 to 33,635. Papers of Hanna and Francis Sheehy Skeffington.
Sheehy Skeffington Papers (Additional). Collection List No. 82. Mss 40,460 to 40,563 and 41,176 to 41,245. Papers of Frank, Hanna and Owen Sheehy Skeffington.

Leah Levenson