Barry
References:

Sources yet to be consulted: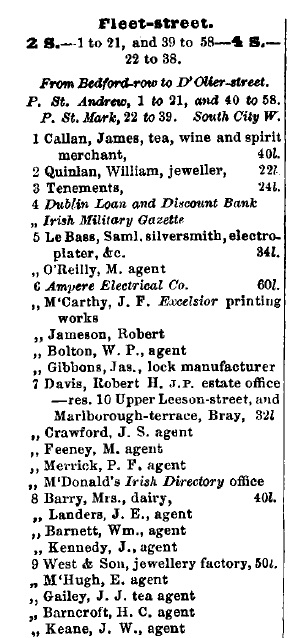 The widow Mrs. Barry's dairy listed at 8 Fleet St, Dublin, in
[Thom's, 1910]
.
Thomas Barry
,
Tom, born 1851, Co.Carlow.
He ran family farm, Tombeigh (or Tombeagh), Hacketstown, Co.Carlow.
He also ran dairy business, 8 Fleet St, Dublin.
He mar
Mary Dowling
[born 1872, Co.Carlow].
See them
listed
at 8 Fleet St, Dublin, in
[Census, 1901]
.
He died 1908.
See some of family (including Elgin)
listed
at Tombeigh, Co.Carlow, in
[Census, 2 April 1911]
.
See others of family (including Kevin)
listed
at 8 Fleet St, Dublin, in
[Census, 2 April 1911]
.
Mary died 1953, age 81 yrs.
Thomas and Mary had issue:
Kathleen Barry,
born 19 October 1896 at 8 Fleet Street, Dublin,
mar Jim Moloney,
had issue:

Mary Moloney,
mar Padraic O'Halpin,
had issue:

Eunan O'Halpin, Irish historian.

Katherine Moloney,
mar Patrick Kavanagh [the poet].




Kevin Barry, the patriot,
Kevin Gerard Barry, born 20th Jan 1902, 8 Fleet St, Dublin.
He was educ Belvedere College.
Medical student, UCD (NOT Trinity).
He joined the IRA in War of Independence.


Ambush, 1920:

On 20 Sept 1920 he took part in an IRA attack on British Army soldiers in Dublin that killed 3 British soldiers.

The British Army party was collecting bread from the bakery of "Patrick Monks and Co."

[Thom's, 1919]

at the junction of Church St and N King St, Dublin (see

map

). The intention was to steal their rifles, but shooting broke out. The IRA men killed 3 British soldiers (Harold Washington, Marshall Whitehead and Thomas Humphries).

These were

the first British military deaths of the War of Independence

.

Kevin Barry's gun jammed and he hid under a truck during the firefight. His comrades withdrew and he was captured hiding under the truck. He was abused in custody but refused to reveal the names of the others.


Execution, 1920: Kevin Barry was hanged at Mountjoy Prison, Dublin, 1st Nov 1920, age 18 yrs.
It was the first execution of the War of Independence. He became a symbol of Irish martyrdom.
Patricia Lavelle, age 22 at the time, says: "With the rest of the Cumann na mBan, I stood outside the prison walls in the cold dawn of that frosty fog-laden morning. We said the rosary aloud that his soul might pass in peace".
He was bur in grounds of Mountjoy.
He was re-buried with a state funeral in the Republican plot in Glasnevin Cemetery, Dublin, in 2001.




Elgin Barry,
born Eileen Mary Barry, 13th Nov 1903, 8 Fleet St, Dublin [GROI],
educ Convent of the Holy Faith, Clarendon St, Dublin,
educ Loreto Convent, St Stephen's Green,
active in Cumann na mBan from about 1917 on,
on republican side in Civil War 1922-23,
arrested, jailed in North Dublin Union, and think also Kilmainham,
in 1923 she was on hunger strike in North Dublin Union with Sighle Humphreys and Bridie Clyne,
released in December 1923,
in 1928 she travelled to America to raise funds for Mary MacSwiney's school, St. Ita's,
activist for Irish National Aid Association (for Irish political prisoners) in early 1930s,
mar Aug 1935 to Mac O'Rahilly and had issue.




Monty Barry [dau].
She mar Seamus O'Donovan [James].
He was a leading IRA man.
They lived 1937-47 in a big Georgian house, Florenceville, off Shanganagh Road, Shankill, Co.Dublin (see old map and modern street view of gate).
He was the IRA's liason with Nazi Germany in 1939.
He planned the IRA bombing campaign in England 1939-40. He was chief bomb-maker.
They sheltered wartime Nazi spy Hermann Goertz at Florenceville in 1940.
O'Donovan and his comrades wanted the Nazis to "liberate" Ireland. They put forward an IRA plan for a Nazi invasion of Northern Ireland to Goertz.
The plans came to nothing, as did the German plan to invade Ireland.
O'Donovan hoped for Nazi victory in WW2, and said that a victorious Nazi Germany "would have been very generous indeed" to Ireland, which "at last would become a place worth living in" [O'Donoghue, 2011].
See Florenceville for sale in 2012.
Monty and Seamus had issue:

Donal O'Donovan,
author of biography of Kevin Barry, 1989.
---
Kevin Barry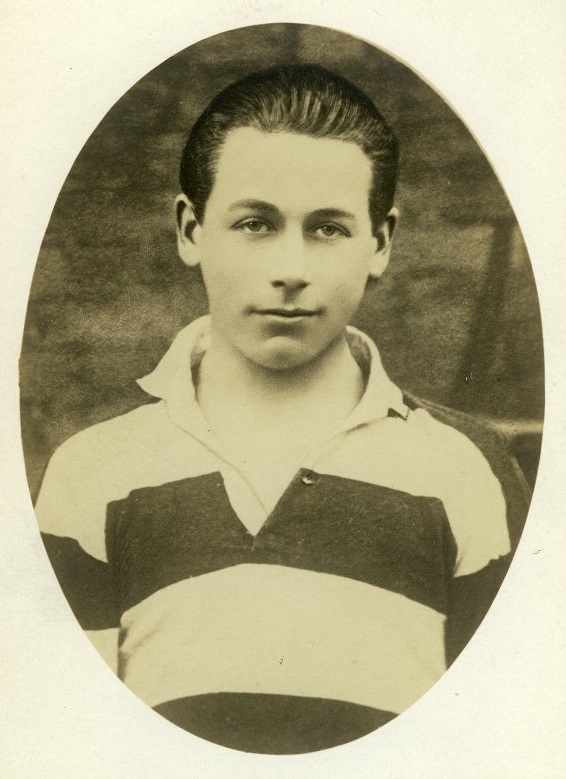 Kevin Barry.
From
Desmond FitzGerald Photographs
at
UCD Digital Library
. Creative Commons.
See also
version
from
Glasnevin Museum
.
See also
version
in
[P106/3896(9)]
.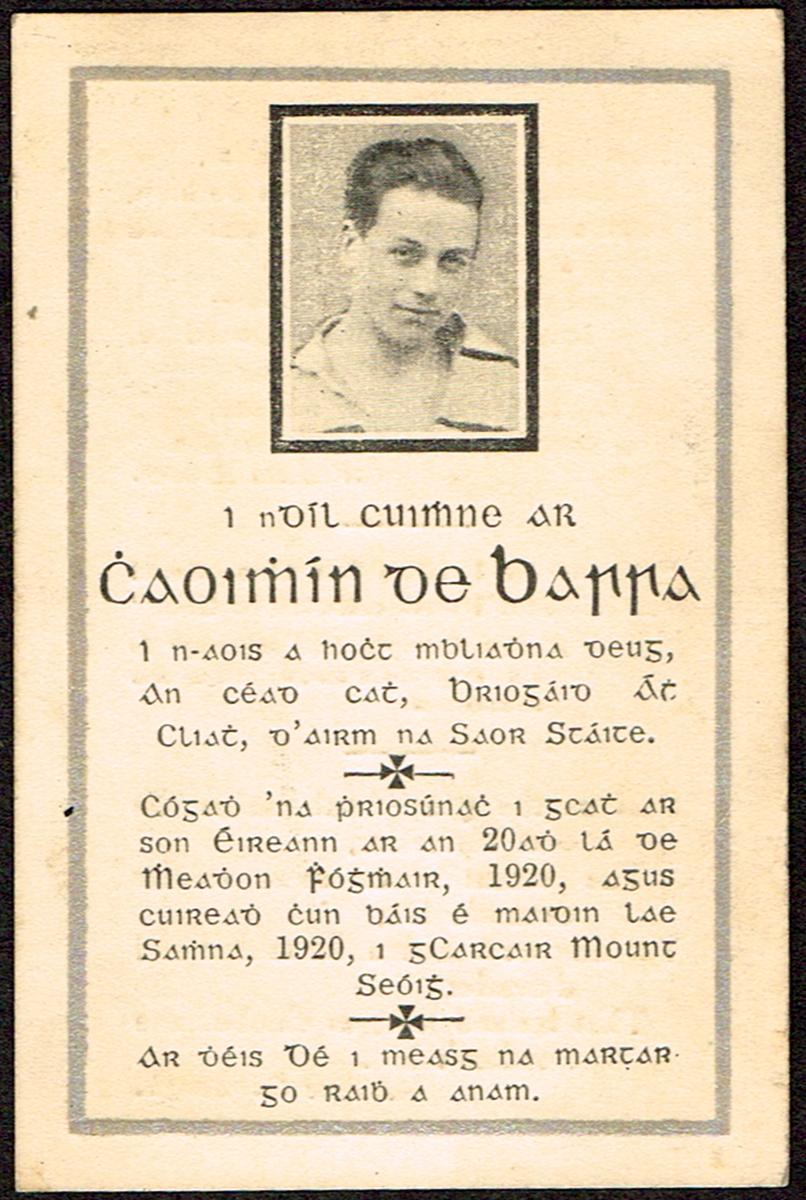 Mass card for Kevin Barry.
See full size.
For sale in 2021 here.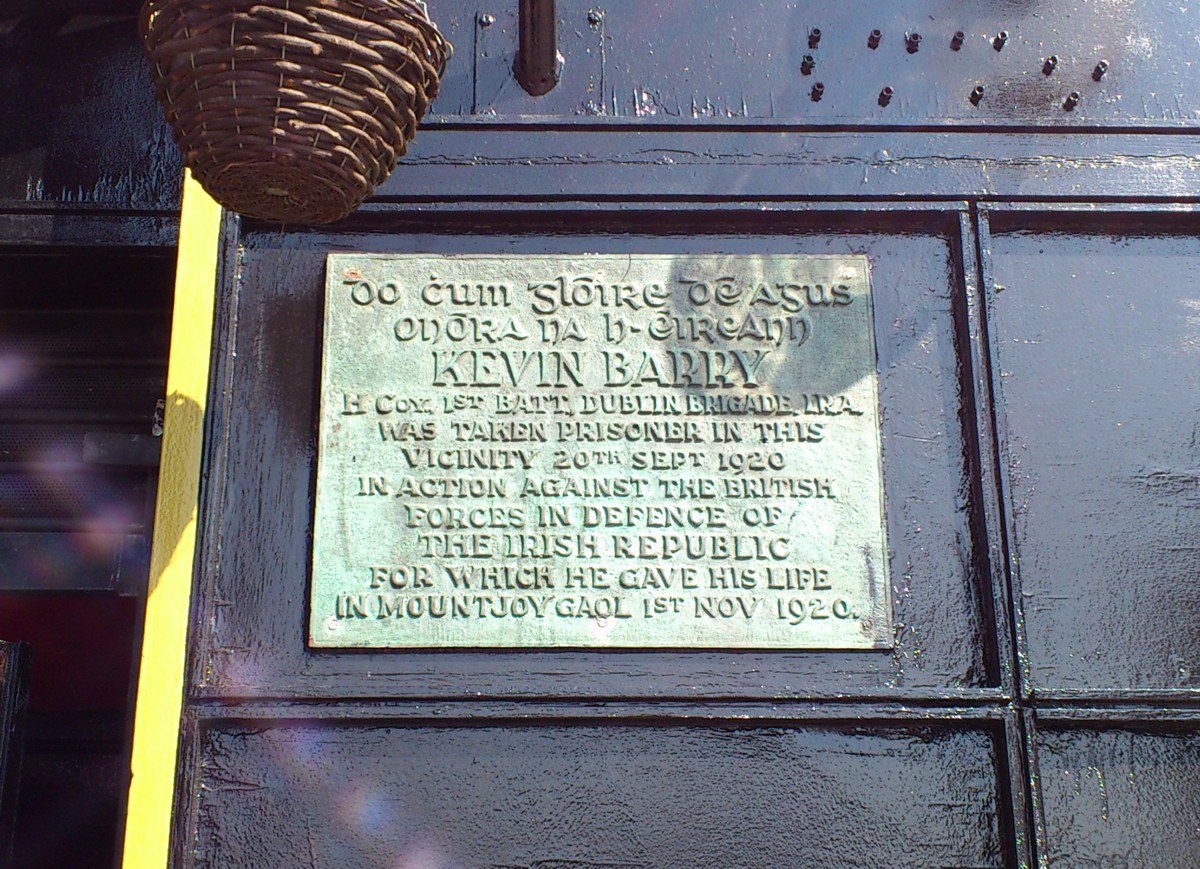 Plaque to Kevin Barry at the door of The Tap pub, at the junction of Church St and N King St, Dublin (see street view).
Photo 2012. See full size and wider shot.
---
Grave of Kevin Barry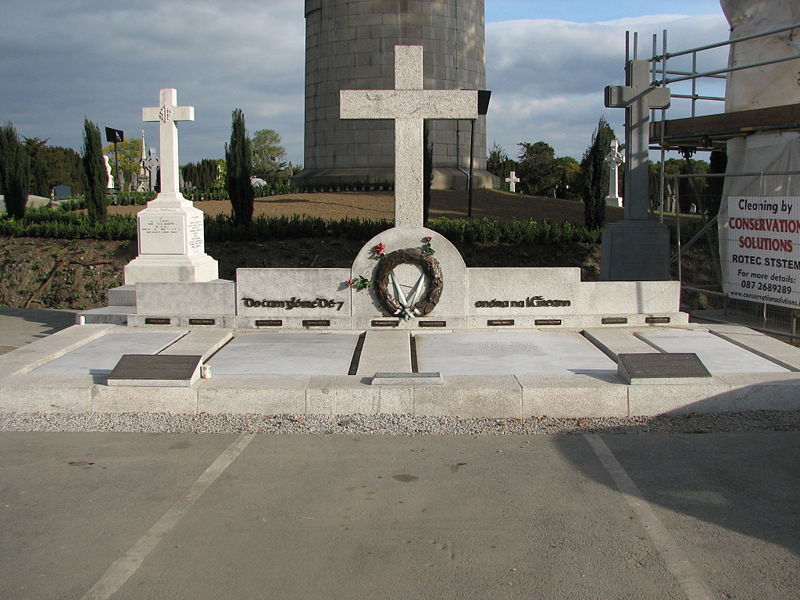 New grave of Kevin Barry, Glasnevin. Kevin Barry is the first on the left.
Photo 2007. From here.
See street view.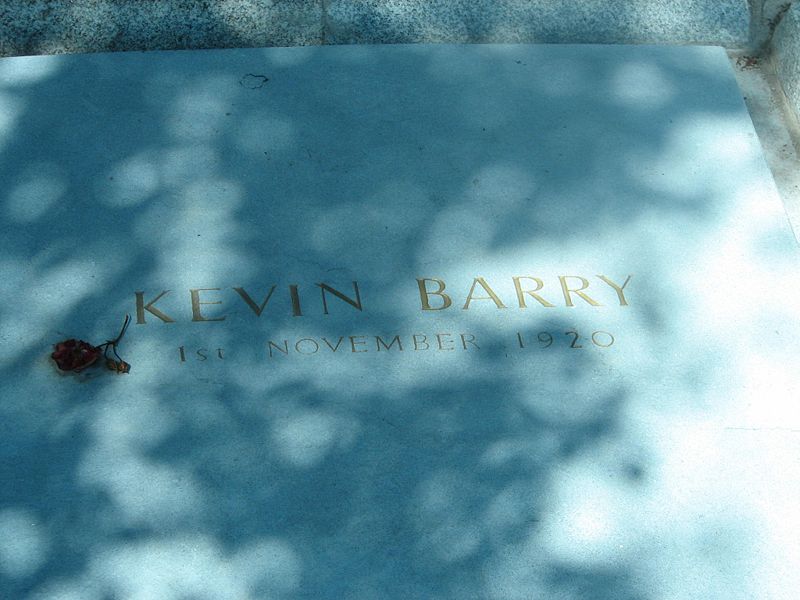 New grave of Kevin Barry, Glasnevin.
From here.
---