Barry
References:

Sources yet to be consulted:
Thomas Barry,
Tom, born 1851, Co.Carlow.
See
entry
in tree by
Paddy Waldron
.
He ran family farm, Tombeigh (or Tombeagh), Hacketstown, Co.Carlow.
He also ran dairy business, 8 Fleet St, Dublin.
He mar
Mary Dowling
[born 1872, Co.Carlow].
See them
listed
at 8 Fleet St, Dublin, in
[Census, 1901]
.
He died 1908.
See some of family (including Elgin)
listed
at Tombeigh, Co.Carlow, in
[Census, 2 April 1911]
.
See others of family (including Kevin)
listed
at 8 Fleet St, Dublin, in
[Census, 2 April 1911]
.
Mary died 1953, age 81 yrs.
Thomas and Mary had issue:
Kathleen Barry,
born 19 October 1896 at 8 Fleet Street, Dublin,
mar Jim Moloney,
had issue:

Mary Moloney,
mar Padraic O'Halpin,
had issue:

Eunan O'Halpin, Irish historian.

Katherine Moloney,
mar Patrick Kavanagh [the poet].




Kevin Barry, the patriot,
Kevin Gerard Barry,
born 20 Jan 1902, 8 Fleet St, Dublin.
Executed by the British in 1920.
The first execution of the War of Independence.




Elgin Barry,
born Eileen Mary Barry, 13 Nov 1903, 8 Fleet St, Dublin [GROI].
She was educ Convent of the Holy Faith, Clarendon St, Dublin.
She was educ Loreto Convent, St Stephen's Green.
She was active in Cumann na mBan from about 1917 on.
She was on republican side in Civil War 1922-23.
She was arrested, jailed in North Dublin Union, and think also Kilmainham.
In 1923 she was on hunger strike in North Dublin Union with Sighle Humphreys and Bridie Clyne.
Released in December 1923.
In 1928 she travelled to America to raise funds for Mary MacSwiney's school, St. Ita's School for girls, Cork.
Activist for Irish National Aid Association (for Irish political prisoners) in early 1930s.
She mar Aug 1935 to Mac O'Rahilly and had issue.




Monty Barry [dau].
She mar Seamus O'Donovan [James].
He was a leading IRA man.
They lived 1937-1947 in a big Georgian house, Florenceville, off Shanganagh Road, Shankill, Co.Dublin (see old map and modern street view of gate).


Monty and Seamus had issue:




Donal O'Donovan.
Author of biography of Kevin Barry, 1989.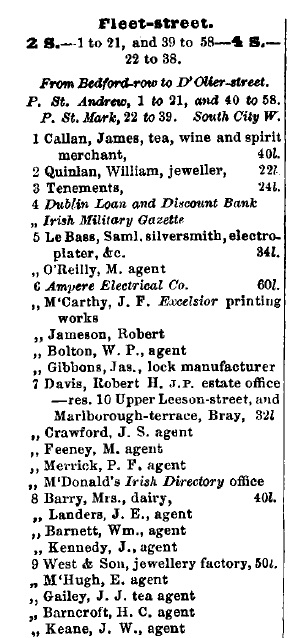 The widow Mrs. Barry's dairy listed at 8 Fleet St, Dublin, in
[Thom's, 1910]
.
---