Memorials to the poet Aodhagán Ó Rathaille
Memorials to the poet
Aodhagán Ó Rathaille
.
---
The Curse of Cromwell
, by
William Butler Yeats
, in
New Poems
(1938).
It refers to the poet Aodhagán Ó Rathaille's deathbed poem.
YOU ask what - I have found, and far and wide I go:
Nothing but Cromwell's house and Cromwell's murderous crew,
The lovers and the dancers are beaten into the clay,
And the tall men and the swordsmen and the horsemen, where are they?
And there is an old beggar wandering in his pride -
His fathers served their fathers before Christ was crucified.
O what of that, O what of that,
What is there left to say?


All neighbourly content and easy talk are gone,
But there's no good complaining, for money's rant is on.
He that's mounting up must on his neighbour mount,
And we and all the Muses are things of no account.
They have schooling of their own, but I pass their schooling by,
What can they know that we know that know the time to die?
O what of that, O what of that,
What is there left to say?


But there's another knowledge that my heart destroys,
As the fox in the old fable destroyed the Spartan boy's
Because it proves that things both can and cannot be;
That the swordsmen and the ladies can still keep company,
Can pay the poet for a verse and hear the fiddle sound,
That I am still their servant though all are underground.
O what of that, O what of that,
What is there left to say?


I came on a great house in the middle of the night,
Its open lighted doorway and its windows all alight,
And all my friends were there and made me welcome too;
But I woke in an old ruin that the winds howled through;
And when I pay attention I must out and walk
Among the dogs and horses that understand my talk.
O what of that, O what of that,
What is there left to say?

---
Kerry Poets Monument
(or Four Poets Monument), Killarney.
At the small roundabout where Fair Hill meets East Ave. See
map
.
Erected in 1940 in memory of four Kerry poets:
The statue is the
"Speir Bhean"
(Beautiful Woman), who personifies Ireland.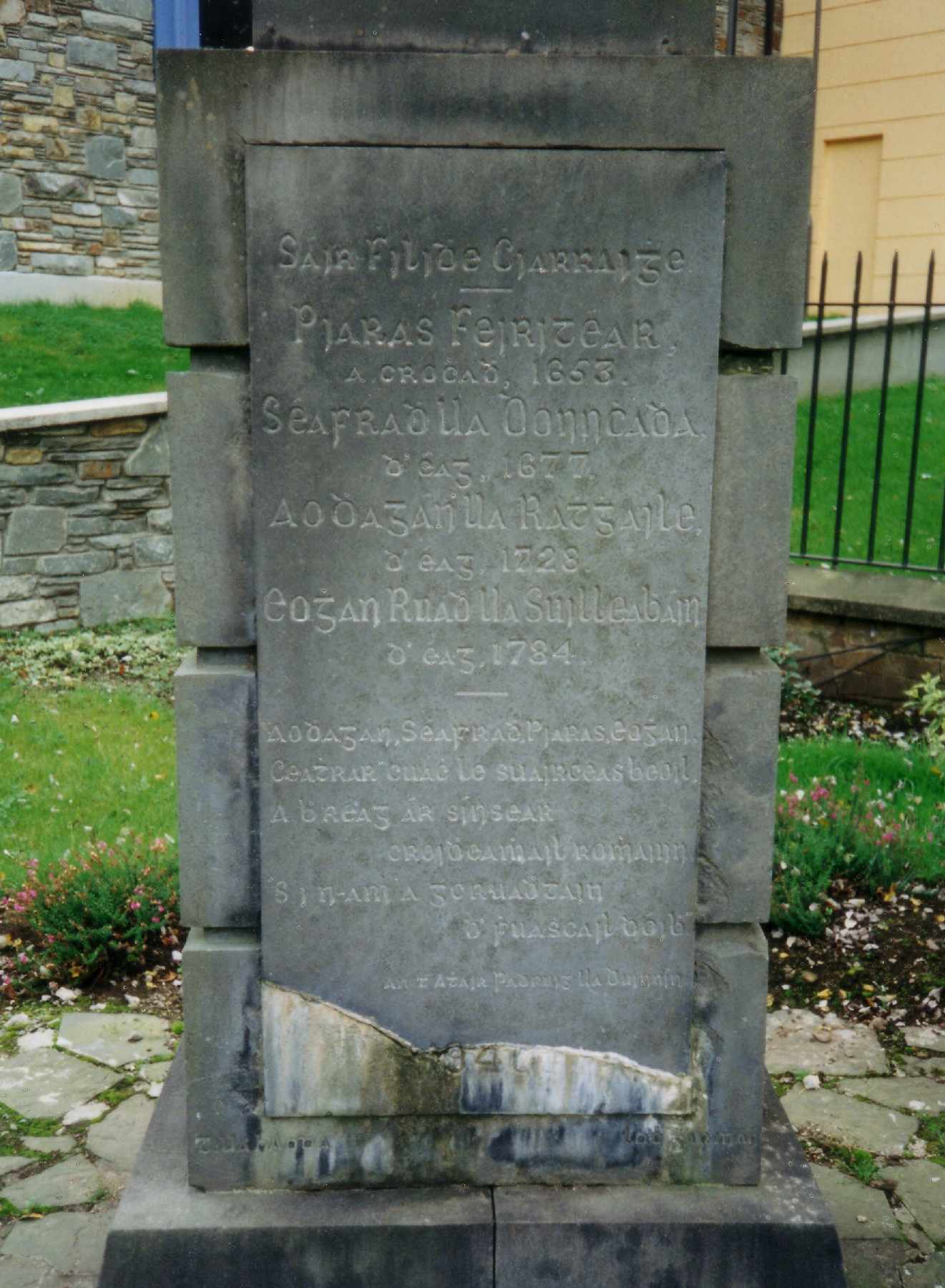 Kerry Poets Monument, Killarney.
Photo 2000.
See
larger
and
full size
.
See
other scan
.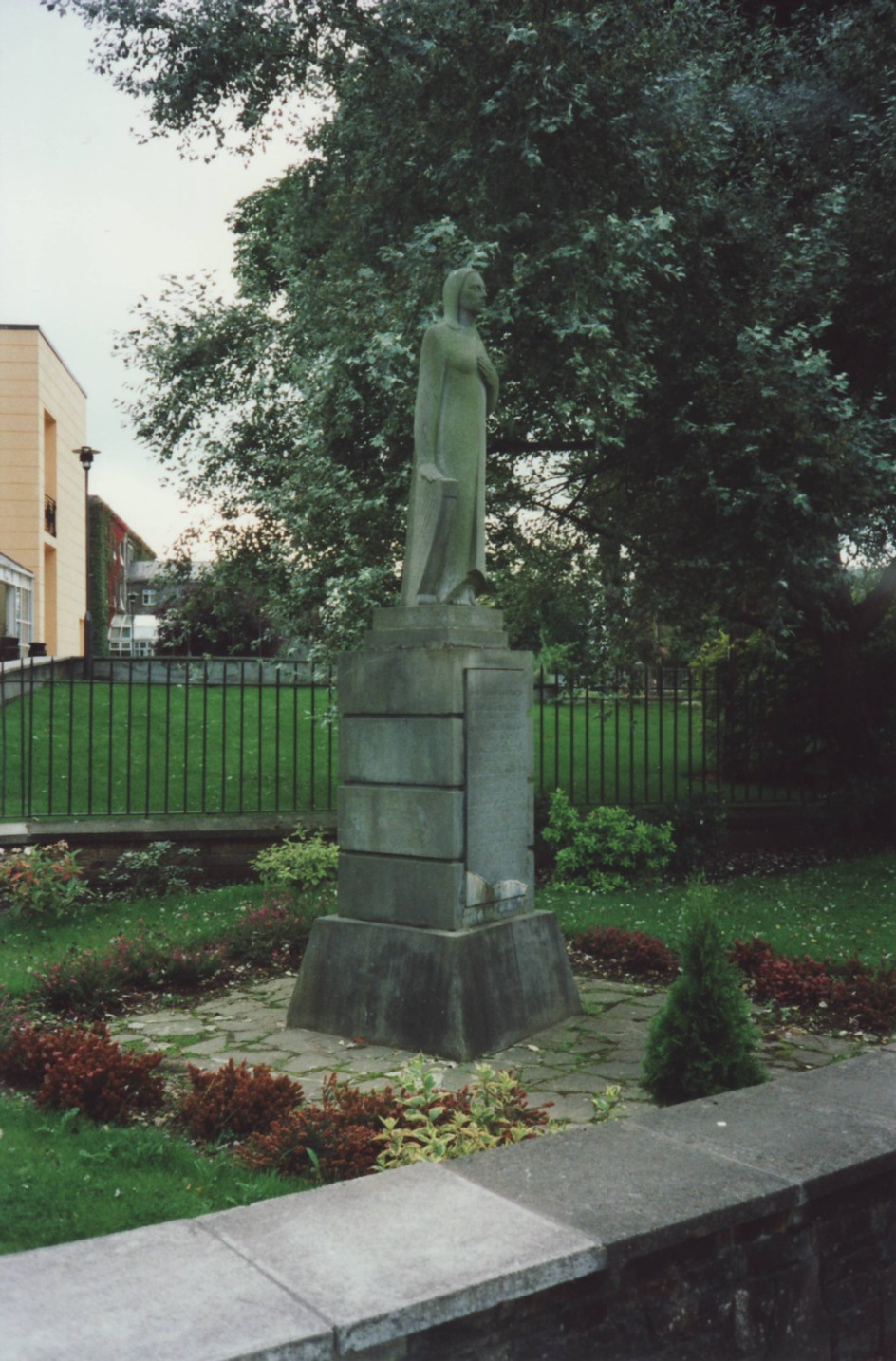 Wider view of Kerry Poets Monument, Killarney.
Photo 2000. See larger and full size.
See wider view. See view from behind. Photos 2000.
See street view.
---
Julia Clifford plays
O'Rahilly's Grave
.
---
"Egan's Well"

Michael Warren in a letter of 1902 [P102/207(1)] talks about Stagmount, Kilcummin par, E of Killarney, where the poet lived. He says: "there is a spring well at Stagmount which to this day is called "Egan's Well"".
On the 1887 to 1913 map there are 4 sites marked "Well" and one site marked "Spring" inside Stagmount. There are more sites marked "Well" or "Spring" just outside the townland.

Aodhagán Ó Rathaille appeared on the Honours Irish course for the Leaving Cert in the 1980s. Not sure in what book.
There is a tune called
"O'Rahilly's March"
.
Its relationship (if any) to the poet is unclear.
(todo) It apparently appears in
McCullough's Irish warpipe tutor and tune book
, Dublin, 1926,
[NLI]
Ir 7889 m 6.
---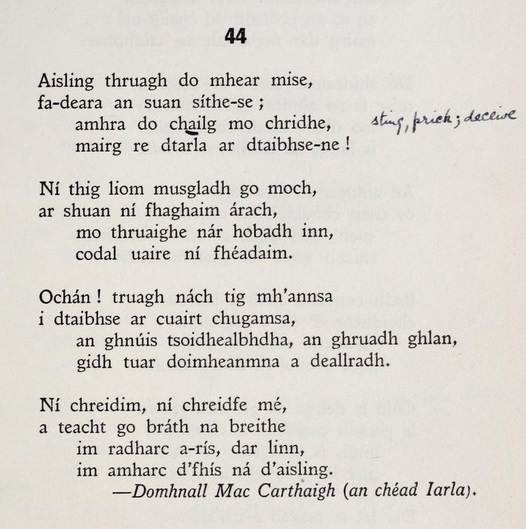 Song 44
(also
here
) appears on the album
The Gloaming
(2014) by the band
The Gloaming
.
It is an adaptation of the poem
Aisling thruagh do mhear mise
(16th century) by Domhnall Mac Carthaigh.
This poem appears as
Poem 44
(hence "Song 44") in
Dánta grádha: an anthology of Irish love poetry
(1925) by
T.F. O'Rahilly
.
Incorrect attribution: It was incorrectly said in the press that Song 44 is a poem by Aodhagán Ó Rathaille:

The dawn of the Gloaming, Siobhan Long, Irish Times, 18 Aug 2011: "Ó Lionáird welcomed the challenge of acting as midwife to new music, as The Gloaming have done with Song 44, which he adapted from an 18th-century poem by Aogán Ó Raghallaigh."
Taking The Gloaming view, Brian Hayes Curtin, Cork Independent, 25 August 2011: "We are playing trad songs that are not well known, in a new way. One is a 17th century poem by Aogán Ó Rathaille, where he sees a woman in his dreams, but he can never meet her, except in his dreams. He wakes up and is very upset."
Concert review, Siobhan Kane, 28 Aug 2011: "Ó Lionáird made us laugh when he introduced Song 44 adapted from an 18th century poem by Aogán Ó Raghallaig, who discovered that "the woman of his dreams, only existed in his dreams", before qualifying that they were not his own thoughts on the matter."

Band member Iarla Ó Lionáird says that this was a misunderstanding in the press, and the poem is correctly attributed in the album.
---
---
---