Lady Mary Wroth
References:

"Lady Mary Wroth" by Josephine A. Roberts, in Seventeenth-Century British Poets, ed. M. Thomas Hester, Dictionary of Literary Biography, vol.121, Gale Research Inc, 1992.

Sources yet to be consulted:
Lady Mary Wroth
(see
here
),
the writer,
born Lady Mary Sidney, 1586 or 1587.
She stayed often at her aunt
Lady Mary Sidney's
house,
Wilton House
.
She mar 1604 (her age 17 or 18) to
Sir Robert Wroth
.
It was an unhappy marriage.
Sir Robert died 1614.
They had issue:
(child), died age c.2 yrs.
As a widow she went to stay with her 1st cousin, William Herbert, 3rd Earl of Pembroke.
They had an affair. (He was the love of her life.)
She had natural issue by him.
She wrote the prose romance Urania, pub 1621.
This was the first ever long fiction work by an English woman.
At the end of Urania is the sonnet sequence Pamphilia to Amphilanthus.
She died c.1652, age c.65 yrs.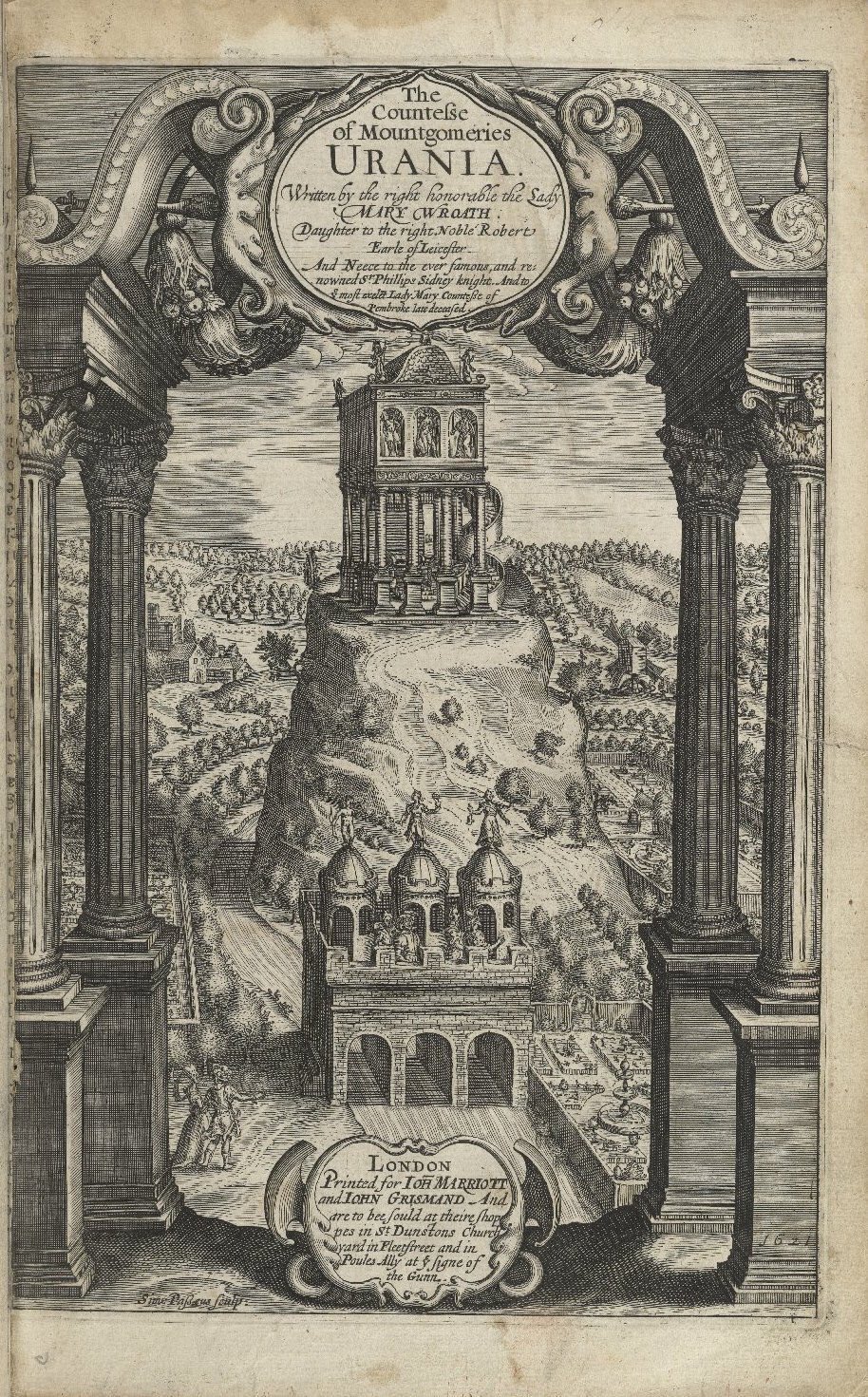 Title page of
Urania
(1621).
See
full size
. Posted
here
.
The full title is
The Countesse of Mountgomeries Urania
. This refers to
Susan de Vere
, wife of her 1st cousin
Philip Herbert, 1st Earl of Montgomery
, later 4th Earl of Pembroke.
The title is in the style of her uncle
Sir Philip Sidney's
The countess of Pembroke's Arcadia
(1579-81), which was dedicated to her aunt
Lady Mary Sidney
.
---
Pamphilia to Amphilanthus
(1621) by Lady Mary Wroth.
Come merry Spring delight us,
For Winter long did spight us,
In pleasure still persever,
Thy beauties ending never:
Spring, and grow
Lasting so,
With joyes increasing ever.

Let cold from hence be banish'd,
Till hopes from me be vanish'd,
But blesse thy daynties growing
In fulnesse freely flowing:
Sweet Birds sing
For the Spring,
All mirth is now bestowing.
---