Philip Herbert, 4th Earl of Pembroke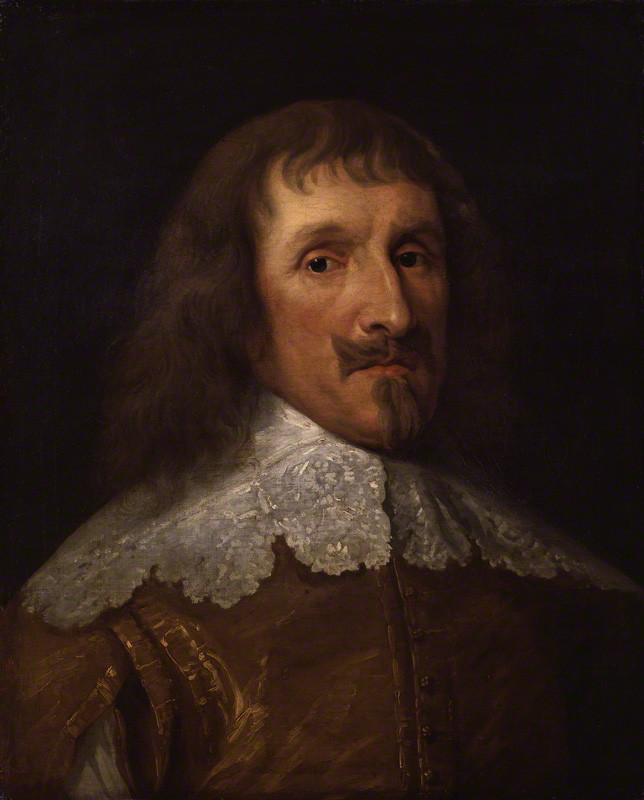 Philip Herbert, 4th Earl of Pembroke.
Portrait c.1635-40. By
Van Dyck
.
From
NPG
. See
terms of use
.
Philip Herbert, 4th Earl of Pembroke
,
and 1st Earl of Montgomery, K.G., see
here
and
here
,
born 16th Oct 1584.
His father died 1601. His
older brother
became 3rd Earl of Pembroke.
He mar 1stly, 27th Dec 1604, to
Susan de Vere
[born 26th May 1587, descendant of
Edward I
].
Earl of Pembroke and Earl of Montgomery 1630-50:
He succ as Earl of Pembroke, Apr 1630.
He mar 2ndly, 1 June 1630 [her age 41], to Anne Clifford [born 30th Jan 1589, widow of Richard Sackville, 3rd Earl of Dorset].
He employed Inigo Jones to spectacularly rebuild Wilton House starting 1635. Laid out formal gardens to the S of the house, on both the near and far banks of the river.
He planted the Cedars of Lebanon in the grounds 1630s.
Massive group portrait of him and all of his family, by Van Dyck, 1634-36, dominates the Double Cube Room, Wilton House.
There is a family bible dated 1638.
He was Chancellor of Oxford University 1641-43 and 1648-50.
See Isaac de Caus' designs for the gardens at Wilton c.1645 (also here).
See 1647 signature.
Much of Wilton House was destroyed in a fire 1647. Carried on building.
Wilton was described by Charles I [executed 1649] as "One of the loveliest Houses in England".
Neither 4th Earl nor Inigo Jones [died 1652] lived to see the completion of the work in 1653.
Death, 1650:
4th Earl died 23 Jan 1650, age 65 yrs, buried in Salisbury Cathedral.
Anne died 22 Mar 1676 [using [NJ] format], age 87 yrs.
See Connections to Shakespeare.
4th Earl had issue by 1st wife:
Anna Sophia Herbert, born est c.1610,
mar 27th Feb 1625 to Robert Dormer, 1st Earl of Carnarvon [and here, born 1610] and had issue,
he was 2nd Baron Dormer,
he was cr 1st Earl of Carnarvon 1628,
he was a Royalist, killed in First Battle of Newbury 1643,
see images at [NPG],
she died 1694, age est c.84 yrs.




Catherine Herbert, died young.
Mary Herbert, died unmarried.
James Herbert, died in infancy, bur 1617.
Henry Herbert, died in infancy, bur 1618.




Charles Herbert, bapt 19 Sept 1619,
heir apparent,
mar 8 January 1634 [him age 14, her age 12] to Mary Villiers [born 1622],
he died of smallpox, Jan 1635, age 15 yrs.
She remarried.




Philip Herbert, 5th Earl of Pembroke,
bapt 20th Feb 1621.




William Herbert.
James Herbert (second James).
John Herbert.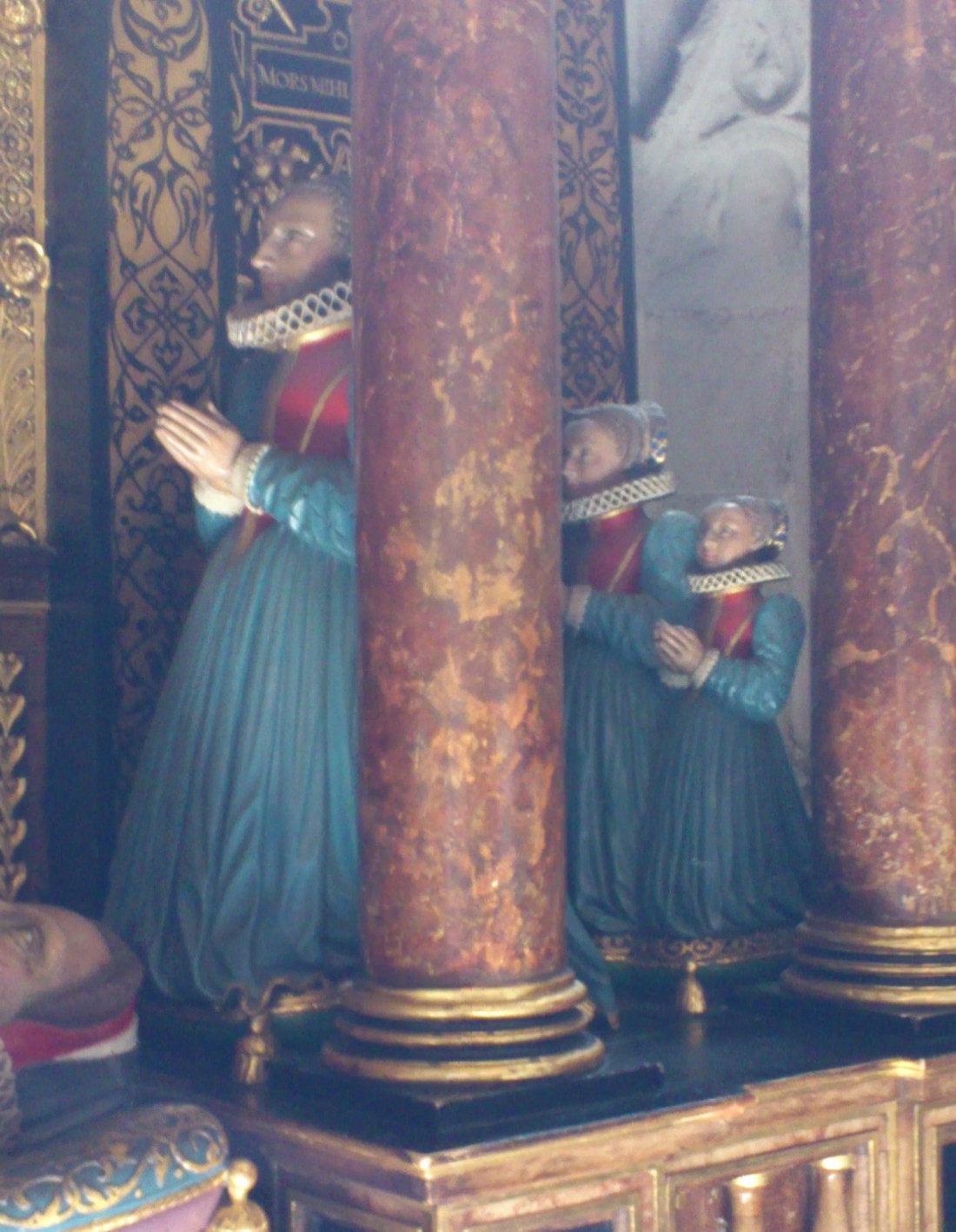 The three girls on the
Cecil tomb at Westminster Abbey
are the
three surviving daughters of Anne Cecil
(Elizabeth, Bridget and Susan de Vere).
Susan de Vere is the youngest (on far right).
Photo 2012. See
full size
and
other shot
.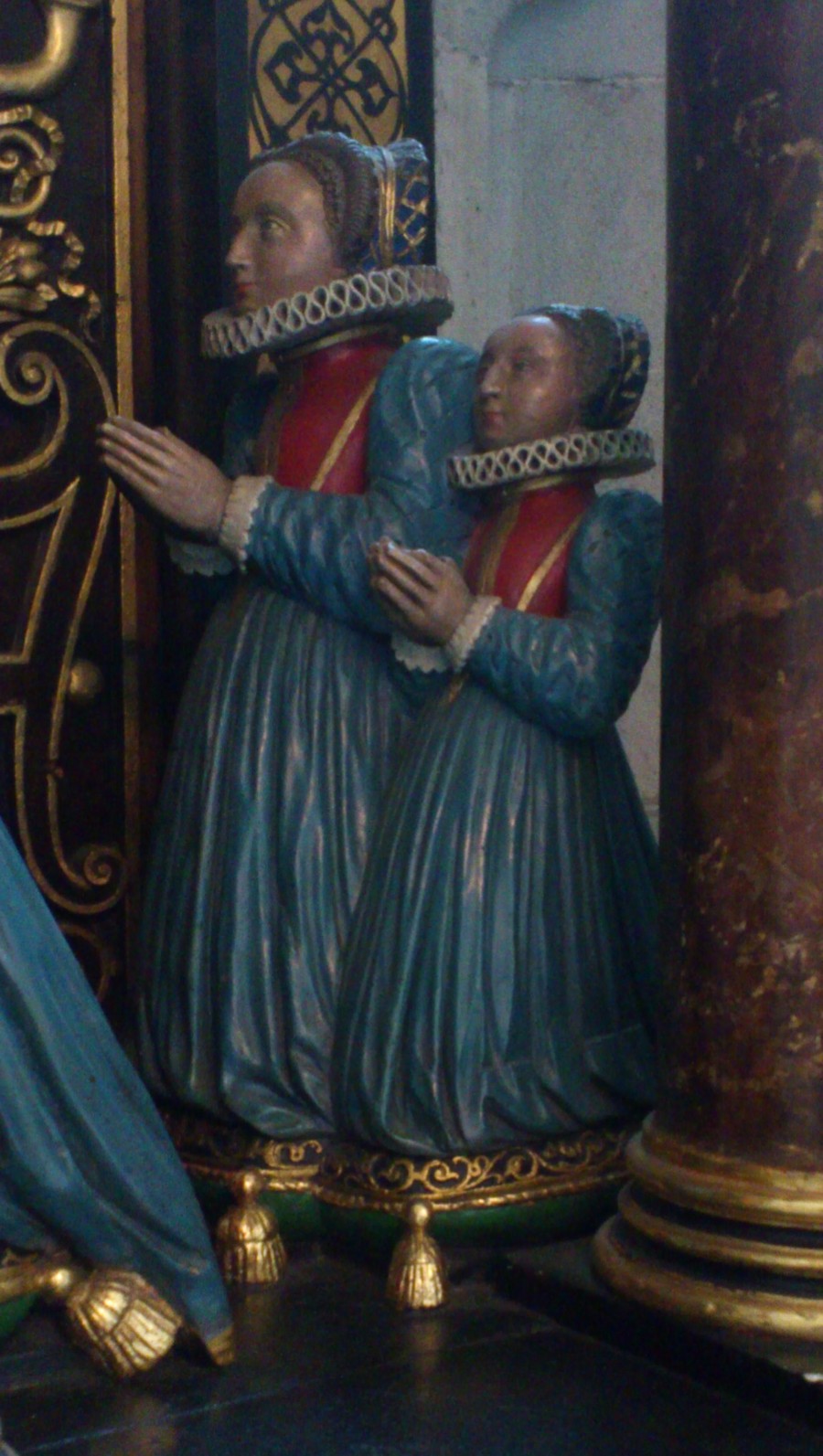 Bridget de Vere (left) and Susan de Vere (right) on the Cecil tomb at Westminster Abbey.
Photo 2013. See full size.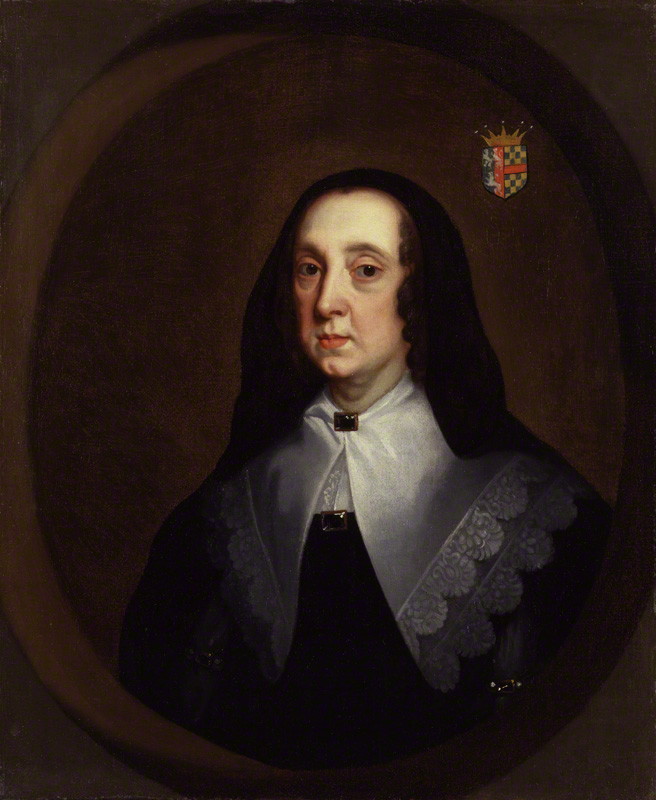 Anne Clifford, "circa 1650 (circa 1646)".
After Sir Peter Lely.
From NPG. See terms of use.
---

Signature of 4th Earl,
"Pembroke&Mont"
, on document of 30 Nov 1647.
Order addressed to
Thomas Fauconberg
, to pay
Sir Dudley Carleton
£50. Also signed "Northumberland" by
Algernon Percy, Earl of Northumberland
, "Salisbury" (must be
William Cecil, 2nd Earl of Salisbury
), "Hen: Mildmay" by
Sir Henry Mildmay
and "Cor: Holland" by
Cornelius Holland
. With Signed receipt on the reverse by Dudley Carleton.
For sale
here
in
Spink auction
, 9 July 2019.
Notes on dating:
The front has:

Date in the body of the text of apparently 1643 altered to 1623.
Signature date of apparently 30 Nov 1647 altered to 1627.

The back has:

Date of Dec 1647 (not altered).

A 1627 signature does not make sense, since the 4th Earl was only "Montgomery" at this date and not "Pembroke and Montgomery".
The back shows that 1647 is the correct date for the signature. What probably happened was the date in the body of the text was wrong and someone corrected it, and accidentally corrected the signature date too.
---
---
The Herbert family had a number of connections with
William Shakespeare
.
It is reputed that Shakespeare and his players first performed As You Like It (1600) and perhaps Twelfth Night (prob. 1601) at Wilton. (Though nearby Salisbury town, Wiltshire, also claims a particular spot as the place where As You Like It was first performed.)
Shakespeare's sonnets were dedicated to "Mr. W. H." in 1609. This has been identified with William Herbert, the 3rd Earl. See the short story The Portrait of Mr. W. H. in Lord Arthur Savile's Crime and Other Stories by Oscar Wilde.
Some people have suggested that the 3rd Earl of Pembroke is the model for the "Fair Youth" in Shakespeare's sonnets, and that his lover Mary Fitton is the "Dark Lady".
The first folio edition of Shakespeare's plays (pub posthumously 1623) is dedicated to the 3rd and 4th Earls of Pembroke.
The Herbert family also had a number of connections with
Edward de Vere, 17th Earl of Oxford
, who some have
claimed is the real Shakespeare
. (Most professional historians and academics reject this theory.)
De Vere's unhappy wife Anne Cecil had once been intended for Lady Pembroke's brother Sir Philip Sidney. Anne married de Vere in 1571, and he treated her badly.
Sidney (still then unmarried) and de Vere had a famous quarrel in 1579.
The 3rd Earl of Pembroke was apparently engaged to de Vere's daughter (must be Bridget) at some time, before marrying another in Nov 1604.
The 4th Earl married de Vere's daughter Susan in Dec 1604.